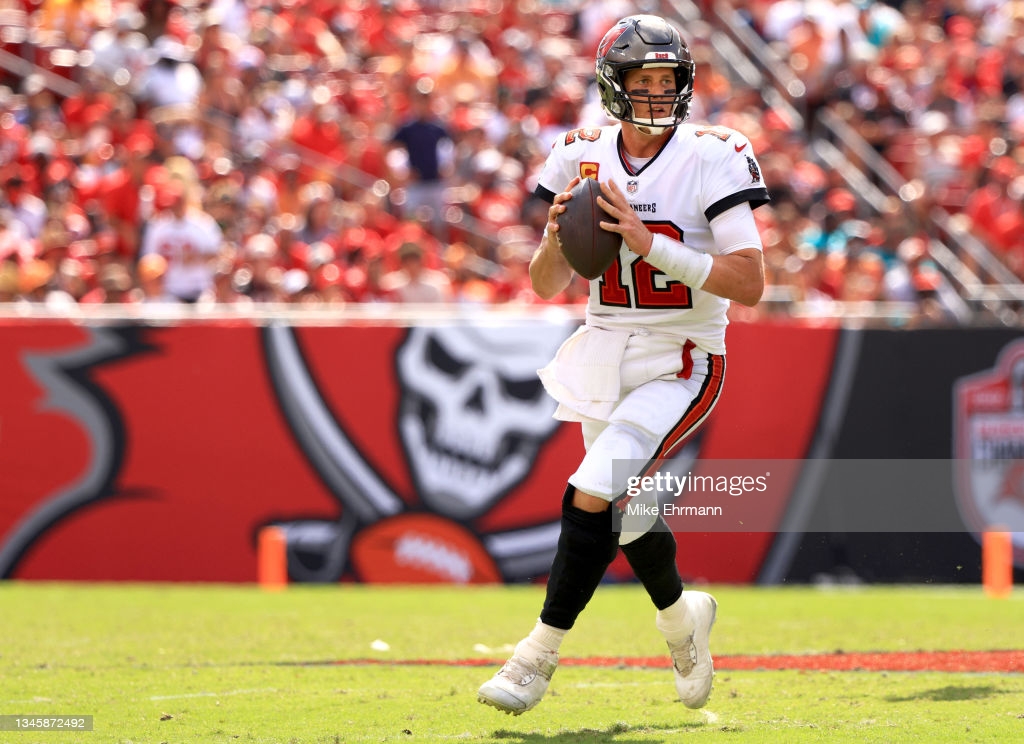 The Tampa Bay Buccaneers have improved to 4-1 as they pulled away from the Miami Dolphins in the second half, winning by a score of 45-17 at Raymond James Stadium.
Tom Brady threw for 411 yards and five touchdowns on 30 of 41 passing. Antonio Brown caught seven passes for 124 yards and two touchdowns while Mike Evans hauled in six passes for 113 yards and two scores.
Jacoby Brissett was 27 of 39 for 275 yards, two touchdowns and an interception. Myles Gaskin was his favorite target with 10 catches for 74 yards and two scores. The Dolphins fall to 1-4.
Story of the game
Miami took their opening drive 70 yards in eight plays as Brissett found Preston Williams for 21 yards and after an offsides call on Jason-Pierre Paul, he hit Williams for 34 yards down to the Tampa Bay nine. The Buccaneers defense stiffened, forcing the Dolphins to settle for a 23-yard field goal by Jason Sanders.
Tampa Bay took the lead despite starting at their own 20 after an illegal formation on the kickoff. Brady found Evans for 26 yards and later on, after a 17-yard run by Leonard Fournette, he hit Chris Godwin for 13. On third down, Giovani Bernard hauled in a ten-yard TD pass and the extra point by Ryan Succop made it 7-3.
Back and forth they went, Brissett avoiding pressure from Tampa Bay's defense, finding Myles Gaskin for a pair of completions for 21 yards. Later on in the drive, the duo hooked up again for a 29-yard TD with Sanders' extra point putting Miami back in front 10-7.
On the next Buccaneers drive, Brown hauled in his 900th reception, the fastest in NFL history to do so. Brady found Godwin for 18 yards and the defending champions were marching down the field, but the drive was short-circuited and Succop tied the game with a 42-yard field early in the second quarter.
After a Dolphins punt, Tampa Bay needed just three plays to go back in front as Brady found Brown for a 62-yard TD and the extra point by Succop made it 17-10. They went up two scores after a 13-play, 77-yard drive ended with Brady finding Brown again, this time from four yards to make it 24-10 with 1:48 left in the first half.
Miami tried to get some points before the half to stop the Buccaneers' momentum, but Shaquil Barrett forced a fumble by Brissett that Ndamukong Suh recovered and Tampa Bay kept their two-possession lead heading into the locker room.
The lead was cut to 24-17 as the Dolphins converted on their opening drive of the second half as Brissett hit Gaskin again, this time from a yard out, a pass interference on Richard Sherman that put the ball at the one being the key play.
There would be no more scoring in the third quarter and the Buccaneers entered the fourth quarter ahead by just a touchdown, but they broke the game open in the final 15 minutes.
Fournette scored on a five-yard run to increase the lead to 31-17, Brady connected with Evans from 34 yards out to up the advantage to 38-17 and following a Brissett interception by Jamel Dean, Brady struck to Evans yet again, his fifth of the day, from 22 yards to cap a dominant fourth quarter.