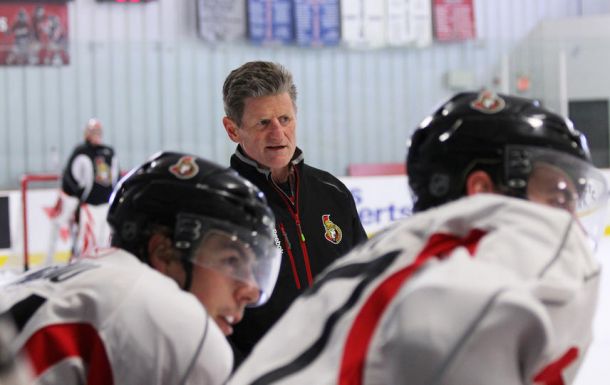 The Ottawa Senators will be playing with heavy hearts on Wednesday as they open their Stanley Cup playoff series with the Montreal Canadiens at the Bell Centre.
The organization announced assistant coach Mark Reeds has lost his battle with cancer at the age of 55. Reeds left the team earlier this month as the illness returned. Mark had surgery this past summer and was able to return behind the bench for the Senators in March. However, he was once again hospitalized on the weekend and passed away Tuesday morning.
Senators head coach Dave Cameron paid tribute to Reeds before his post-game press conference following the Senators clinching a playoff spot in Philadelphia on Saturday.
"Before we get started, there's a general message from this group: Mark Reeds was a huge huge part of our success," said Cameron. "He's not to able to be with us. He's in a battle right now.
"This club wouldn't be where it is right now without Mark's contributions. We miss him dearly."
Senators owner Eugene Melnyk also paid tribute to Reeds' life in a comment after his death.
"It is with very heavy hearts that all of us within the Senators family remember Mark who was truly a wonderful father, husband, player, coach and friend," Melnyk stated in a press release on the team's official website.
"Mark's charismatic fighting spirit was present right until the end. We are all better for having had the opportunity to work so closely with Mark whose passion for life, hockey and his family will leave an indelible mark on our organization. The entire Ottawa Senators organization sends its deepest condolences to the Reeds family."
Mark was drafted into the NHL by the St. Louis Blues and suited up for 365 career games. He also played for the Hartford Whalers.
Newly hired Senators head coach Paul MacLean named Reeds as one of his assistants in June of 2011.
Rest in peace, Mark Reeds.