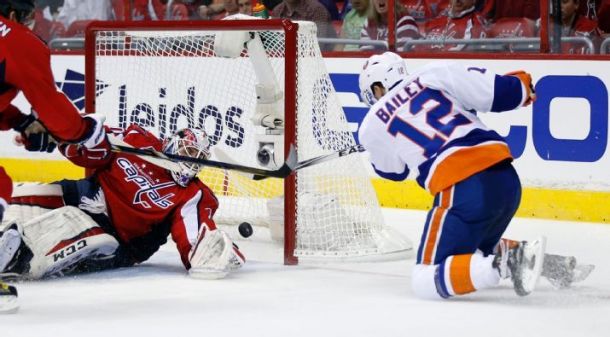 Making the transition from regular season hockey to playoff hockey can be hard for young teams, but the New York Islanders didn't miss a beat as they took down the Washington Capitals 4-1 in game one of the Eastern Conference quarterfinals.
In the first Brock Nelson started the scoring as he beat Braden Holtby for the first goal of the NHL postseason, scored 6:06 into the game. Josh Bailey and Johnny Boychuk assisted on the goal. At the end of the first Marcus Johansson evened it up with a goal, assisted by Brooks Laich with 57 seconds left before the horn.
In the second the Isles took control behind goals from Ryan Strome and Bailey. Strome broke the tie 3:50 into the second, with John Tavares getting the assist. 36 seconds past the midpoint of the period Bailey drilled his goal, assisted by Kyle Okposo and Frans Nielsen.
Nelson drilled a clinching empty net goal with just 79 seconds remaining in the game to exaggerate the score to look like more of a domination than it actually was. But one thing that the Islanders did that was important in this game was executing on the penalty kill. The Capitals have the top power play in the NHL but got only three shots off in two man advantage situations. League scoring leader Alex Ovechkin was limited to eight shots in the game, all of which were turned away.
The series will continue with game two on Friday night in the nation's capital.