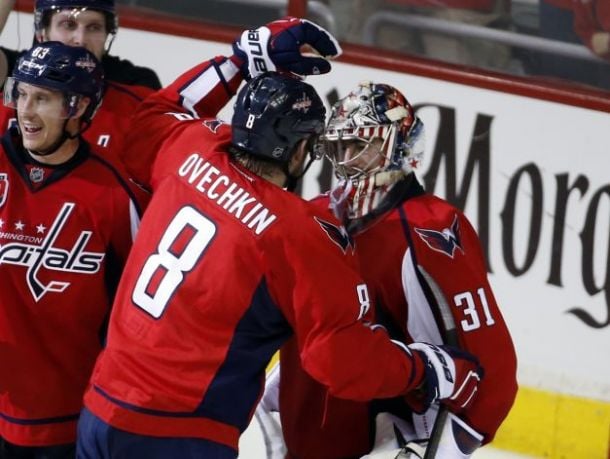 The Washington Capitals could not go down 2-0 going to New York. The Islanders really wanted to go back home with a 2-0 lead. Only one team could win, however, and the Islanders started off right with a goal from Cal Clutterbuck on Washington's young goalie Philipp Grubauer. This would be how the first period ended, with a lot of good chances from both sides in the first., with both Grubauer and Islanders goalie Jaroslav Halak making key saves to keep the game 1-0.
The second period started with Ryan Strome scoring the first goal of the period, giving the Islanders a 2-0 lead early on the second, and had the momentum going their way, rattling Grubauer early. Karl Alzner then opened the Capitals scoring reducing the deficit to one, but Kyle Okposo then scored to give the Islanders a two goal lead once again to make it 3-1. From this point on, the Islanders really slowed down their offense and appeared to play more conservative, but it wouldn't be the correct strategy to make as Alexander Ovechkin would score his first of the series after being put on a line with Nicklas Backstrom. This made the score 3-2 going into second intermission, with the Capitals finishing the period strong.
The third period was then completely dominated by the Capitals. The Islanders looked tired, and the Capitals took advantage tying the game early in the period with a goal from Backstrom, another point for the Ovechkin and Backstrom forward pair. Jason Chimera would end up scoring the fourth and winning goal for the Washington Capitals, tying the series up at one a piece.
John Tavares had a decent game for the Islanders, but couldn't match what Ovechkin did with Backstrom on his line late in the game. He has taken very few shots this series and has not had many scoring chances, instead electing to pass and load up on assists early on this postseason. Look for him to take advantage of home ice matchups in New York and score a goal in one of the next couple games. After tonight's performance, there is no reason why Barry Trotz will keep Backstrom and Ovechkin separated any longer, as the magic on the ice with them on together was alive, and the Capitals had a lot more energy and the communication was much better on both sides of the ice for the Capitals.
Game three will be Sunday in New York at the Islanders home arena, and it should bring a huge crowd from New York. The Islanders will be looking to maintain their home ice advantage, while the Capitals will look to steal it back as both teams look to go up in the series 2-1.