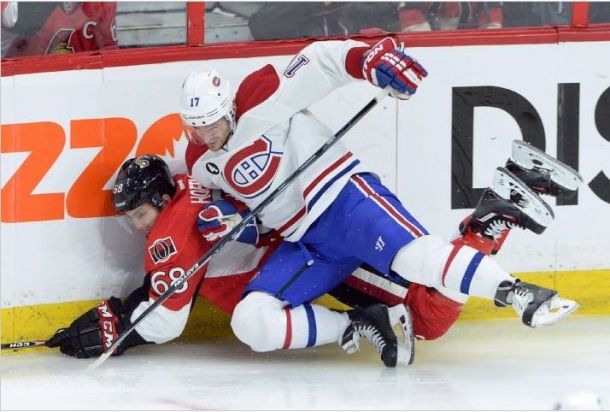 Ottawa had some hope going into tonight, that they could go to Montreal for game five with a 2-2 tie and needing to take two of the next three.
It looked good for Ottawa going into the third period after many big hits, including a huge one from Ottawa captain Erik Karlsson on Nathan Beaulieu gave the Senators a big advantage physically, emotionally playing at home, and on the scoreboard, as an Ottawa goal in the first period put the Senators up 1-0. Both goaltenders Carey Price for the Canadiens and Craig Anderson for the Senators were fantastic in net tonight, stopping many goal scoring opportunities from their opposition. Ultimately, it came down to the third period when Dale Weise, the Montreal Canadiens hero (not named Carey Price) scored the tying goal with around five minutes left to play in the game, and ended up also scoring the winning goal for Montreal in Overtime as well. He and Carey Price saved Montreal from giving Ottawa a 2-1 deficit with another game to go in Ottawa, before a potential game five goes back to Montreal.
It was a very entertaining game to watch for fans of any team, as it was a very high energy, entertaining, physical brand of hockey that fans who enjoy the sport love to see. This whole series has been extremely physical through the first three games, and no Red Wings nor Lightning fan would be happy playing either team the way this series has been going so far, as that is who the winner will play. With Montreal going up 3-0, it looks likely that the Montreal Canadiens will play the winner of the Detroit - Tampa Bay series and maintain home ice advantage in the second round.
Montreal will look to finish off the Senators in game four and complete the sweep in Ottawa with a little bit more offense, as it seems the Canadiens have been struggling to score a lot of goals from their top scorers this series. If they get a good performance from their top players such as Max Paciorretty, P.K. Subban, and Brendan Gallagher, the Canadiens should be able to do what many thought unlikely and pull off the first sweep of the playoffs, and the only one of the first round this season. Price and Anderson will likely both start in net on Tuesday night, and with the series on the line, you can surely expect Ottawa to try to win at home and force a game five with lots of pressure on Carey Price, and even more of the physical play that has been the norm in this series.