After losing two games to the Chicago Blackhawks, and one to the Columbus Blue Jackets, the Red Wings look to get back on track against the Winnipeg Jets.
Poor Effort Translates To Poor Play
In Columbus especially, the Wings got outplayed the entire game, except for the last five minutes of the game. The Wings scored one goal to Columbus' two in the second, then two goals to Columbus' three in the third. Detroit's ahead in the shots on goal department solely based on their rally in the last five minutes of the third. Jimmy Howard played great in net, but the team just wasn't there in front of him.
A poor effort against the third to last place Blue Jackets did not sit well with man, especially after losing the two to the potential Stanley Cup Champions. Another positive besides Howard in net, is that the Wings got a power play goal. Hopefully that gets the abysmal power play on track for a late season and playoff run.
In the Chicago games, the Wings simply got overmatched. Chicago showed off their offensive prowess and took advantage of the Wings' poor play. The Wings got outscored 9-3 in those two games. The first game Petr Mrazek started, and lost. The second game, Petr Mrazek was pulled 6:19 in after allowing two goals, and Jimmy Howard stopped 19-21 shots in relief.
The Winnipeg Jets are second to last in the Western Conference and on a two game losing streak. The Wings look to avenge a 4-1 loss in Winnipeg in December. Petr Mrazek gets the start tonight, after being in a slump. The Wings staff and fans alike all expect Petr to shake this slump with a win over the Jets. The Wings have their next three games including tonight at home, then go on the road for a four game road trip.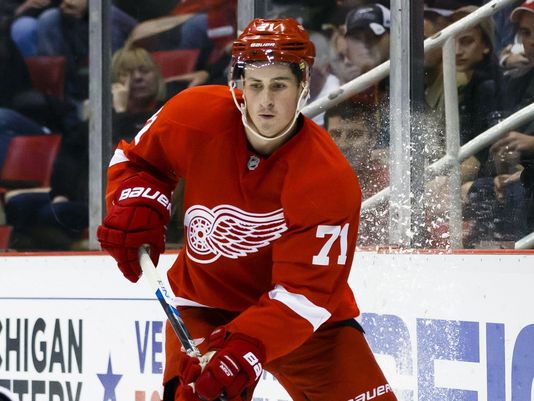 Here is the reported line-up from practice today:
Abdelkader-Zetterberg-Larkin
Tatar-Datsyuk-Athanasiou
Nyquist-Sheahan-Pulkkinen
Helm-Glendening-Richards
Jurco
DeKeyser-Quincey
Kronwall-Green
Ericsson-Smith
Marchenko
Mrazek
Howard
Power Play Units:
Nyquist-Zetterberg-Pulkkinen, Abdelkader (net front), Kronwall
Tatar-Datsyuk-Helm (net front), Richards-Green
Race in the East
The Wings currently hold the second wild card spot with Philadelphia only two points back with a game in hand. The Wings would fare well by winning tonight's game to go four up on the Flyers, and four behind the Florida Panthers.