 Since the Arizona Coyotes are loaded with young offensive talent with Max Domi, Anthony Duclair, and Jordan Martinook to name just a few, the task at hand for new GM John Chayka will be to find a qualified candidate to skate next to All-Star defenseman Oliver Ekman-Larsson.
A right-handed shooting blue-liner would be ideal.
Two such candidates who come to mind are Tyson Barrie of the Colorado Avalanche, and Kevin Shattenkirk of the St. Louis Blues.
Storing up the defense
Barrie or Shattenkirk added to OEL, Michael Stone, Connor Murphy, Klas Dahlbeck, Kevin Connauton or Jarred Tinordi would help to solidify their area of weakness last season, which prevented them from qualifying for the playoffs for the fourth consecutive year.
The Coyotes have the seventh overall pick in next month's NHL Entry Draft, plus the 20th pick. Will they offer it up (probably the 20th pick) along with another player whose contract is expiring on July 1st to gather in a prize like Barrie? Colorado already has the 10th overall pick. Other teams are said to have equal interest in the talented D-man. The Edmonton Oilers, Florida Panthers, New York Islanders, and Chicago Blackhawks, have also expressed the possibility of adding Barrie to their line-up.
More on the Arizona Coyotes --> Arizona Coyotes adament about leaving Glendale
Barrie's resume
Tyson Barrie (who is a restricted free agent) had some pretty impressive stats for last season. His 13 goals, 36 assists in 78 games shows his offensive threat. But, his +/- of -16 leaves his defense in question. He also only had a 45.8 CF% possession rating, which is not desirable for a Coyotes' team who was lacking in possession stats.
He does not possess a lot of size with his 5' 10", 190 lb frame. So, if the Av's want to bulk up on the blueline (as Avs' coach and Vice President of hockey operations, Patrick Roy has indicated), they may be interested in trading Barrie in a deal which could include a huge D-man like Jarred Tinordi (6' 6", 230) , or Nicklas Grossmann (6' 4", 230). Grossmann is an unrestricted free agent, and his $3 million salary matches Barrie's $3.2 million salary close enough to make it happen.
The Av's salary cap hit is at $66.49 million, with five unrestricted free agents (including recently acquired former Coyote Mikkel Boedker who wants at least $5 million) , and five restricted free agents to try and budget into their salary balance sheet.
He is great on the power play, and would help take some of the pressure off of OEL in that department. Half of his total assists came on the power play last season. To have two power play quarterbacks like Barrie and OEL on the same team is quite an offensive weapon.
Shattenkirk's resume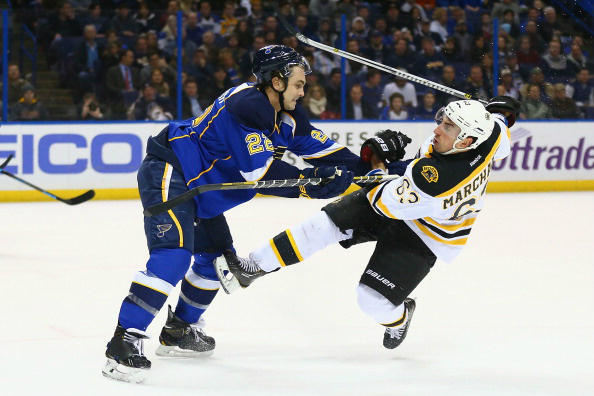 Kevin Shattenkirk had an excellent playoff series (two goals, nine assists in 20 games) and has to be considered as a defenseman who will be sought after with fervor this off-season.
He finished the past season with stats of 14 goals, 30 assists in 72 games. He's also skilled on the power play with 20 man advantage assists out his 30 total.
His physical stature is a bit larger than Barrie, with his 6' 0", 202 pound frame. He is 27 years old, and holds a $5.2 million salary for next season. The problem with the St. Louis Blues is they are right at the cap limit with just over $73 million in salaries, with five unrestricted free agent salaries, and three restricted free agent salaries to try and fit into their tight budget.
Someone needs to go, and a team like the Arizona Coyotes with just $34 million budgeted in salary towards the cap, may be a team who can wheel and deal this off-season.
Of course the Desert Dogs still have to sign such restricted free agents as: Kevin Connauton, Michael Stone, Tobias Rieder, Connor Murphy, Louis Domingue, and Klas Dahlbeck.
When you add in the UFA's like Shane Doan, Alex Tanguay, and Nicklas Grossmann, new Coyotes' GM John Chayka may want to keep some headache medication in his desk drawer. Of course, having an approximate $40 million to work with will ease his pain.
In either case, the Coyotes would be elevating their defensive group. According to David Staples of the Edmonton Journal, Barrie is ranked ninth, and Shattenkirk 35th out of all 207 NHL defensemen.
Take into consideration that Oliver Ekman-Larsson was ranked 18th, Michael Stone 64th, Kevin Connauton 115th, Connor Murphy 158th, Zbynek Michalek 190th, and Klas Dahlbeck 199th out of all blue-liners, it gives you a clear picture of where the Coyotes' defense is right now... and how it needs to improve RIGHT NOW.
Even if the team is lucky enough to acquire a good defensive prospect in the draft next month, they would need to wait several years before such a prospect is ready for prime time in the NHL.
This writers' take would be to grab Tyson Barrie. The team already has done a deal with the Av's recently with the Boedker for Tanguay trade, so maybe the lines of communication will still be open.
More recent posts: Las Vegas anticipating NHL expansion announcement shortly
Just think, the Coyotes could actually get another power play quarterback back on the team.
Do you remember Keith Yandle? Barrie could fill his shoes, and with Michalek aging, and ranked so low, Barrie would be a breath of fresh air in the desert.
Could it happen?
Maybe.