 On Wednesday night at the annual NHL awards show, it was announced that Los Angeles Kings defenseman Drew Doughty won the Norris Trophy as the league's best defenseman. It was the first time Doughty has won the award after falling short twice.
Another piece of hardware for Doughty
For Drew Doughty, this is his first Norris Trophy. He finished 2nd in the voting last season and 3rd in 2009-10. The award is well deserved for Doughty has he has been regarded as one of the NHL's elite defenseman for a long time now. The award adds to an already impressive resume for Doughty that includes two Stanley Cup rings and two Olympic gold medals.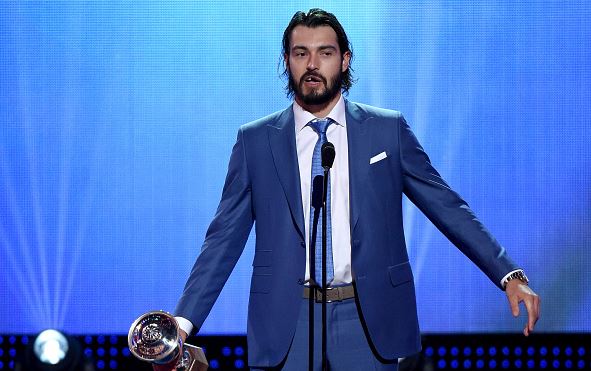 The award was well deserved as Doughty had 51 points (14 goals, 37 assists) and a career-high plus-24 rating.
Other finalists for the award
The voting for the award was actually surprisingly close. Here is a list of the full results for the other candidates:
2015-2016 Norris Trophy Voting // Pts. (1st-2nd-3rd-4th-5th)
1. Drew Doughty, LAK 1254 (93-37-10-4-3)
2. Erik Karlsson, OTT 1020 (46-54-27-14-5)
3. Brent Burns, SJS 619 (3-26-54-43-8)
4. Kris Letang, PIT 587 (8-24-40-40-19)
5. Roman Josi, NSH 120 (0-1-6-17-32)
6. John Klingberg, DAL 63 (0-2-2-6-21)
7. Victor Hedman, TBL 62 (0-2-3-6-15)
8. Ryan Suter, MIN 53 (0-1-3-7-10)
9. Oliver Ekman-Larsson, ARI 30 (0-0-2-2-14)
10. Shea Weber, NSH 27 (0-1-1-4-3)
11. Duncan Keith, CHI 21 (0-1-1-1-6)
Outlook for next season
Next season Drew Doughty will in all likelihood find himself among the NHL's best defenseman. For many years now, Doughty has been thought of as one of the NHL's best defenders and now he has a trophy to show for it. If Doughty plays at the same level or better next season, the Kings should be in for another great year.