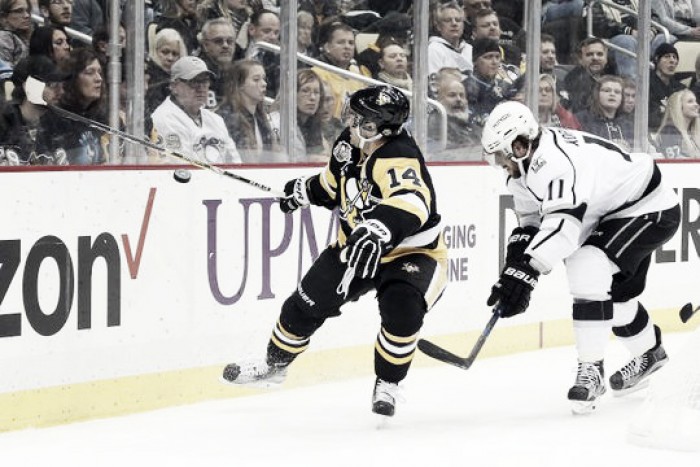 After losing the first game of the of the nine-game road trip, the Los Angeles Kings have won their last two. This time, they knocked off the defending Stanley Cup Champions. It took overtime, but eventually, the Kings defeated the Pittsburgh Penguins 1-0.
The Penguins were on quite a winning streak, racking up seven in a row before tonight's loss. Los Angeles, on the other hand, move ahead of the Flames in the Pacific Division, and locking in the final Wild Card spot.
Peter Budaj was majestic in net for the Kings. LA were coming off of a victory against the Detroit Red Wings and knew that they would be the slower of the two sides. Yet, Budaj kept his cool, stopping all 39 shots he faced, including multiple high-grade chances from point-blank range.
Penguins dominate in regulation, could get past Budaj
It looked as if the Penguins would eventually navigate through Los Angeles' defense as they had numerous opportunities to do so in the opening period alone.
The first real opportunity of the game came 7:17 in through Evgeni Malkin. When on the powerplay, Malkin ripped a wrist shot which Budaj stopped with his right pad. Then, Phil Kessel pounced on the rebound only for his shot to be stopped too.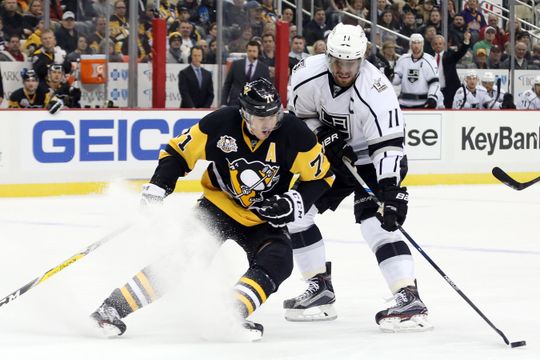 Pittsburgh went had a two-man advantage for 30 seconds after the Kings were called for too many men on the ice. But the Penguins could not take advantage as they did not manage a single shot for the rest of the powerplay.
To begin the second period, the Penguins were playing 5 on 4 hockey once more. They tried to take advantage of their situation. Kessel, Malkin, Justin Schultz, and Sidney Crosby all had opportunities within a span of 20 seconds, but Budaj was immense and stopped each of them.
At 0:40 in the third and final frame, Carl Hagelin could have put his team ahead for good. Hagelin picked up a loose puck in the middle of the ice before sprinting ahead. He split two Kings' defenders before firing a shot on net.
Kings win it in overtime
Since 3vs3 overtime hockey came about, the Kings have been one of the best teams in that department.
And it did not take long for Los Angeles to score either. Tyler Toffoli netted the winner 1:00 minute into the overtime period after the Kings worked a 3-1 breakaway to perfection.
Coming up
The Los Angeles Kings will play game number four on this road trip on Sunday afternoon. There, they will meet the Boston Bruins.
Pittsburgh, meanwhile, will head up into Canada where the Penguins will play the Toronto Maple Leafs.