In one of the more surprising trades of the NHL season thus far, the Los Angeles Kings and Tampa Bay Lightning agreed to a trade involving a pair of goaltenders.
The Kings, who are vying for a Wild Card spot, send backup goalie Peter Budaj and 19-year-old Slovakian, Erik Cernak, for Ben Bishop. Draft picks, all in this upcoming draft, were also involved in this deal with Los Angeles receiving a 5th round pick, while the Florida-based hockey club gets a 7th round and a conditional pick.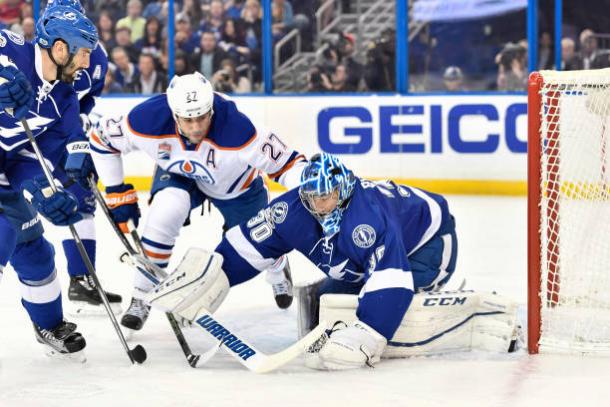 Peter Budaj had been playing admirably this season thus far, backing up the injured Jonathan Quick. While the former King's record was subpar at best, won 23 and lost 20 games, but did accumulate a .913 save percentage and allowed only an average of 2.13 goals per game. And during Quick's absence, Budaj shutout the opposition seven times, tied with the Washington Capital's Braden Hotlby.
But on Saturday against rivals Anaheim Ducks, the 31-year-old shot stopper returned to action for the first time since the injuring his lower body against the San Jose Sharks in the first period of opening night. He looked sharp too, in the Kings' 4-1 victory. Throughout the game, Quick stopped 31 of 32 shots after allowing an early goal.
That was probably a big reason as to why the trade went down. Budaj has proven to not only the Kings, but the rest of the league, that he is more than capable of being a full time starter if need be, and a more than reliable backup for all clubs in the NHL.
Ben Bishop, meanwhile, is out of a contract this summer and the Lightning probably wanted to get something for him before they let him walk for free. In Tampa Bay, there is also a goalie who is on the rise: Andrei Vasilevskiy. Vasilevskiy is deemed to be one of the goalies of the future. and with this trade, the future more than likely begins now for the young Russian netminder.
On the surface, this trade did appear to be a bit strange, but digging deeper, it made more sense.
Is Quick as healthy as we think he is? What would've happened if he got injured down the stretch? Was Bishop's time up in Tampa Bay after this season anyways These are just a few of the questions that surround this intriguing move.
But all in all, this trade essentially works out for all parties involved.