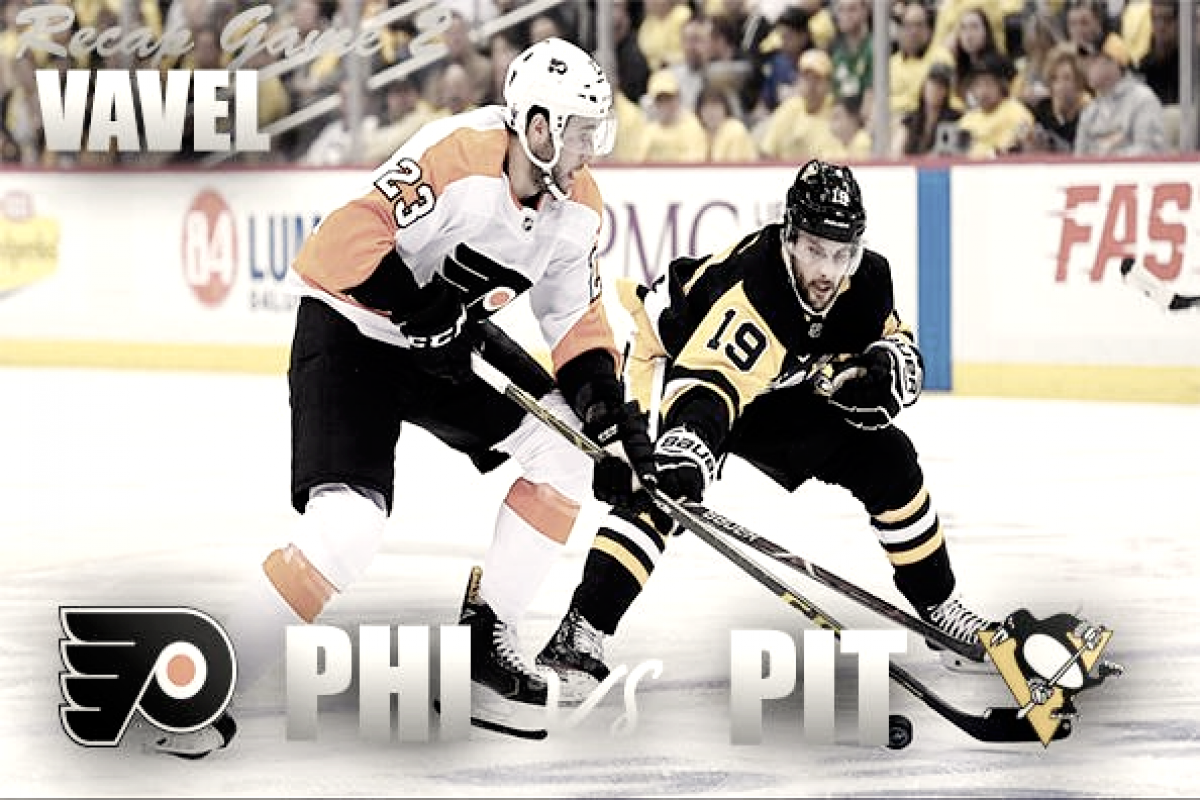 After the 7-0 drubbing by the Pittsburgh Penguins in Game 1, the Philadelphia Flyers showed that they aren't going down without a fight. Dave Hakstol's squad delivered a great bounce-back performance handily defeating the Penguins 5-1 and are now heading home to Philadelphia for Game 3.
Hakstol's gamble pays off
After being embarrassed the other night 7-0, Hakstol could have changed things and panicked. But, he didn't. He rolled out with the same lines and the same goalie, and man did that pay off in bunches.
The Penguins heavily outplayed the Flyers in the opening 20 and throughout most the game, outshooting them 11-6 in the first and 35-20 overall, but when Philly got their chance late in the opening period, they converted.
Zach Aston-Reese was sent to the box on a boarding call which gave the Flyers the opportunity they had been looking for. With 37 seconds left in the first period, Shayne Gostisbehere ended Matt Murray's shutout streak of 225:49 to give Philly the 1-0 lead.
Gostisbehere's goal found its way through a Nolan Patrick screen to end the fourth longest playoff shutout streak since 1999. For a team that didn't manage one shot on all four power plays in Game 1, it took them just one shot to convert.
Philly would take that lead into the locker room and never look back.
Frustration began to mount for the Pens
It took Philly only 47 seconds in the second period to make it 2-0 and have the doubt begin to creep into Pittsburgh's mind that this may be a long night.
Sean Couturier added a goal to what would become a three-point night for him to put Philly up 2-0 very early in the second period. Murray actually made the save but it popped up in the air and hit off defenseman Kris Letang and into the net. Thus would begin Pittsburgh's frustrations.
Pittsburgh tried to press goalie Brian Elliott but he remained strong in a fantastic showing. He made a beautiful glove save on Sidney Crosby on a breakaway to keep the game scoreless and the more pressure Pittsburgh seemed to apply, the more impenetrable Elliot seemed to be.
Crosby also had another glorious chance that just went right through the blue paint with only a few seconds left on the clock, and he smashed his stick over the crossbar in anger knowing full well what that goal could have meant for Pittsburgh.
Pittsburgh ended up losing Letang at the 13-minute mark of the second as he had a huge accidental collision with Claude Giroux at center ice. Letang was off the ice for the rest of the second, but he came back out for the third.
Philly once again ended the period with the lead heading into the dressing room up 2-0 on their interstate rivals.
Goals, goals, and more goals
The third period was a bloodbath for Murray as once again the Flyers managed to score quickly to start the period.
Just 1:29 into the third, Travis Konecny scored his first ever NHL playoff goal to give Philly the 3-0 lead and a stranglehold on the game. Konecny fought off Chad Ruhwedel to put it past Murray on a shot that Murray should've saved, to be honest.
Then less than four minutes later, the game became 4-1 as Patrick netted his first NHL playoff goal, and Couturier got his third point of the night. Patric Hornqvist scored on the brick wall that was Elliott to give the Penguins some life. But it would turn out to be too little too late as Pittsburgh just could not get it past Elliott for the rest of the night.
Mike Sullivan elected to pull his goalie down by three to no avail as Andrew MacDonald tapped in the empty netter to give Philly the 5-1 win. This win gave Philly their first win against Pittsburgh in 383 days.
Even though the Flyers were outshot 35-20, they still showed that they are not a team that anyone should sleep on. Philly played a complete game and was able to catch Pittsburgh flat-footed, and a little off guard, to get the win.
Elliott stopped 34 of 35 shots and looked amazing after the 7-0 debacle that was two nights ago. Philly converted when they had their chances, and bent but never fully broke against the full press by Pittsburgh.
"Said it coming in, nobody is really giving us a serious chance in this series," Hakstol said after the game. "I don't know if anybody still will. I do know this, we've got it down to a five-game series and we introduced ourselves into this series tonight."
I think Claude Giroux summed it up best though, "For all the doubters out there, there you go."
Now the series shifts to home ice for Philly which is huge if they can keep up this style of play. Philly's arena is a tough place to play, to begin with, but add in the fact that it's a playoff atmosphere and the hated Pittsburgh Penguins are coming to town should make it just that much more difficult.
Philly and Pittsburgh face off again on Sunday, April 15th at 3 p.m. ET at the Wells Fargo Center for a decisive Game 3.
Do you think that Philly can beat Pittsburgh? Do you have faith in Philly or will Pittsburgh bounce back? Tell me in the comments below and keep locked into Vavel all playoffs long for the best coverage around!