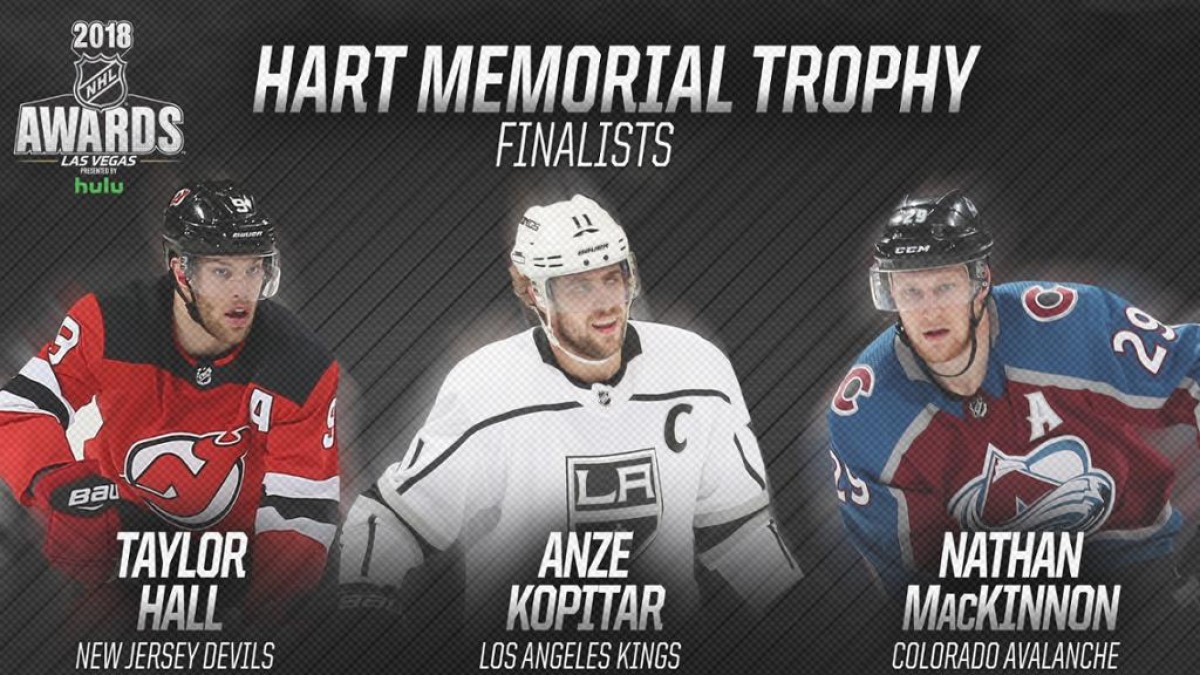 The National Hockey League (NHL) revealed the Hart Memorial Trophy 2018 finalists on last April, 27. The trophy began in 1960 and it is given to the most valuable player in the league.
Nathan MacKinnon, Taylor Hall, and Anze Kopitar were chosen by the NHL writers as one of the best in the league. Which surprised the people who thought that Connor McDavid would be elected once more.

Be that as it may, VAVEL USA NHL picked the three finalists and will show you who our favourite is to lift the trophy.
Nathan MacKinnon
None of them play on a top team in the NHL.
Moreover, MacKinnon, was second in the NHL with 1.31 points per game, totaling 39 goals and 58 assists to guide the Colorado Avalanche to a 47-point gain in the standings, equaling the fourth-highest year-to-year gain in league history.
MacKinnon only notched 23 goals and 44 points last season for the Av's who were the lowest standing team during the 2016/17 season. He helped lift his team to its first playoff since the 2013/14 season.
His speed and puck handling abilities go without saying. Here's an example of why he should be considered for the Hart Trophy.
Taylor Hall
Taylor Hall, who finished in front of Anze Kopitar in notching goals, ranked as sixth in the NHL with 39 goals, 54 assists. He set career highs across the board to lead the New Jersey Devils to a 27-point improvement in the standings and their first playoff appearance since 2011-12.
Hall sets the record of 41 more points than his closest teammate, the highest such differential by a club's top two scorers since 2007/08.
Since he joined the Devils last season he has 59 goals, 87 assists for 146 points in 148 games. This past season his 93 points had him scoring at a 1.22 points per game average. He pretty much is all the New Jersey offense, and is well-deserved to be a Hart Trophy candidate.
Here's Taylor Hall in action this past season. Should he be the winner?
Anze Kopitar
Anze Kopitar is one of the most important players in the league. He netted 35 goals and 57 assists. And it almost tripled his goal stats and doubled his point total from 2016/17.
This season, he helped the Kings to reach their seventh playoff in the past nine years. Which makes him the first Los Angeles player to arrive at the 90-point milestone since Wayne Gretzky in the 1993/94 season, when he scored 38 goals and 92 assists.
After a very disappointing year last season when he only accomplished a mere 12 goals, 40 assists, he advanced those statistics by 38 points. That's quite a significant turnaround!
Here are some highlights showing why Kopitar should walk away with the Hart Trophy.
Prediction
All of these gifted players have been a crucial piece for their respective clubs.
However, Taylor Hall produced a better season than others did; he had the same number of assists, however, scored four more goals than his colleague Anze Kopitar and also recorded 41 points more than his nearest teammate. That makes him, one of the NHL's stars that deserves this trophy.
And the winner is...

Taylor Hall
Tell us if you agree, or if someone else should have been nominated for the coveted award. Please comment below.