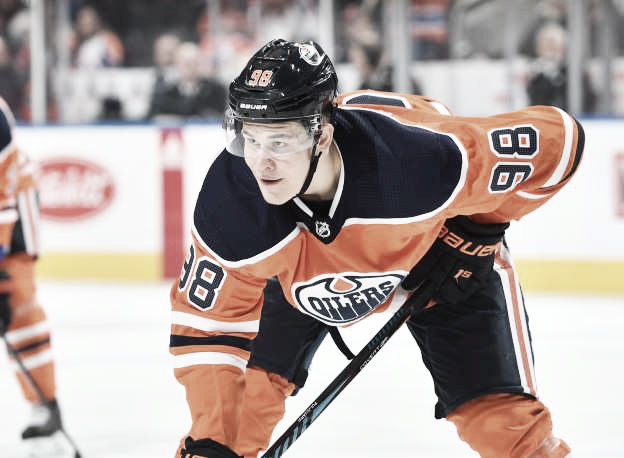 The 2016 NHL Draft was mostly focused on Auston Matthews and Patrik Laine and for good reason. As those two players have quickly become two of the best young players in the NHL today.
Aside from Matthews and Laine, several players from that draft look like they have a very bright future ahead of them.
Which brings us to Jesse Puljujarvi and whether the Edmonton Oilers made the right choice selecting him fourth overall that year. He is still very young at 20-years-old but has had a hard time trying to find his way in the NHL.
Meanwhile, several players from his draft class have already made a huge impact on their respective teams and are all getting better with each passing game.
With that said, let's take at three players the Oilers passed on who might have been a better player for the Oilers right now than Jesse Puljujarvi.
Matthew Tkachuk - Calgary Flames
​Matthew Tkachuk is literally the definition of a player you "hate to play against but love to have on your team."
Since entering the NHL as an 18-year-old, Thachuk has made a huge impact for the Calgary Flames. Despite some questionable antics on the ice, he has given the Flames a new identity and has been a very impactful player.
Overall, he gives you a little bit of everything, he may not be as fast or as skilled Puljujarvi but his overall game would still make him an excellent addition for the Oilers over the past two seasons.
Tkachuk also has the skill to keep with up elite centers like Connor McDavid and Leon Draisaitl and can add a little sandpaper to the lineup - an element that Puljujarvi doesn't really seem to have in his game.
Currently playing in his third NHL season, there is little not to like about Tkachuk and he is only getting better. He looks like he can be a solid 25 goal and 50 point player for the Flames for years to come.
Clayton Keller - Arizona Coyotes
It's ironic that the Oilers have had trouble finding secondary scoring over the past few seasons. In retrospect passing on a player like Clayton Keller at the 2016 draft might have been a huge mistake.
It's still early, but Keller looks like one of the biggest offensive stars to come out that draft. The skilled winger was selected seventh overall by the Arizona Coyotes, three picks behind Jesse Puljujarvi.
At only 20-years-old, Keller already looks like a franchise player for the Arizona Coyotes. Better yet, he came into the NHL as a 19-year-old and was arguably the Coyotes best player. He carried the Coyotes offensively for most of his rookie season, scoring 23 goals and 65 points in 82 games and was also a Calder Trophy finalist.
To put things into perspective, he was able to do all that on a team that was the first NHL team to go 20 games into the season without a regulation win in 2017/18.
On top of that, he didn't have much offensive support either. Keller was the only player on the Coyotes that scored over 20 goals last year.
Imagine him playing beside a player like McDavid or Draisaitl - it wouldn't be out of the question to see him put up 80 points in his rookie season.
It is easy to cherry-pick and criticize now, but it looks like a few teams might have missed out on a potential superstar in Clayton Keller.
Charlie McAvoy - Boston Bruins
The Boston Bruins might have got one of the biggest steals in the 2016 NHL draft. They were able to draft Charlie McAvoy with the 14th overall pick that year, and the selection is looking better and better.
McAvoy made the Bruins as a 19-year-old and made a major impact for his team right away. He played as a top-pairing defenseman and averaged the second most ice-time on the Bruins as a rookie.
At this point, it's safe to say that McAvoy has a very bright future ahead, and he looks to be a franchise cornerstone on the Bruins' blueline for years to come.
He is a smooth-skating right-handed defenseman that gives you a little bit of everything on both ends of the ice. The type of defender that every GM dreams of having on their roster.
If the Oilers had a player like that on their team today, they would be that much better. Their top-two pairings might look something like this:
Oscar Klefbom - Charlie McAvoy
Darnell Nurse - Adam Larsson
It obvious that the Oilers and several other teams missed out on McAvoy. As when it's all said and done, McAvoy might end up as a top-five player to come out of the 2016 NHL draft.
Conclusion
Overall it might be too early to write-off Jesse Puljujarvi completely but it looks like he might be a little while away from being a major contributor in the NHL.
Considering how impressive players like Tkachuk, McAvoy, and Keller have been so far, the Oilers might be growing a little impatient with Puljujarvi's development.
Only time will tell if the Oilers made the right pick or not but the pressure is now on Puljujarvi to catch up to the rest of the pack, otherwise, they might pull away too far.
What are your thoughts on the Oilers picking Puljujarvi over the other three players? Do you think they made the right choice? Let us know in the comment section below, and make sure to give us a follow on Twitter (@VAVELNHL_ENG) for more updates!