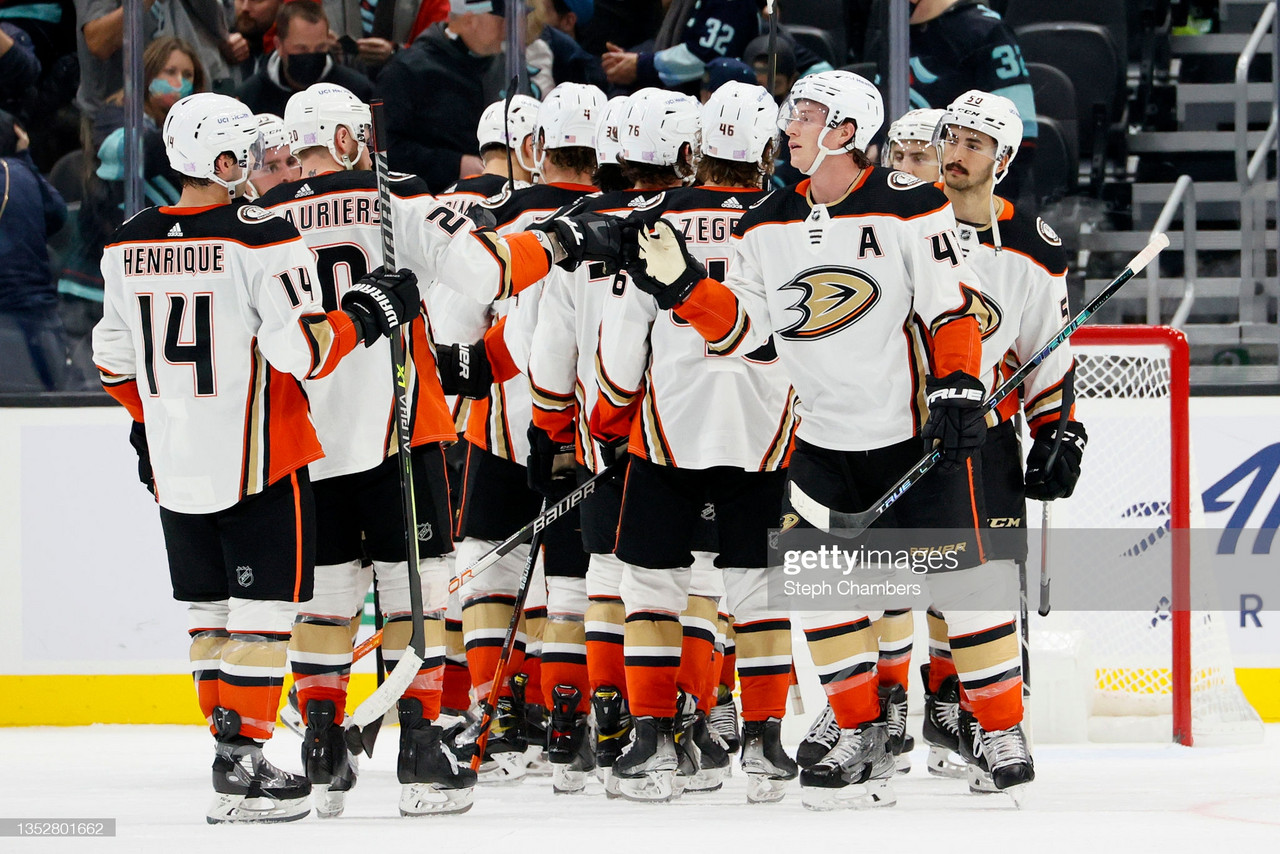 Troy Terry had two goals and an assist to extend his point streak to 13 games, as the Anaheim Ducks won their sixth straight game, defeating the Seattle Kraken 7-4 at Climate Pledge Arena.
Terry has scored 19 points (11 goals, eight assists) during the streak, the longest in the NHL this season. John Gibson made 21 saves for Anaheim (8-4-3).
Jared McCann scored twice in his return after missing six games in NHL COVID-19 protocol for Seattle, which has now lost three games in a row. Philipp Grubauer made 27 saves for the Kraken (4-9-1).
Mason McTavish scored to give the Ducks a 1-0 lead less than five minutes into the game when he found a loose puck in front of the net. Anaheim outshot Seattle 14-4 in the first period.
"The first 25 to 30 minutes of the hockey game we didn't win very many of the races or very many of the puck battles", Kraken head coach Dave Hakstol said. "When you get behind like that, it's hard to dig out.
"We expect ourselves to be better than that and to start better here at home and ultimately, we didn't do that. We really weren't able to push back. That's probably one of the biggest things."
Terry scored his first goal of the second period during a four-on-four to double Anaheim's lead. He circled in the Seattle zone and used Kraken defensemen Mark Giordano as a screen.
Schwartz scored during the same four-on-four on a wrist shot to make it 2-1, but Josh Mahura restored the Ducks' two-goal advantage, scoring off a face-off win with a shot from the point.
McCann deflected a pass from Ryan Donato for a goal to make it 3-2. Anaheim took a 4-2 lead into the dressing room when Kevin Shattenkirk had a shot get through Grubauer.
Jordan Eberle's eighth goal in eight games for Seattle made it 4-3 less than four minutes into the third period. Hampus Lindholm gave the Ducks a 5-3 lead with a goal on a shot from the point.
"I think we're learning lessons", Anaheim coach Dallas Eakins said. "But the difference is now if we do get into a game like that, we find a way to win it.
"It's like we're winning many different ways right now and that's really important. We always have to remember we are a team in a rebuild. But [to] a man, these guys are coming in with a singular mindset."
McCann scored his second of the night to make the score 5-4 when he cut around a defender in the high slot, but empty-netters from Sam Carrick and Terry sealed the win for Anaheim.
"This group is going to push back, but it's not about that", Hakstol said. "It's about the complete 60-minute performance, which we did not have tonight."