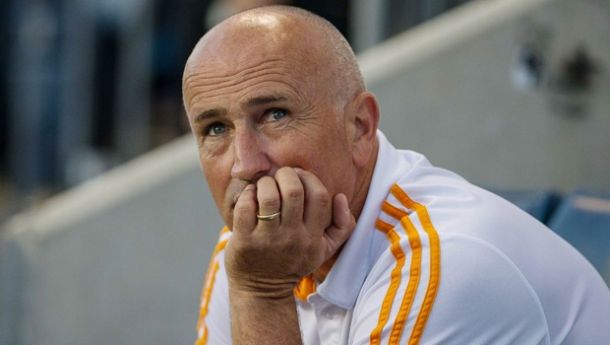 The review of Owen Coyle's tenure as head coach of the Houston Dynamo has been mixed. There are times when the team clicks and the ideas that Coyle has been preaching are put on the field to great effect. There have also been games when the team has looked clueless in one part of the field or the other. The past two games have shown the defense to be extremely vulnerable and constantly caught off guard.
Coyle will be looking to reverse the team's drastic slide over the past week as the team welcomes home Dominic Kinnear for the first time as a visiting coach when the San Jose Earthquakes come looking to take points on the road.
A feat that is becoming far too common as of late.
The Dynamo spent the first seven games of the year with stellar defense and hit-or-miss offense. Between a rejuvenated Jermaine Taylor and star center back Raul Rodriguez, and Tyler Deric behind them, the defense had allowed precious few goals. After the performances against Sporting KC and FC Dallas fans are seriously worried about whether Coyle can pull the team from this slide. With last year's dismal performances during this same time frame still very fresh in the minds of the fan base, all are hoping for a return to form for the Dynamo.
Coyle is well aware of that.
He said the team needed to bounce back, saying "We know we are better than we showed" in a recent interview. Only the full three points would be acceptable come Tuesday he mentioned. For the fans that is the right attitude but the execution needs to be there as well. It'll be difficult with star midfielder Nathan Sturgis out for a while with a dislocated shoulder. Ricardo Clark and Luis Garrido will need to shoulder the defensive burden themselves, which will be a change of pace for Clark. For the past month the veteran midfielder has found himself pushing much higher of the pitch. Now he'll have to hang back to help out Garrido more.
Also of importance is for Kofi Sarkodie to find his groove. Ever since Alex Lopez has filled in for an injured Oscar Garcia the speedy right back has found it difficult to adjust himself to the tendencies of his young teammate. This has left a gaping hole opponents have exploited to great effect lately. With the star Honduran coming in as a substitute in the last match, perhaps Kofi won't have to continue that adjustment. Still, it's been a very poor run of form from an otherwise extremely consistent defender.
A key part of the match will come down to Coyle's rotation of the roster. After a tough match that was physically and mentally draining, followed by a humiliating loss against Dallas, the team will be in need of fresh legs. With yet another match coming up against Toronto FC, in which the Canadian side will be opening up their newly renovated stadium, the future doesn't get any easier before the team can catch their breaths. Dropping points at home against Orlando, Colorado and the afore-mentioned sides' means there's plenty of work to be done to secure road points for Coyle.
As Garcia works his way back to fitness, expect the likes of Leonel Miranda, Alex, Rob Lovejoy or Zach Steinberger to get minutes to keep the squad fresh. It's also likely that David Horst will get minutes in defense, either to replace poor form or tired legs.
While all of this is important, the real story line throughout this match will be the return of Dominic Kinnear. After coaching the Dynamo for nine years, it'll be odd to see him wearing another team's colors. There's no need to wax poetic about Kinnear or his skills as his track record speaks for itself. While the 'Quakes are still in the midst of a rebuilding year, they have had a few impressive performances, not the least of which was their 3 - 2 win against the Sounders at CenturyLink Field.
With star players such as striker Chris Wondolowski and Matias Perez Garcia, along with youngster Tommy Thompson, Kinnear has plenty of weapons to use against his former side. They're in the midst of a busy schedule as well so roster management will also be tops on Kinnear's mind. Expect this match to be hard fought and compact, with Coyle's side looking to bounce back from terrible performances and Kinnear being, well, Kinnear.