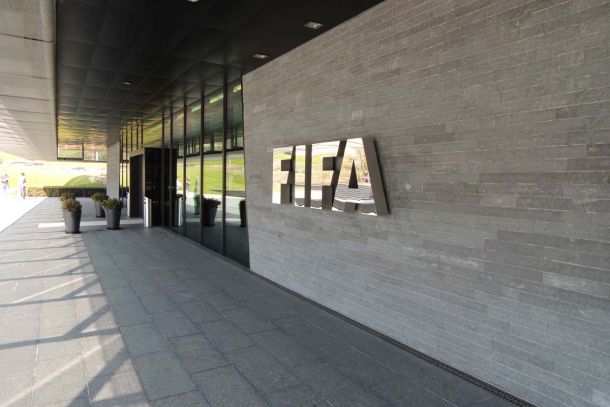 As the dust continues to settle on the arrest of 14 people connected with FIFA in either an official or auxiliary capacity on charges of corruption, member associations across the planet have responded. Some are showing their continued support for Sepp Blatter while others are calling for him to not run for president or to at least delay the Presidential Election, which is scheduled for Friday. Of course FIFA has come out saying that the election will continue as planned Friday in Zurich.
After the announcement, UEFA, the governing body of European soccer, held an emergency meeting to determine their next step. Initial reports had the European bloc boycotting the voting. Other's said they might break away if Blatter continues running. Instead, Michel Platini, head of UEFA, came out of the meeting saying the group will show up for the election and that "a big, big, big majority" of federations will vote for Prince Ali, with at least 45 of the 53 member associations having pledged their allegiances to Ali's cause. Unfortunately, it likely won't be enough for Blatter not to get elected.
With all of CAF and AFC behind the incumbent, it only takes a pair of other federations for him to win the vote. With the Carribean likely to continue to support Sepp, in spite of having its current federation president and former federation president among those arrested early Wednesday morning, it's inevitable he'll be elected to a 5th term.
But what happens when he does? How will Europe and other parts of the world respond?
Platini said that UEFA will meet in Berlin to go over their options moving forward as the FBI, and now Swiss authorities, continue to investigate FIFA and possibly continue the arrests world wide. A possible boycott of the upcoming World Cup in Russia, set to kick off in 2018, is an option for Europe. It's difficult to imagine that UEFA would go towards such an extreme but it is interesting that we've heard that option being mentioned.
Another example of Europe pulling away from FIFA and its corruption comes in the form of David Gill. The former Manchester United Chief Executive is slated to join the FIFA Executive Committee as a representative from the English FA. However, he told the press that he would refuse the seat if Blatter is re-elected. While it is a great symbolic gesture, it is just further proof of the United Kingdom's isolation from FIFA. With the rest of Europe starting to lean their way though, perhaps they won't be standing alone for long.
All of this is put in stark perspective as Russian Prime Minister Vladmir Putin condemned the US investigation and continued to support Blatter alongside the AFC and CAF. Add in Blatter's insistence that none of the wrong doings are his fault and the cracks, battle lines, are clearly being drawn in FIFA. If the FBI, or another organization such as Interpol, managed to nab higher ranking FIFA officials it's possible the whole house of cards could come crumbling down.
As the news out of Europe continues to pour in, the real news, the real danger to Blatter and friends, is in Trinidad where Jack Warner is already spilling the beans before even being turned over to the FBI.
Stay tuned as this story continues to develop.