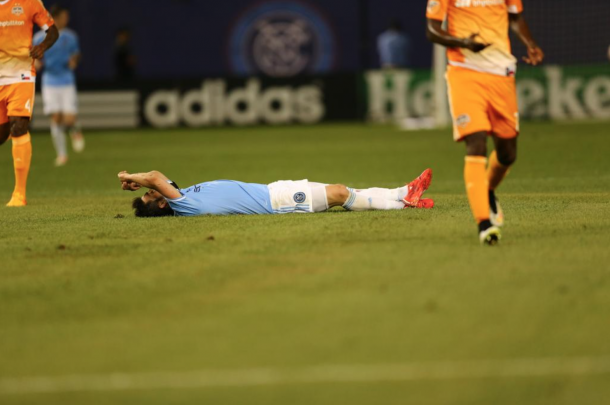 There was clear improvement of play by New York City, yet it was not enough the defeat the Houston Dynamo at home.
Despite controlling the match (again) for the first 15 minutes, NYCFC allowed Houston to score off a corner kick. Will Bruin scored off a nice set up on the corner kick, smashing it past Josh Saunders for the first goal of the match.
New York continued to have good possession, but their passing was weak. Many of the passes went to become turnovers, and some even to empty space.
City got a break, as with a minute left in the first half, a cross in the Houston box hit the Dynamo defender on the arm. Villa walked up to the spot, then slotted the penalty kick past a diving Deric.
The second half was very much a half in which New York should have taken the three points. City controlled the ball, and started to complete better passes. Poku and Shelton both came off the bench, strengthening a New York attack that was already gaining in speed.
New York's best chance in the second half came at the end of the 90 minutes, when a Brovsky header was just saved by Deric at the post, one of the most spectacular saves of the season.
Despite sharing the points, New York did improve their play.
NYCFC have not won in eleven matches, and have a chance to end that run next week. New York travels to Chester, PA to face the Union.
This will be the third match against Philadelphia this year, as NYCFC have gone 0-1-1 against the lowly Union.