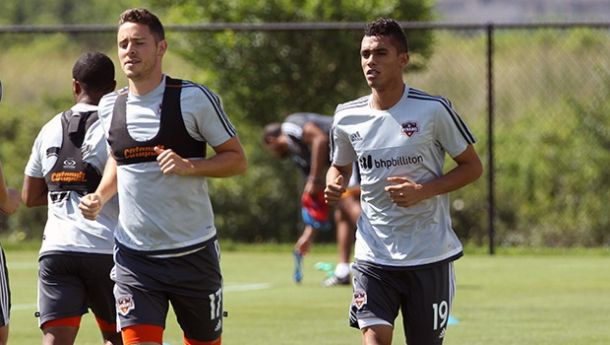 After a disappointing road draw against New York City FC, the Houston Dynamo return home to take on that other team from New York, the Red Bulls. Fate seems to be on their side as the Dynamo are catching the Jersey-based club vulnerable and beaten during a rough stretch.
The Red Bulls are on a two game losing streak and winless in three. After a huge upset loss at home to the Philadelphia Union, Jesse Marsch's side traveled to Seattle where they picked up another disappointing loss. Their defense is vulnerable with Matt Miazga gone with the US U-20 National Team for World Cup duty. Damien Perrinelle is suspended for the match due to yellow card accumulation. Ronald Zubar is injured. This vulnerability provides the Dynamo with opportunity.
Owen Coyle will need to find a way for his offense to be much more efficient than they have been. More consistent. With Will Bruin scoring goals regularly now, the team needs Giles Barnes to score as well. Fortunately he's been very good at scoring in the comfy confines of BBVA. In fact all six of his goals have come at home. While that's certainly helpful the Dynamo have dropped so many points at home that they need to pick them up on the road.
But that's another discussion for another time.
With the Red Bulls ripe for the taking, Bruin and Barnes need to continue their ways and will certainly get every opportunity to do so with Alex Lopez in form. The young Honduran picked up his second assist of the season with a wonderfully placed corner kick against NYCFC last week. With Brad Davis' status still up in the air after missing last week's game due to injury, expect Lopez to continue to get the start. There's no need to risk Davis just yet while the team is still together.
Speaking of which, the Dynamo could be losing defender Jermaine Taylor and Barnes to National Team Duty after this match as Jamaica travels to Chile for the Copa America. They've been drawn into Group B with Argentina, Uruguay and Paraguay. Their first match is June 13 against Uruguay. They'll face Paraguay on Tuesday the 18th before wrapping up the group stage on June 20th against Argentina. If they should pull off an upset and reach the knockout stage, they'll play either June 29 or June 30.
With the pair gone, and the Gold Cup looming on the calendar, the team is in need of reinforcements and fans could get their first glimpse of that help Friday night. Colombian U-20 striker Mauro Manotas has gotten his paperwork in order and joined the team for training. The talented striker just missed out on making his countries roster for the World Cup in New Zealand and will be looking to make an instant impact to prove his coach wrong on the choice. Manotas will also be wanting to impress his new teammates and take advantage of the minutes available to him this summer. The youngster is good on the dribble, attacking from deep. He can also play out on the wings in a 4-3-3 or deeper into midfield as a more traditional winger.
The one thing the team needs to absolutely fix is mistakes in defense. Too often this season the club has been undone by a mistake in defense that has allowed a goal. Generally speaking teams have had a hard time breaking down the Dynamo defense, instead pouncing on mistakes. Cut out those one or two moments and the team can pick up points where they haven't in the past.
It'll be a tough ask against a very, very good Red Bulls midfield lead by Sacha Kljestan and capped off with MLS reigning Golden Boot winner Bradley Wright-Phillips. Kljestan is a great midfielder capable of playing both sides of the ball and Phillips has been a nightmare for previous Dynamo defenses.
With Lloyd Sam having a great year as well, the defense will need to remain stout to prevent a shoot-out. The team can ill afford another embarrassing loss at home, or even more dropped points. To get the club back into contention, maximum points must be taken at home with some road wins slipped in for good measure.
As always, there is the looming date in July when the Transfer Window opens and the offense will get a massive boost in the form of Erick Torres.