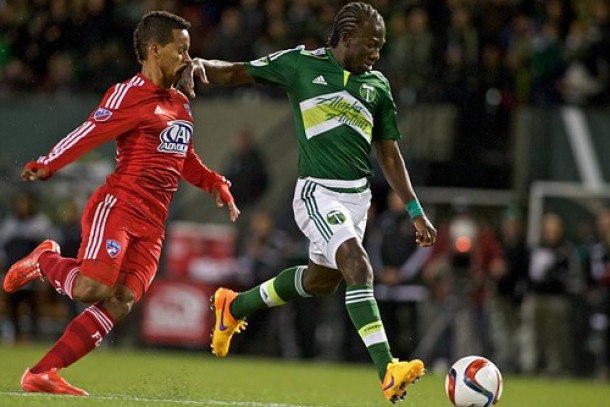 Postgame: Thanks everybody for following along with me. Be sure to check www.vavel.com for more thoughts on this match and other sports as well. We'll be covering the return leg next week so stay tuned and hope to see you guys for that match as well!
Postgame: Last thought here - that's the final home game for Portland. They can't host MLS Cup so it's all on the road for them. First Dallas and if they succeed it'll be either Jersey or Columbus.
Postgame: As if to make matters worse for Dallas, Portland will get reinforced with the return of Valeri and Wallace. Oscar Pareja has to find a way to get his star midfielders (Castillo and Diaz) more involved.
Postgame: If the Timbers defense can replicate their performance next week they'll cruise to MLS Cup for the first time. That said it ain't going to be easy as Dallas will come of absolutely flying next week.
Postgame: HUGE third goal at home for Portland late in the match. Now they have a little cushion to work with in Frisco.
FULLTIME: Portland 3 - 1 Dallas.
90'+: SUBSTITUTION TIMBERS - Melano off for Johnson.
90'+: Looks like Gonzalez almost had it but failed to control the ball, letting Nat tap it in. Kinda hard to tell but there goes the lack of experience letting them down.
90'+: GOAL TIMBERS!!!!!! The ball is loose in the box and it looks like Borchers taps it in!!
90': Late corner for the Timbers. Everyone's on their feet.
89': Timbers still looking for that third goal. They'll need one, either here or in Frisco, in order to advance most likely.
87': YELLOW CARD Acosta. He brings down Nagbe on the break for an easy yellow.
85': SUBS! Portland - Adi off for Urruti. For Dallas, Barios off for Akindele.
84': Great defense from Lloyd. Right as Adi goes to shoot at the top of the box he sticks a foot in there to tackle the ball away. Unfortunately Adi continues the motion and smacks him in the shin. Ouch.
81': Portland content to sit back and let Dallas dictate the match. Not sure that is the best strategy. Though with only 10 minutes left maybe its not so bad as it means there are huge gaps for the Timbers to exploit as FCD pushes forward.
79': YELLOW CARD Chara. Chara brings down Castillo outside the box near the nearside touchline. The freekick goes out for a corner which is cleared.
78': Perez is one of those annoying veterans that knows exactly how to use every bit of his skill and physicality to get his team out on top.
77': SUBSTITUTION DALLAS - Texeira out, Blas Perez in.
75': The ball bounces down, giving Jesse time enough to grab the ball before anyone else from the Timbers can get on the end of it.
74': Another corner for the Timbers. Nagbe trots over to take it as Gonzalez sets his team up.
72': Castillo and Diaz starting to feel it and that is never good for the opposition. The Timbers need to do a better job of closing out the passing lanes so they have nothing to work with.
67': Dallas feeling the energy after the goal. They're looking to take a commanding lead in the series with a second. The Timbers need to settle down and get back into the game and grab a third goal before Dallas does a second.
65': Keep in mind that away goals do count so Dallas now has a great chance to win the series at the moment. One goal in Frisco would be enough to send them through right now.
63': A well worked cross from the flank that Texeira does well to get on the end of. Now Chara gives up another silly foul that Diaz stands over. The shot goes right to Kawarasey.
62': GOAL DALLAS!!! Texeira finally gets a shot off with a close tap from the six yard box.
61': SUB PORTLAND - Ridgewell off for Poparatto.
59': Fox is having some technical difficulties with the screen/sound. Fortunately it doesn't last long. Even more so? Nothing happened in the meantime. Wheew.
57': How did that not go in? Hollingshead gets behind the defense and sends a deft shot towards frame but it kisses the net....on the outside.
56': Meanwhile Dallas gets lucky with some ricochets in the Timbers box but the resulting shot is high and wide. Corner kick Timbers. Cleared.
55': GOLAZO de Timbers!!!!! Golazo de Asprilla! Wow! Collects the ball outside the box and just volleys the heck out of it, giving Gonzalez zero chance! Wow!
53': Castillo is trying to put the entire Dallas offense on his shoulders but can't get the final shot off. GOAL TIMBERS!!! ASPRILLA with an amazing volley from distance!!!!!!!!!!!1
51': Ulloa comes back on as Michel continues warmup. The trainer seemed to say he needed to be subbed while the doctor (I assume?) cleared him at least for a few more minutes.
50': Ulloa being treated on the field after the ball strikes him in the back of the head. Hard. That'll cause you to see stars. Fortunately he does walk away but it looks like he might be subbed out as Michel gets dressed on the sideline and begins warmup.
47': Step away for a couple minutes and the Timbers nearly score. Corner kicks bounces towards the net and Gonzalez just barely tips it over the crossbar. The resulting corner is easily cleared.
Halftime: If you have and questions or comments, feel free to send them to me on Facebook (just my name) or on Twitter (@ElNaranja22)!
HALFTIME: Portland 1 - 0 Dallas. The defense has been excellent so far for the home side. The visitors need to work the ball better. Still, if they can stay one down they have a real shot back in Frisco next week.
45': It should be said that the Timbers defense has been solid tonight. Diaz and Castillo have been very quiet. If they can cut out the silly fouls outside the box it's possible Portland could have a clean sheet here.
41': As the half draws closer to the end the energy is really picking up as both sides look for a goal before the half. A Dallas corner leads nowhere while the Timbers work the ball along the flanks.
38': Villafana YELLOW CARD after a tackle outside the box leads to a freekick from the near side for Dallas. Bad tackle.
36': After a foul on Chara the Timbers have a great set play that results in Borchers heading the ball down from point blank range but Gonzalez does well to smother it.
32': Another silly foul by Jewsbury leads to another dangerous freekick for Dallas. Gotta watch those set plays. They can punish you easily. Fortunately this one leads nowhere.
29': Dallas works the ball toward the touchline. Diaz centers the ball towards Texeira who attempts the cheeky heel flick but it's well wide of the net. That woulda been something.
27': Ullo to Castillo leads to a Dallas corner. Diaz steps up to take it but it goes over everyone and out after a bad clearance for a Dallas throw-in deep in the Timbers' half.
27': The freekick goes well over the crossbar.
25': Some wild back and forth up and down the field that results in a silly foul just outside the Timber's box for a dangerous free kick.
25': Some shoddy defending from Dallas on the corner. Pareja has to be pulling his hair out due to that play.
23': GOAL TIMBERS!!!!!!!!!! The corner bounces through the box, eventually landing at the feet of Ridgewell for a tap in from a yard out!! Easy goal.
21': Bouncing balls in the box are never good. Lloyd sends a long throw in and the Timbers D fails to clear it. Diaz gets a shot off by Kwarasey smothers the shot.
18': The match is settling down a bit as the Timbers control possession and look to break apart Dallas' defense. The road team doing a poor job of keeping possession.
14': Portland on the counter and Nagbe lays the ball off well, though a bit heavy. Nothing comes of it though as Chara elects to attempt a low-percentage shot instead of passing it back.
13': Dallas not having much luck going forward. Been caught on their heels as the Timbers put the pressure on them. Do have their first corner of the game now, though.
10': Not sure high crosses from the wings will have much success for Portland. Dallas' center backs are big, tall and very physical. It'll require a perfect cross and connection. Best bet is to send them low on the ground.
7': Melano is having a lot of fun getting behind Dallas' back line. He takes a pass on the run and sends a low shot across goal. Not good enough to test Jesse but enough to keep the kid on his toes.
6': As the Timbers set up a corner, the Diaz v Nagbe battle will be fun. Which attacking midfielder can assert themselves more? Likely to determine the series right there. Dallas clear's the corner.
4': Wow. Melano gets the ball right on the touchline and sends a tight-angled shot towards net that Gonzalez parries up and falls behind him. Luckily it bounces away from the goal and not in. Timbers unlucky.
1': Nagbe with some fantastic work in the middle, sends a through ball to Melano who goes round a defender in the box for a one-v-one but can't get the shot past Gonzalez! Nearly had a very early goal there.
1': We're underway! FC Dallas kicks things off!
Pre-Game: If any of you guys want to send me a question/comment about the game, hit me up on Facebook (just my name) or on Twitter (@ElNaranja22). This match is seconds from getting underway.
Pre-Game: As usual, the Timbers Army has some pretty fun tifo ahead of the match. Playing on the Bull from Dallas' shield.
Pre-Game: Watson at fullback for FC Dallas is strange. On paper he should be really bad there. Extremely ineffective. Yet he's been able to be pretty solid there and have some great games this season. One to keep an eye on.
Pre-Game: It's a bit strange to see Alexi Lalas with his huge beard and white patches. Still remember him from years ago with a beard closer to Borchers'.
Pre-Game: The biggest question mark for FC Dallas' defense is also their strength: young goalkeeper Jesse Gonzalez. While he is supremely talented he does lack experience and the playoffs have shown over the last 20 years that experience goes a loong way towards winning.
Pre-Game: It's going to be difficult for Portland to keep the youthful energy and skill of Dallas in check but they've been on a roll for a while now so it's certainly possible.
Pre-Game: The lineups are in for both sides and no surprises for the Timbers or Dallas. Strong lineup for Dallas while the home team is without a pair of players due to suspension (Valeri and Wallace).
Pre-Game: Good evening everybody! The Crew/RedBulls match just wrapped up! If you didn't catch it, be sure to watch the game. It was a great one in Ohio with some crazy things happening.
A good prediction for this game is a 1 - 1 draw with Dallas possibly leveraging that away goal to great effect next week.
On the flip side, FC Dallas has to be careful with Perez and Diaz one card away from suspension. It's possible that one or both of them could take a card on purpose to sit out if they have a comfortable lead during the first leg in anticipation of getting to MLS Cup. The last thing either side wants is to have their best players unavailable for the championship match.
For this particluar game in Providence Park, the Timbers will be without Valeri and midfielder Rodney Wallace due to yellow card accumulation. How Head Coach Caleb Porter replaces these two will likely go a long way towards deciding the series. Both teams are fully capable of scoring goals by the bucket and without Valeri it'll be more difficult for the home team to keep Dallas off the board enough to give them a chance before the return leg in Texas.
The back line has a healthy mix of experience and youth, with the likes of Stephen Keel, Michel, Zach Lloyd and Bakary Soumare leading the line alongside youngsters Walker Zimmerman, Moises Hernandez and Otis Earle. All said, the defense allowed 39 goals, good for 2nd best in the West (tied with Portland and San Jose Earthquakes.
Surprisingly one of the best defenders for the club is Mexican goalkeeper Jesse Gonzalez. The 20 year old has been stellar for Dallas this year. The youth international even put in a heroic performance against the Seattle Sounders during the Conference Semi-finals, saving two penalties during the shootout in Frisco. He too has raised eyes in Mexico with rumors of several clubs down south keeping an eye on his development. With MLS legend Dan Kennedy there to tutor him, Gonzalez is in great hands to continue his development and one day challenge for the top spot for Mexico.
What really makes FC Dallas tick, offensively, though, is Mauro Diaz. The Argentine midfielder is one of the best in the league with his pin-point precision passes allowing the forwards to use their speed to get around all but the absolute best defenders. He also has the pace to work his way around pesky defensive midfielders. Perhaps his best attribute is his change-of-pace, leaving defenders flat footed.
Speaking of Castillo, the Colombian International is, now, an international with the highly touted Colombian National Team! Castillo has been with Dallas for four years and, at the age of 23, has finally found the breakthrough for club and country, registering 9 goals and assists this season. Long a part of the youth ranks for Colombia, Castillo has been called up three times this year, making his debut against Peru in September. While this hardly makes him a regular, it has put his foot in the door, giving him a chance to earn a regular position for the top South American side. It has raised eyebrows in Mexico as well, with a rumored transfer to Club America imminent.
On the defensive side of things, Borchers has been a rock for the team, going the distance in 31 of the Timbers' 34 matches this season. His physicallity is as fierce as his beard. He's capable of matching the kind of physical play a Blas Perez or David Texeira might throw at him. Borchers also has a tricky amount of speed over a short distance which could come in handy when facing off against Fabian Castillo or Tesho Akindele. If either of them gets a step or two on them, though...
For the Timbers, their offence is headed up by Fanendo Adi who is on a roll with 16 goals on the season, 4 of them in October alongside of an assist while also adding another goal against the Vancouver Whitecaps during the Conference Semi-finals. The Nigerian is an incredibly dangerous striker capable of using his huge frame to muscle defenders to give himself space enough to get shots off. His technical skills are top notch too as he's able to get on the end of passes from Diego Valeri, Rodney Wallace and Darlington Nagbe. The trio have logged 20 assists this season and don't show any sign of slowing down the pace.
Adam Kwarasey was busy that day, facing seven shots but only managing to save three of them. All said, FC Dallas managed 16 shots as Michael Barrios had a brace, with Kellyn Acosta and Mauro Diaz adding to the tally. It was a great performance by Dallas to push themselves up the standings at the time as they shed the label of a team whose performance plummets during the summer.
In the first match, the Timbers defeated Dallas 3 - 1 off goals by Nat Borchers, Max Urruti, and Diego Chara. That game was a chippy affair with 30 fouls called on the night though only three cautions were handed out. It set the stage for the return leg in Frisco three months later. In the hot Texas sun, the Timbers were no match for the home side as they were blasted 4 - 1.
It's finally here! The Western Conference Final is set to kick off Sunday evening with the Portland Timbers playing host to FC Dallas at Providence Park in front of one of the most raucous atmospheres Major League Soccer has to offer. In the two previous meetings between these clubs, both home sides won the game by multiple goals.