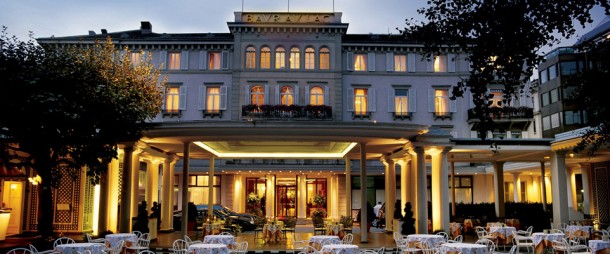 Just when the world was getting comfortable at the end of the year, the Swiss police raided the Baur au Lac Hotel in Zurich, arrested over a dozen FIFA officials in a pre-dawn raid at the behest of the US Department of Justice.
No, that isn't a rehash of evens from May. This is the second time the Swiss and American police have worked together to arrest a large number of FIFA officials this year. The first time happened in May just before the FIFA presidential election was to occur. Thursday morning's raid came in the middle of a FIFA Executive Committee meeting that was working to bring reform to the embattled organization. Instead at least two members of the Executive Committee were taken away. Those two have been identified as current CONCACAF President Alfredo Hawit, of Honduras, and CONMEBOL President Juan Angel Napout, of Paraguay.
That's three consecutive presidents for both confederations that have been charged and arrested this calendar year. Or a hat trick. The others arrested are Jeffrey Webb and Jack Warner in CONCACAF and Nicholas Leoz and Eugenio Figueredo in CONMEBOL. All of them are accused of accepting bribes from sports marketing agencies in relation to World Cup Qualifying TV rights.
U.S. Attorney General Loretta Lynch is going after FIFA and sports marketing officials because they all have used the U.S. banking system, and/or airports, to launder their dirty money. This has given her all the leverage needed to charge officials from around the world with a litany of crimes from money laundering to fraud to tax evasion and so forth. Earlier this year during a meeting with her Swiss counterpart, Michael Lauber, she promised that there were plenty more arrests to come as part of her multi-year investigation.
Much like in May, the police waited for officials to gather together in large numbers as part of a critical meeting in Zurich before pouncing. Wednesday saw the Executive Committee kick off their reform meeting as they attempted to hash out ways to clean up the organizations tarnished image. This is especially important as FIFA's top sponsors have been increasing pressure on them for months now. With current FIFA president, secretary general and UEFA president all suspended and facing life-time bans, and the presidential election quickly approaching in February, it was time for changes to be agreed upon.
According to the New York Times, FIFA officials were "mostly upbeat" about how the first day had gone. One has to wonder how they feel about their reform ideas after seeing the number of arrested and indicted officials double in one night, including several members (again) of the Executive Committee.
It should be pointed out that Sepp Blatter, Jerome Valcke nor Michel Platini was taken into custody. The full list of those arrested, and what exactly they are being charged with, is expected to be revealed Thursday afternoon.
One of the proposed changes at FIFA was to decrease the number of people on the Executive Committee; toline what had become a bloated governing body. It appears that they won't have to pass that kind of rule at FIFA as the U.S. and Swiss authorities are quickly taking members of the powerful body away by the dozen (quite literally).
Like those before them, officials arrested during the raid will be held in Swiss jails as they accept or fight extradition to the United States. If they choose to fight it, the U.S. will have to submit their extradition papers and appear in court in Zurich. Many of those arrested in May have already been extradited to New York, the most high profile being Webb, former president of CONCACAF.
Lastly, the most vile of all former FIFA officials, Warner, is expected to be in court in Trinidad later this month to fight his own extradition to the U.S. A year ago he had many friends in the courts and government, which would likely mean that he would remain in his native country. After his former party was ousted during the recent elections, though, he has few friends and fewer favors to call upon, making his future quite bleak.
With these arrests it truly feels that a mostly corruption-free FIFA is within grasp.
Merry Christmas to the world, courtesy of Loretta Lynch and Michael Lauber.