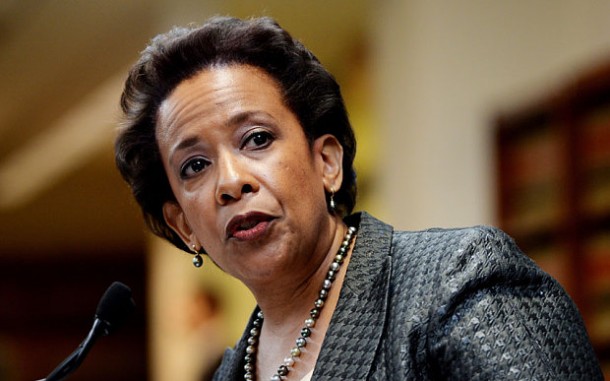 In the wee-hours in Zurich Thursday, Swiss police raided an all too familiar hotel for an all too familiar purpose. Later that day, US Attorney General Loretta Lynch gave a press conference detailing more corruption at FIFA, naming 16 more officials related to it and vowing to hunt down ​anyone else associated with criminal activity.
Yesterday's wave of arrests mirror those that occured in May earlier this year that rocked the sporting world to its very core. Because of those arrests, FIFA's top leadership has been suspended and face life time bans. Members of the extremely powerful Executive Committee (ExCo) have been arrested, with some having plead guilty. With each new arrest, Lynch unravels the knot that is brazen corruption at FIFA.
The press release from the DoJ is huge and detailed and worth reading on it's own merits, but it does need to be broken down.
First, the old news.
Of those arrested in May, the following have plead guilty to money laundering, wire fruad, false tax returns, tax evasion and more:
Zorana Danis
Owner of International Soccer Marketing Inc. $2 million + fine
Fabio Tordin
Executive of Media World LLC (former CEO Traffic Sports USA), $600,000 + fine
Luis Bedoya
FIFA ExCo, president of Colombian FA. Forfeit all funds in Swiss Bank
Alejandro Burzaco
GM of Torneos y Competencias (Argentine sports marketing company). $21.6 million + fine
Roger Huguet
CEO of Media World. $600,000 + fine
Jeffrey Webb
President of CONCACAF, FIFA Vice President and ExCo. $6.7 million + fine
Sergio Jadue
Vice President of CONMEBOL and president of Chilean FA. Forfeit all funds in US banks
Jose Margulies
Majority owner of Valente Corp and Somerton Ltd. $9.2 million + fine
To boot, on top of all the fines, each person faces some pretty stiff jail terms. As convicted felons under the RICO act, each person faces a maximum term of 20 years in prison. The real coup in this group is Mr Webb himself. When he was elected to replace Jack Warner (more on him later), he promised to bring about a new era of reform and accountability. Instead he merely continued the thievery that Warner began so many years ago.
Now he gets to sit in jail for a while thinking about it. Though it wasn't mentioned in this press release, Webb's mansion in Georgia has already been seized as a product of his crimes. If any of the other felons bought property or expensive items with their dirty money in the US, they face a similiar fate.
As we move on to the newest members of FIFA's ever growing club of alleged soon-to-be-felons, the scope of this investigation has grown far larger than any suspected. Part of the document mentions that Loretta Lynch is either co-operating with, or trying to work with, 13 different countries around the world to prosecute these criminals and sieze their funds and assets.
It would appear that those long-suffering federations who have had thieves thrust upon them for decades, facing suspension from FIFA (or worse) when they go after these individuals, are now in a position to rid themselves of the worst of the worst under the might of the DOJ. They'll be more than happy to hand them and their assets over for a chance to start over.
On to the new! This particular list is lighter on the sports marketing company side and heavier on FIFA itself. Many of the accused are incredibly powerful people within FIFA and have long been suspected of being involved in corruption.
Alfredo Hawitt
CONCACAF President, FIFA VP and ExCo
Ariel Alvarado
FIFA Disciplinary Committee, Panamanian FA president
Rafael Callejas
FIFA Television and Marketing Committee, former President of Honduras, former president of Honduran FA
Brayan Jiminez
Guatemalan FA president, FIFA Fair Play and Social Responsibility Committee
Rafael Salguero
Former ExCo and Guatemalan FA president
Hector Trujillo
Guatemalan FA secretary general, Constitutional Court of Guatemala judge
Reynaldo Vasquez
Former Salvadorian FA president and FIFA ExCo
Just to stop here and note a few things. You, dear reader, are reading the above correctly. A current standing judge in the Guatemalan government and the former President of Honduras have indeed been charged. Not FIFA judge or FA president but actual government officials. That's how far and deep this investigation is going. It's also how far and deep FIFA imbeds some of their officials.
The big fish, though, is Alfredo Hawitt who was next in line after the last round of indictments left the CONCACAF president and general secretary in jail. As Bill Archer notes, this now puts Mexican FA president Justino Compean as the president of CONCACAF. Whether you believe the implications about him are another matter.
The list wraps up with the following names:
Juan Angel Napout
CONMEBOL president, FIFA VP and ExCo
Manuel Burga
FIFA Development Committee, former Peruvian FA president
Carlos Chavez
CONMEBOL treasurer, former Bolivian FA president
Luis Chiriboga
Ecuadorian FA president, CONMEBOL ExCo
Marco Polo del Negro
Brazilian FA president, recently resigned FIFA ExCo
Eduardo Deluca
Former CONMEBOL general secretary
Jose Luis Meiszner
CONMEBOL general secretary
Romer Osuna
FIFA Audit and Compliance Committee, ex-CONMEBOL treasurer
Ricardo Teixeira
Former Brazilian FA president
For those keeping score at home, that is indeed three straight CONCACAF and CONMEBOL presidents that have been charged, arrested and/or pled guilty. The truly horrifying thing is that as bad as the corruption here is, it is worse elsewhere in the world but the US will have a hard time going after those crooks as their ties to US banks, tournaments, TV and clothing companies is tenuous at best.
Taking the list as a whole, it's easy to see just how not ready FIFA is for reform. Many of those taken are on the very committees Sepp Blatter and company have put together to ensure that the money goes where it is supposed to while punishing those who violate FIFA rules. Instead everyone has been helping themselves to the money for years.
Sadly Thursday didn't deliver a clean sweep on corruption. Lost amid the turmoil caused by these arrests was news on gum-stuck-to-the-bottom-of-you-shoes Warner and his extradition hearing to the US. Using what money he can get his hands on, as well as pulling all the strings he has left to him, Warner's lawyers were able to delay the case until February after questioning the whole process, kicking it up to a federal court in Trinidad.
As part of the details given by the DOJ, it was confirmed (legally) that Warner stole money that was supposed to go to Haiti after their massive earthquake in 2010. This had long been rumored and reported on by those who have been following Warner's misdeeds but to now get it out into the open puts even more pressure on to put him behind bars.