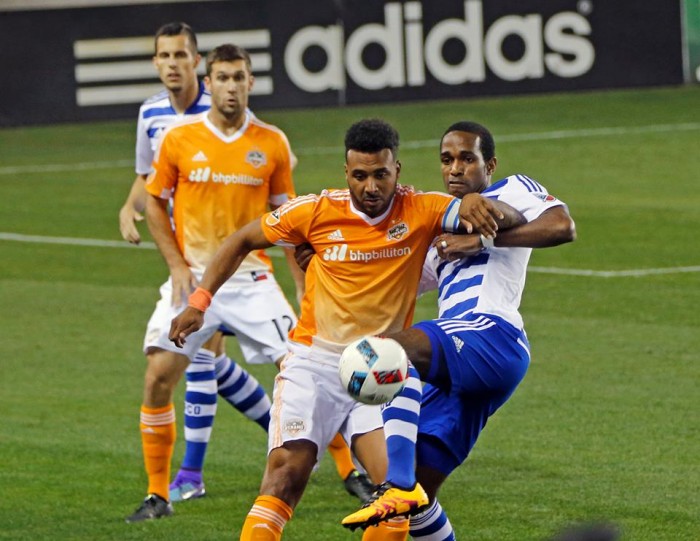 Saturday's match between the New York Red Bulls and the Houston Dynamo is reflective of the league as a whole. The reigning Supporters Shield winners are entering the game without having earned a single point so far this season while the visitors are coming off their biggest win ever. Not only have the Red Bulls failed to register a point yet, they haven't put the ball in the back of the net either. Meanwhile the Dynamo sit at a respectable four points with eight goals scored. Only in Major League Soccer would the season start out thus.
Trying to gel
It's not all doom and gloom for the Red Bulls as they haven't looked horrible in either of their losses this season. Jesse Marsch's side seems to just be showing a bit of rust still from pre-season and one figures it's only a matter of time before they start clicking into the consistent machine of last year. The biggest change from last season is the sale of young center back Matt Miazga to Chelsea. In his place is Giddeon Baah, who has given mixed performances to date. The Ghanaian International has huge shoes to fill, so it's understandable that it'll take some time to settle in and make that position his own.
Meanwhile, the rest of the team has returned from last season, minus a pair of injuries. Center back Damian Perrinelle is still recuperating from knee surgery last fall. Without him the team wasn't as sharp in the back and likely cost them a shot at the title, losing out to Columbus Crew in the Western Conference Championship. Star attacker Gonzalo Veron enjoyed his first full training sessions this week and may be healthy enough to get minutes this weekend. While he's likely not sharp enough to start, it's highly likely that the Argentine will come off the bench to boost the offense if they're still in search of a goal.
Walking Wounded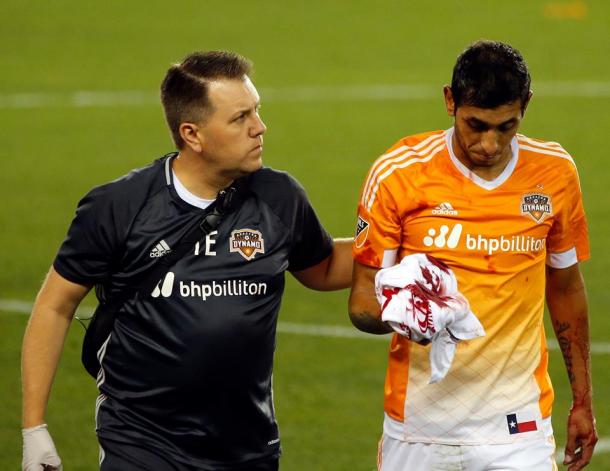 For Owen Coyle's team, injuries are quickly piling up. Coming into the season the team was already banged up and the first two matches haven't done them any favors. Ricardo Clark picked up an injury during the pre-season and isn't at 100% yet, needing to be subbed off early in both matches.
Tyler Deric is still recovering from an early injury as well. Recently acquired midfielder Collen Warner is suffering from a bi-lateral hamstring strain. Argentine playmaker Christian Maidana was hit in the head very hard in the previous match against FC Dallas and required several stitches to close the wound. He'll sit this match out as the team follows league concussion protocol for head injuries.
Also in the match against Dallas, team captain Giles Barnes was subbed out early in the first half due to a hamstring strain. He's currently listed as 'doubtful' for Saturday's game. This may mean he could see substitute minutes or be given the chance to rest ahead of next week's game in Vancouver, where international absences will be a problem. In either case, Coyle will have to tweak his lineup to fill his shoes on the left flank.
Standout performers so far
In net Joe Willis has done a good job of keeping the team in it. While he started off the season a bit shaky, his second game was much more composed, allowing him to register a clean sheet. He'll be given the nod as the Texas native continues to work his way back to full fitness. Expect Clark to continue to start alongside Alex in defensive midfield, though his minutes may continue to be managed. The rest of the choices require a bit of work on Coyle's part, but one can guess how he'll choose his team based upon his substitution patterns so far.
At attacking midfield will likely be Leonel Miranda. The on-loan playmaker from Argentine club Independiente has been brought into both matches and has looked very sharp, including an incredible chip on Will Bruin's goal against Dallas last week. It'll be a lot to ask of the youngster but these are the games that help players mature into stars, and his big chance to shine.
Replacing Barnes requires a bit of thought, as there are a few options. Honduran International Oscar Garcia has been coming off the bench lately to play in central midfield and has looked very good in doing so. However he is more than capable of playing out wide, even on the left. With Andrew Wenger playing so spectacularly so far this season, it's unlikely that Coyle will want to move him from his current position, so no swaps there.
Another option would be Rob Lovejoy. While he has yet to feature this season. Lovejoy started his rookie campaign amazingly before suffering a long-term injury last May that kept him out until near the end of the season. The best bet is for Garcia to replace Barnes to start the match.
Despite all of the injuries, Houston is coming in on a real high after pasting their in-state rivals. They'll be looking to continue their form by grabbing at least a point and that is likely the result. New York is looking to prove themselves and it's almost certain that they'll show signs of life in this game.
Everything about these two teams, at this point in time, screams a 1 - 1 draw. For neutrals the big questions will be just how much time Veron and Erick Torres get for the Red Bulls and Dynamo, respectively. Assuming there are no injury concerns, fans would love to get their first look at both players this year, even off the bench.