The Colombian National Team are less than a week away from opening the Copa America Centenario playing against the host country, the United States. Jose Nestor Pekerman's side are looking to continue their recent form into the tournament.
With many new changes from the last Copa America squad, this young Colombian team is hoping to win their first international tournament since 2001. This is an excellent opportunity for some new players to prove that they should be included in the starting 11 for the upcoming World Cup Qualifiers. Pekerman's side is looking to improve from a catastrophic Copa America in Chile where they only scored one goal in four games.
Group of Death favorites
Group A will be a challenge for Colombia as they will have to play against the United States, Paraguay, and Costa Rica. The road to the final in East Rutherford, New Jersey begins at Levi Stadium in Santa Clara, California where on June 3rd they will play the United States in the opening match of the tournament.
Los Cafeteros will stay in the Golden State and travel down to Pasadena where they will play Paraguay in the Rose Bowl and then after travel to Houston where they will go up against Costa Rica.
On paper, Colombia are seen as the favorites alongside the United States to advance in The Group of Death but, Paraguay and Costa Rica are certainly no easy opponent as they have had recent success. Costa Rica has been proving people wrong, ever since the World Cup in Brazil, that they are a serious threat. They reached the quarter final of the Gold Cup last year where they were stunned by a late controversial penalty call where Andres Guardado helped Mexico go through.
Los Ticos have been looking strong in qualifying leading their tough group with Panama, Jamaica, and Haiti. Paraguay finished in 4th place in the recent Copa America and has only lost once in the six CONMEBOL World Cup Qualifiers games.
The new faces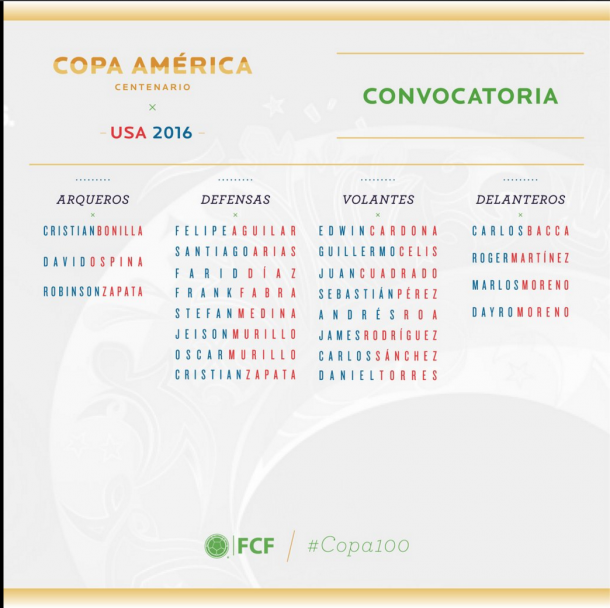 Head coach Jose Nestor Pekerman has decided to include many new players with little experience with the National Team in replace of many key veterans. Pekerman has been keeps including Atletico Nacional's Sebastian Perez and Farid Diaz in the starting lineup. It wouldn't be surprising if they both start against the United States as they were both in the starting 11 in the recent friendly against Haiti.
A new addition to Colombia's squad is Dayro Moreno who had a half-decade absence with the National Team and was included back after his tremendous season at Club Tijuana. He scored the first goal in Colombia's 3-1 win over Haiti.
Colombia will be delighted to have Marlos Moreno as an option off the bench. The 19-year-old forward has emerged himself domestically and is quickly showing his play making ability internationally. The young forward was heavily involved in Colombia's recent friendly as he played a big part in Colombia's first two goals.
The only change to Colombia's final 23 man roster is the addition of the Palmeiras center back Yerry Mina, who is in for the injured Oscar Murillo after sustaining an injury in the Liga MX final for Pachuca.
Key Players
James Rodriguez
James will look to captain Los Cafeteros to a historic Copa America run. He is coming off a disappointing season with Real Madrid seeing little playing time. However, he has been Colombia's best player in the recent qualifying games. James has now won the Champions League but will be looking to add another trophy onto his list this season was and will be seeking to win Colombia's first cup for the first time in 15 years.
Carlos Bacca
The striker position has been a position Colombia is known for with the list of many talented strikers over the years and even just the last few years. With Falcao, Jackson Martinez, Adrian Ramos, and Teofilo Gutierrez not in the side, this is Bacca's chance to impress. Carlos Bacca is set to be the catalyst up front for Colombia where he is most likely going to play alongside or Dayro Moreno or be the lone striker.
Santiago Arias
The Eredivisie champion is set to add security on Colombia's right hand side as Santiago Arias has been impressive throughout PSV's campaign. Arias who will play right back is not shy to join the the attack as he has proven to score as well. Arias will be part of an experienced defensive back line as Jeison Murillo and Cristian Zapata have gotten plenty of playing time in Europe.
Can Colombia Look to Impress Again?
Sure, Colombia hasn't been the same since their great World Cup run in Brazil but Jose Nestor Pekerman has made many arrangements to restore Colombia's identity. Pekerman has been in a rebuilding process and looks to earn his first cup with Colombia. With David Ospina and James Rodriguez leading, Colombia is looking to seek the historic cup celebrating the 100 years of CONMEBOL.