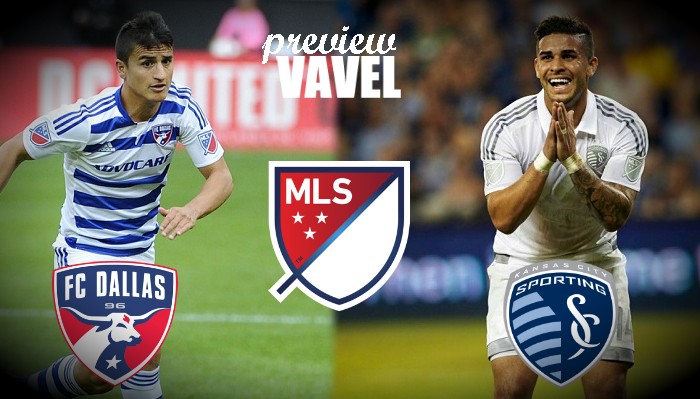 FC Dallas looks to make it three wins in four Major League Soccer matches when they take on Sporting Kansas City on Saturday, August 13, at Toyota Stadium in Frisco, Texas. The game will kick off at 6:00 PM PT and can be seen on MLS Live and TXA-21. This will be the 55th all-time meeting between the two sides, with Sporting Kansas City holding a slim (win-loss-draw) 23-21-10 all-time series lead.
How did both teams fare last weekend?
After a bye week, FC Dallas beat the Los Angeles Galaxy 2-1 on Wednesday to advance to the U.S. Open Cup final. The Galaxy took the lead after forward Mike Magee converted a penalty kick in the 101st minute, but FC Dallas stunned the home side by scoring two goals in the 116th and 121st minute to clinch the victory. Midfielder Victor Ulloa was FC Dallas' hero, heading in a Mauro Diaz corner kick in extra time stoppage-time to earn his club an unlikely win. With the win, FC Dallas moves on to the Cup final, where they will take on the New England Revolution on Wednesday, September 21.
Sporting Kansas City suffered a dispiriting 3-0 loss to the host Portland Timbers last Sunday. Timbers midfielder Diego Valeri hit a brilliant, one-touch shot to give his team the lead in the 65th minute, and teammates Jack Jewsbury and Fanendo Adi both scored to add some gloss to the final scoreline. SKC dominated the proceedings and had a man advantage for 27 minutes, but squandered numerous chances and finished the game with 10 men after influential midfielder Soni Mustivar was sent off in the 39th minute. Mustivar will be suspended for Saturday's match against FC Dallas, and his absence will force manager Peter Vermes to reassess his next starting lineup.
FC Dallas' game plan against Sporting Kansas City will be to...
Control the midfield tempo. FC Dallas will be physically and emotionally drained after playing 120 minutes against the Galaxy on Wednesday, but they face a banged up SKC side that is missing three important players. SKC midfielders Roger Espinoza and Mustivar are both suspended for Saturday's contest and Designated Player (DP) center back Matt Besler is out with a left MCL sprain.
FCD's central attacking midfielder Diaz may sit out Saturday's match in order to rest, but if he does start, his teammates will try to get him the ball as often as possible. Diaz has three goals and ten assists in 16 starts this season and links up well with attacking players Michael Barrios and Maximiliano Urruti. If SKC gives Diaz time and space on the ball, the little Argentine will pick apart SKC's midfield and back line.
If Diaz doesn't start Saturday's match, FC Dallas manager Oscar Pareja will choose either Carlos Lizarazo, Mauro Rosales or Barrios to take his place. While these three players are not as instrumental as Diaz, they all have experience playing as the fulcrum of FCD's attack.
FC Dallas' game plan on Saturday is simple: get the ball to their central attacking midfielder and hope that he can create good scoring opportunities for himself, Barrios and Urruti.
Sporting Kansas City's game plan against FC Dallas will be to...
Attack down the left. If SKC wants to leave Toyota Stadium with all three points, then they will need to attack FC Dallas' right-sided combination of Barrios and Atiba Harris. Barrios is an attacking threat because he's lightning fast and can start a counterattack on his own, but he's prone to venturing too high upfield and leaving his teammate, right fullback Harris, to defend two players on his own. Harris is a solid defender and wins a majority of his aerial duels, but sometimes commits silly fouls and turns the ball over in his own half.
SKC left back Jimmy Medranda and left winger Connor Hallisey will need to isolate Harris and force him to defend both players. Medranda can whip in an accurate cross if given time, while Hallisey can find pockets of space all over the field. Yet Hallisey hasn't been productive in 2016 as he's only recorded one assist through 12 starts.
Manager Vermes may choose to deploy DP Graham Zusi as SKC's starting left winger. Zusi is a more multifaceted attacking threat compared to Hallisey and if he and Medranda can combine down the left side, SKC will generate quality scoring chances for forward Dominic Dwyer and the rest of SKC's offense on Saturday.
Projected formations
FC Dallas projected starting lineup/formation (4-2-3-1)
Chris Seitz; Atiba Harris, Walker Zimmerman, Aubrey David, Maynor Figueroa; Juan Esteban Ortiz, Victor Ulloa; Michael Barrios, Mauro Rosales, Ryan Hollingshead; Getterson.
Notable Subs: DF Matt Hedges, MF Mauro Diaz, FWD Maximiliano Urruti.
Sporting Kansas City projected starting lineup/formation (4-3-3)
Alec Kann; Saad Abdul-Salaam, Nuno Coelho, Ike Opara, Jimmy Medranda; Lawrence Olum, Paolo Nagamura, Benny Feilhaber; Graham Zusi, Dominic Dwyer, Jacob Peterson.
Notable Subs: DF Chance Myers, MF Brad Davis, FWD Diego Rubio.
Matchup to watch
FC Dallas right winger Michael Barrios - Sporting Kansas City left fullback Jimmy Medranda
The last time FC Dallas and Sporting Kansas City met, Medranda shut down both Barrios and left winger Fabian Castillo in a man-of-the-match performance. Don't let Medranda's 5'5" frame fool you: he's a tenacious defender who likes to dive into tackles and isn't afraid to challenge taller players in the air. He's also a fast runner and can deliver accurate crosses into the opposing team's 18-yard-box.
Medranda will need to put in a strong two-way performance against FCD on Saturday. Not only will he need to join in on his team's salvos, but he will also need to neutralize the attacking threat of fellow Colombian Barrios. Barrios is tied with FCD teammate Urruti for the team lead in goals (six) and uses his quick change of pace and blistering speed to outrun and outwit most defenders.
If Barrios is able to combine with right fullback Harris and overrun SKC's left side, FCD will generate numerous scoring opportunities. But if Medranda can defend Barrios well and get forward when his team attacks, then SKC can serve cross after cross into FCD's box. Either way, all eyes should be on the Medranda - Barrios battle on Saturday.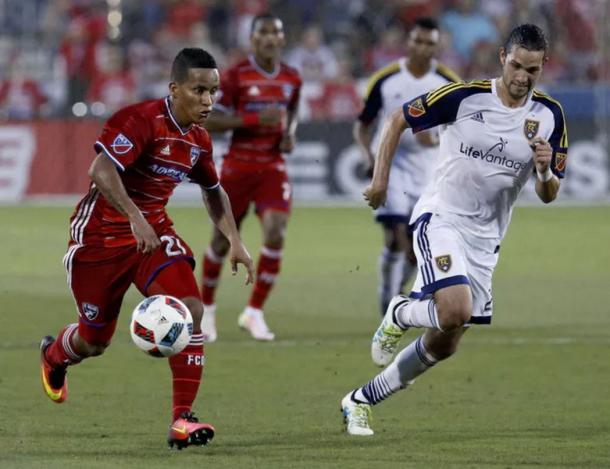 Projected scoreline
The final scoreline will depend on how many starters FCD manager Pareja uses against SKC. If Pareja goes with a first-choice starting eleven on Saturday, then FCD should win by one or two goals. But if Pareja fields a lineup of mostly second-stringers, then SKC might be able to steal a valuable road point.
Even if Pareja fields a lineup of mostly substitutes, FC Dallas should still find a way to beat SKC. SKC will be without two integral midfielders in Espinoza and Mustivar and their combined absence will make it easier for FCD to win the possession battle. FCD winger Barrios scored a goal the last time these two clubs played at Toyota Stadium and he will score again on Saturday. His speed and trickiness on the ball will wear out left back Medranda and will lead to numerous scoring opportunities for central attacking midfielder Rosales and forward Getterson. SKC will play hard and make the game interesting, as they always do, but FC Dallas will score a couple of goals and will defend well enough to earn the victory and stay undefeated at home.
Projected final score: FC Dallas 2 Sporting Kansas City 1