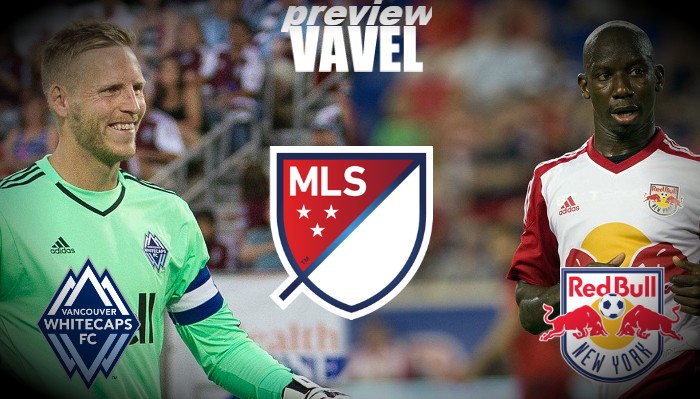 The Vancouver Whitecaps look to end their seven-match winless streak when they take on the New York Red Bulls on Saturday, September 3, at BC Place in Vancouver, British Columbia. The game will kickoff at 4:00 PM PT and can be seen on TSN1 and MLS Live. This will be the seventh all-time meeting between the two sides, with the Whitecaps holding an impressive (win-loss-draw) 3-0-3 all-time series lead.
How did both teams fare last weekend?
The Vancouver Whitecaps were unable to pick up their first win in seven games after tying the host LA Galaxy 0-0 last Saturday. 'Caps forward Erik Hurtado missed two glorious chances to give his team the lead. He contrived to head a pinpoint Giles Barnes cross off the crossbar in the eighth minute before chesting a Pedro Morales cross wide in the 24th minute. Outside of Hurtado's chances, the 'Caps spent most of Saturday's match playing defense. While they defended well enough to earn a road point, the 'Caps needed three points to stay in the Western Conference playoff race. With the result, the 'Caps slid to ninth place in the Western Conference, four points behind the sixth-place Portland Timbers with seven games left in the regular season.
The New York Red Bulls continued their great run of form after beating the visiting New England Revolution 1-0 last Sunday. Red Bulls' talisman Bradley Wright-Phillips scored his 16th goal of the season in the 55th minute and has a real shot at becoming the first MLS player to score 20 goals in more than one season. The Red Bulls' defense stymied the Revs' offense to earn their tenth win at home, most in MLS this season. With the result, the Red Bulls rose to third place in the Eastern Conference and remain four points behind Eastern Conference-leading New York City FC.
The Whitecaps' game plan against the New York Red Bulls will be to...
Absorb pressure and then counterattack. The Whitecaps used this game plan against the Galaxy last weekend and probably should have left the StubHub Center with all three points. The 'Caps will be without six players on Saturday because of international call-ups, including starting center back pair Kendall Waston and David Edgar and forward Barnes, so the 'Caps will need to conserve their energy, stay organized on defense, and then hit the Red Bulls on the break when a counterattacking opportunity presents itself.
The Red Bulls' game plan against the Vancouver Whitecaps will be to...
Put pressure on the 'Caps defense and midfield. The Red Bulls use a "high press" when they don't have possession of the ball. This means that the Red Bulls starting attacking quartet--left winger Mike Grella, center attacking midfielder Sacha Kljestan, right winger Alex Muyl and forward Wright-Phillips--work hard to close down their opponent's passing lanes in order to force their opponent into committing turnovers. The Red Bulls have used the high press to great effect over the last two seasons and will use the press to harass the 'Caps' midfielders and back line.
Although the 'Caps back line played well against the Galaxy, the back line will be comprised of mostly second-stringers against the Red Bulls. Projected starting left back Brett Levis will be making his MLS debut, while projected 'Caps center back pair Tim Parker and Andrew Jacobson have both fallen out of favor recently. Both Parker and Jacobson have committed some costly errors this season and the Red Bulls should be able to force both into making some ill-advised decisions on Saturday.
Projected formations
Vancouver Whitecaps projected starting lineup/formation (4-4-2)
David Ousted; Jordan Smith, Tim Parker, Andrew Jacobson, Brett Levis; Fraser Aird, Matias Laba, Russell Teibert, Pedro Morales; Masato Kudo, Erik Hurtado.
Notable Subs: DF Jordan Harvey, MF Cristian Techera, MF Nicolas Mezquida.
New York Red Bulls projected starting lineup/formation (4-4-2)
Luis Robles; Chris Duvall, Aurelien Collin, Ronald Zubar, Sal Zizzo; Mike Grella, Sean Davis, Felipe, Alex Muyl; Bradley Wright-Phillips, Gonzalo Veron.
Notable Subs: DF Justin Bilyeu, MF Daniel Royer, FWD Omer Damari.
Matchup to watch
The Vancouver Whitecaps back line - New York Red Bulls forward Bradley Wright-Phillips
This is the matchup that will decide whether the Red Bulls leave with no points or all three. What makes Wright-Phillips such a goal-scoring threat is his ability to create and exploit space in his opposing team's 18-yard-box. He knows how to time his runs without getting called offside and he always seems to be in the right place at the right time to fire home a loose ball.
The absence of Kljestan, who leads the league with 15 assists this season, may limit Wright-Phillips' scoring chances against the 'Caps, but the presence of Gonzalo Veron as the second striker in the Red Bulls' 4-4-2 formation may give Wright-Phillips more time and space on the ball. More time for Wright-Phillips is good for the Red Bulls and bad for any back line tasked with containing him.
The 'Caps back line has endured a lackluster season mainly because of poor individual play. 'Caps right back Jordan Smith tends to commit at least one critical blunder per game and center back Parker has regressed in his second year in MLS. Both players will be looking to redeem themselves on Saturday and if they can help the 'Caps defense neutralize Wright-Phillips, then the 'Caps should be able to leave BC Place with at least a point. But if both players can't solve the Red Bulls' high press and are unable to contain Wright-Phillips, then their team's winless streak will be extended to eight games.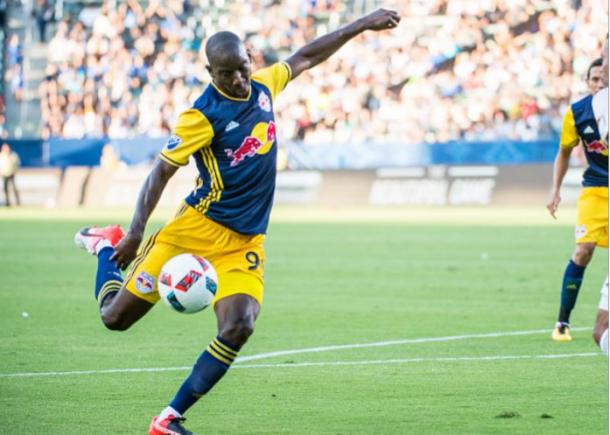 Projected scoreline
The Whitecaps frankly cannot lose on Saturday. Anything less than three points and their playoff hopes are all but extinguished. The Red Bulls need a road win in order to keep pace with red-hot Toronto FC in the Eastern Conference playoff race. Although both teams will be missing a number of starters thanks to international call-ups, this author expects this Saturday's match to be a hard-fought, intense affair.
All eyes will be on the battle between Wright-Phillips and the 'Caps back line. This author believes that the absence of Kljestan will allow the 'Caps defense to successfully defend against Wright-Phillips and the Red Bulls' offense on Saturday. The 'Caps will score a goal off of a counterattack in the first half and will sit back and defend in the second half. Wright-Phillips will have a couple of decent scoring opportunities in the second half and might force 'Caps goalkeeper David Ousted into one fine save, but the 'Caps will likely score another goal in second-half stoppage-time to earn all three points. With the win, the 'Caps will break their long winless streak and will keep their playoff hopes alive for at least one more week.
Projected final score: Vancouver Whitecaps 2, New York Red Bulls 0