 Recently, NWSL team FC Kansas City has been making some new adjustments to their staff. Last month, General Manager Huw Williams of FC Kansas City resigned from the staffing team to pursue management with GSI Sports. Before Williams resigned, Elam Baer, a CEO of North Central Equity in Minneapolis has been persistent in purchasing the team.
Baer's purpose in purchasing the team
Back in October, Baer went to one home game and another away game in Orlando to watch FC Kansas City play and reached out to current owner Chris Likens followed by his two sons Brad and Greg Likens who co-own the team along with Budzinski.
In purchasing the team, Baer made it clear that he would want to keep the team in Kansas. He told the Star:
"When you look at the enormous on-field success this team has had, I don't see any reason why I would go in there and make a lot of changes. The bottom line is we need to sell more tickets and get more sponsorship revenue. If you accomplish those two things, a lot of other problems are solved pretty easily."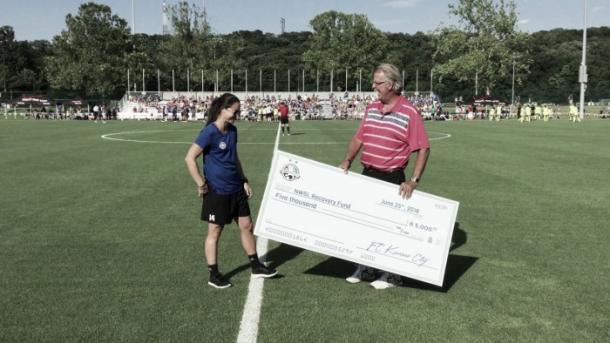 Why does Baer take the risk of the purchase?
This past March, the FC Kansas City four-man ownership team were investigated as several sexually suggestive emails were exposed to media involving players. This downfall for the team may be the reason why Baer seeks the initiative to invest in the revenue of the team and to build it back up again as this incident among the owners may have impacted the perception of the fans and supporters.
With Kansas City being the seventh-ranked team among the ten in the NWSL, Baer hopes to increase the excitement of fans to pour back into the revenue of the team.
He also stated his goal in the investment of the purchase:
"Our emphasis from the get-go is going to be the revenue-generating side of the business. The new people we bring in are pretty much all going to be on the revenue-generating side."
Looking ahead for the Stars
Baer hopes to make the purchase official before the start of the 2017 NWSL season. Currently, the seller is in the process of transferring the team under his name, which can take time.
With the NWSL College Draft being nine short days away, the team has the possibility to inherit many young talented players as the team welcomes them to the pitch.
This change in ownership is intended to benefit the team and the players, it will only be up to the staff of FC Kansas City in order for that to take place for the 2017 NWSL season.