As the USWNT released their 25 player roster earlier this week for the upcoming SheBelieves tournament, there are some new faces added to the list as well as some familiar ones. As this roster isn't the final roster for their friendly matches, only 23 players will be on the finalized roster that is yet to come. Here's a look at some of the newest players to receive their first cap as well as some insight about the veteran players.
Briana Pinto
The 16 year-old midfielder is the youngest player on the U.S roster. This past October she started in all three games of the FIFA U-17 Women's World Cup. Head coach Jill Ellis invited Pinto to join the January training camp in preparation for the 2017 SheBelieves tournament.
Sarah Killion
In 2015, Killion was selected as the number two overall pick of the NWSL College Draft by Sky Blue FC. She has been a significant player for Sky Blue as she started and played in all 18 games out of the 20 this past season. During her time on the pitch she scored three goals and made one assist as a midfielder that played more defensively. 
Rose Lavelle 
The Ohio native was recently selected by the Boston Breakers as the first pick in the 2017 NWSL College Draft. As she's participated with the with the U-20 team, she was named MVP in the 2014 CONCACAF Championship as she played four out of the five games that led the team to the FIFA U-20 Women's World Cup. 
The midfielder definitely stood out to Ellis who was present at the draft where Lavelle was the first pick. Her future possible success with the Breakers will allow her to become a stronger player in preparation for when she makes her first cap with the USWNT.
Jane Campbell
Along with goalkeepers Ashlyn Harris and Alyssa Naeher, Ellis listed Campbell on the roster. Campbell was also a member of the U-20 CONCACAF Championship team in 2014. She was a member of the Concorde Fire South team, which is in association with U.S Soccer as a development academy which strives to improve the environment for the elite athletes.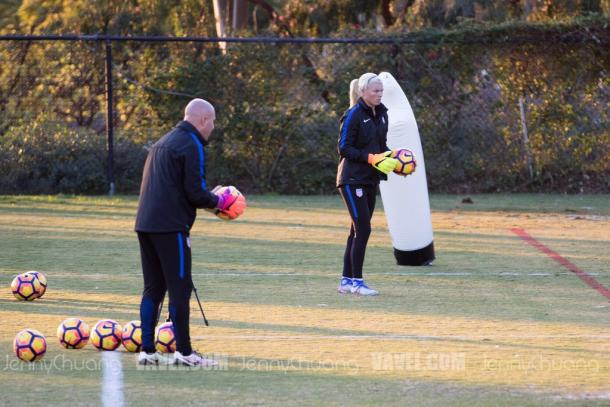 When asked about the new players on the roster by U.S Soccer and their progress during the January training camp, Ellis affirmed:
"It's still early, but at this point they've earned further investment. They all bring hard work and good attitudes and that helps our environment. We will continue to give deserving players opportunities, and consistent performances both in our environment and with their clubs are key." 
Veteran Players
Although this 25 player roster will be cut down to 23 players, some names that aren't listed include Megan Rapinoe, Hope Solo, and Sydney Leroux.
Ellis shared her comments made with Rodriguez and Leroux, who have both recently taken time off due to having children.
"I had a good conversation with Amy, and January Camp is a good time for her to come in. Everyone is coming off a break, we're growing our team and evolving in how we want to play. She needs to get up to speed on that and she knows that. As for Sydney, she's not 100% cleared for competition yet. Syd will be back in to compete when she's cleared and at the appropriate event."
As Rapinoe tore her ACL in late December of 2015, she didn't come to see the pitch until the Olympics this past summer. As conflicts of the two time World Cup veteran have occurred this past summer due to her kneeling during the national anthem, her not being listed on the roster is more than just this issue.
Rapinoe attended the January training camp in which her performance wasn't up to the standards expected. 
Ellis expressed some of her thoughts with espnW:
"We are heavy in the wide areas, I told Megan [Rapinoe] she just needs some time to work her way back in and get games with her club, that it's a marathon, not a sprint."
In regards to goalkeeper Hope Solo, whose suspension is scheduled to end on February 22, Ellis has already brought in Jane Campbell. With the three goalkeepers on the roster, Solo isn't needed as they already made the decision to suspend her for various reasons. 
Not having her presence at the back of the net will be missed by fans, but with her comments and the way she played at the Olympics this past summer, it could possibly be beneficial for the team to bring in new faces.
SheBelieves Cup Information
The first game of the tournament will kick off on March 1st in Pennsylvania as the U.S faces Germany. Games will be aired on Fox and Fox Sports 1.
March 1 at PPL Park in Chester, PA
England vs. France – 4 p.m.
United States vs. Germany – 7 p.m., FS1
March 4 at Red Bull Arena in Harrison, NJ
France vs. Germany – 2:15 p.m.
United States vs. England – 5 p.m., FOX
March 7 at RFK Stadium in Washington, D.C.
Germany vs. England – 4 p.m.
United States vs. France – 7 p.m., FS1