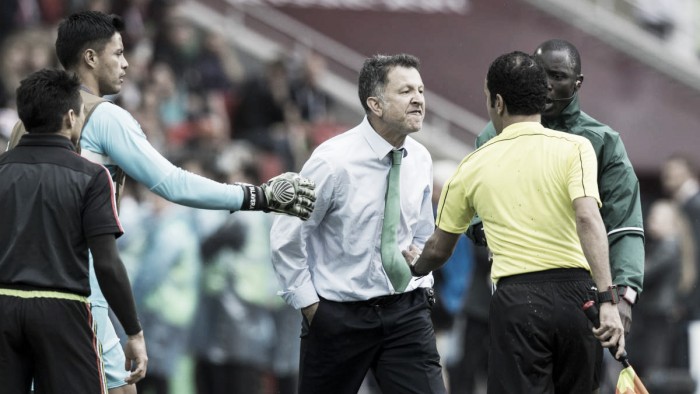 Sunday, Mexico kicks off their Gold Cup campaign against El Salvador in hopes to win their third Gold Cup out of the last four tournaments, their 8th Gold Cup overall and their 12th continental title.
Already with a Liga MX based squad and an injury hit to lead forward Alan Pulido, Mexico took another hit as Juan Carlos Osorio was handed a six-game ban. Making a title defense more complicated than it may seem on paper.
Osorio Out As Pressure Continues To Mound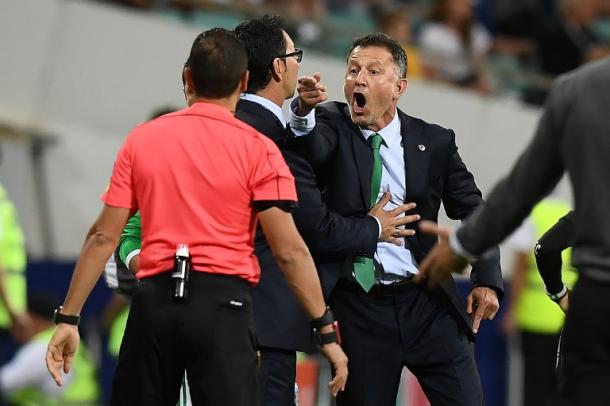 The latest news out of the Mexican camp is Osorio's suspension from the Mexican bench during at least the duration of the Gold Cup if Mexico were to make it to the semifinals. Anything less and the suspension will carry on to Mexico's World Cup Qualifying matches in September.
Osorio will still be able to coach the team during practices, before the game, and at halftime but will be forced to watch the games from the stands. The suspension comes from Osorio's outburst during the Confederations Cup third-place game against Portugal in which he received a red card for berating the fourth official in a highly contested match. The match report of what Osorio exactly said has not been released but with a likely appeal by the Mexican Federation, what he said could come to light.
That wasn't the first time that Osorio has recently done something that has seen out of character for the well spoken and calm Colombian. In the game against New Zealand cameras caught Osorio yelling at New Zealand's bench "Motherf…..". Entering the stadium for Mexico's last group game against Russia he entered the match with a shirt that said "No Excuses" written in Spanish. It's possible that the constant pressure and criticism that Osorio has received from the media press and people might be getting to him even though Mexico is a win away with four games to play in World Cup Qualifying.
Liga MX's Best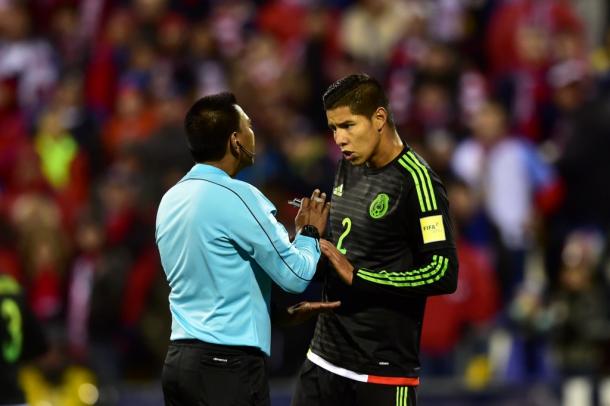 Even though this isn't the first team of Mexico, the roster has a great balance of young and exciting players who are on the brink of taking their game to the next level, and a handful of experienced players who have played for Mexico but have yet to have a strong consonant run in the Mexican shirt.
Jesus Corona will be the leader in goal for El Tri. On the first team, he would be behind Guillermo Ochoa and Alfredo Talavera, with this team he has another chance at being the man between the post for Mexico. On the backline, Hugo Ayala is the team's most experienced defender. A player constantly on the cusp of the Mexican roster at 30, Ayala who has been one of Liga MX's best defenders for years, this could be Ayala's last chance to show his defensive quality in the Mexican shirt. Jesus Molina and Jesus Duenas have been constant call-ups under Osorio, and they will bring a backbone to the Mexican team that will help the younger less experienced attackers more freedom.
Elias Hernandez, one of Liga MX's best attacking players for years and who's in some of his best form, finally has his chance to have a run of games without players like Carlos Vela in the shadows. While this is a great chance for youngers to have a chance to gain experience, this tournament also presents the chance for experienced players to show they have what it takes to be a leader for Mexico and crack Osorio's main roster.
Youth Excitement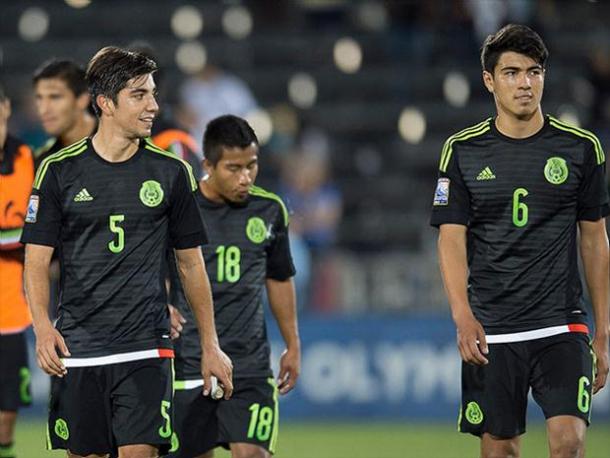 The most thrilling thing about this roster is the group of youngers who will have their first real test with Mexico. Luis Reyes, Raúl López, Rodolfo Pizarro, Jesús Gallardo, Erick Gutierrez, and Orbelin Pineda have all been part of Mexico's national team under Osorio from time to time but none have been able to constantly crack Mexico's starting XI with El Tri's European stars all there.
A year away from the World Cup, players can make an impression and take the most of their opportunity of the playing time available can put them at a real shot at making the World Cup in Russia. It will be interesting to see which players Osorio decides to play considering some of these players play in the same position and if the team can strike the proper balance between attack and defense.
El Tri will be one of the favorites to reach the finals and lift the Gold Cup. If this El Tri can find the balance on the field and click, they have a true possibility to shine and run away with the title much of the same way Mexico's 2009 and 2011 Gold Cup teams did. A defeat and all the fault will fall under Osorio and he might not make it to September's WCQ matches for Mexico.