 With the official start of the 2018 preseason, the Portland Thorns have announced an initial 29 player roster. The Thorns also announced the re-signings of seven players.
Portland announced today that they have re-signed goalkeepers Adrianna Franch and Britt Eckerstorm, defender Katherine Reynolds, midfielder Celeste Boureille and forwards Meg Morris, Hayley Raso and Mallory Weber.
The Thorns will welcome back 14 players including Christine Sinclair, Tobin Heath, Emily Sonnett, Emily Menges and Lindsay Horan. They will also welcome the three players they selected in the 2018 NWSL College Draft as well as the three players coming in from the Dispersal Draft. Six players will also be joining them for preseason camp from invite.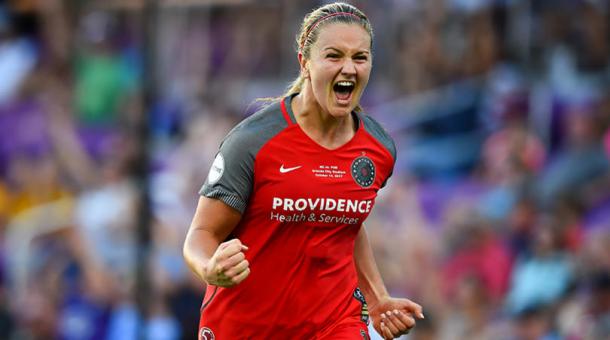 Compared to other teams in the league, Portland had a relatively calm off-season. Although they will have 14 returning players, the Thorns did lose Allie Long, Amandine Henry, Nadia Nadim and Ashleigh Sykes during the off-season. With losing these four international players they were able to fill up a few international slots, which they did. The Thorns signed Ellie Carpenter, Andressinhia and Caitlin Foord.
Canadian international Christine Sinclair will join the team after the Algarve Cup in Portugal. Emily Sonnett and Lindsay Horan are joining the U.S. Women's National team in Orlando for the start of the SheBelieves Cup and will join the Thorns afterwards. Australian internationals, Ellie Carpenter and Hayley Raso will join the team after the conclusion of the AFC Women's Asian Cup.
Portland will host the Thorns Spring Invitational again this year for their preseason matches. They will start the games off with the Chicago Red Stars on March 11th at 5:00 pm PT. Then they will play the U.S. U-23 Women's National Team on March 14th at 7:30 pm PT. They will then finish the invitational off playing the Houston Dash on March 17th at 7:30 pm PT.
The Thorns will then open their season up in Cary, North Carolina as they take on the North Carolina Courage in an NWSL Championship rematch. The Thorns will then be home for their fans at Providence Park on April 15th as they take on the Orlando Pride.
Roster by Position
Goalkeepers: Britt Eckerstrom, Adrianna Franch, Bella Geist (CDP)
Defenders: Elizabeth Ball (NRI), Ellie Carpenter (NYR), Tina De Zeeuw (NRI), Kelli Hubly (NRI), Meghan Klingenberg, Emily Menges, Katherine Reynolds, Gabby Seiler (CDP, NYR), Emily Sonnett (NYR)
Midfielders: Andressinha (NYR), Celeste Boureille, Ashley Herndon (NRI), Lindsey Horan (NYR), Midge Purce, Angela Salem (NYR), Sandra Yu (CDP, NYR)
Forwards: Simone Charley (NRI), Bobbi Eckler (NRI), Caitlin Foord (NYR), Tobin Heath (NYR), Tyler Lussi, Meg Morris, Ifeoma Onumonu, Hayley Raso (NYR), Christine Sinclair (NYR), Mallory Weber
Key:
CDP – 2018 NWSL College Draft pick
NRI – Non-roster invitee
NYR – Not yet reported to camp