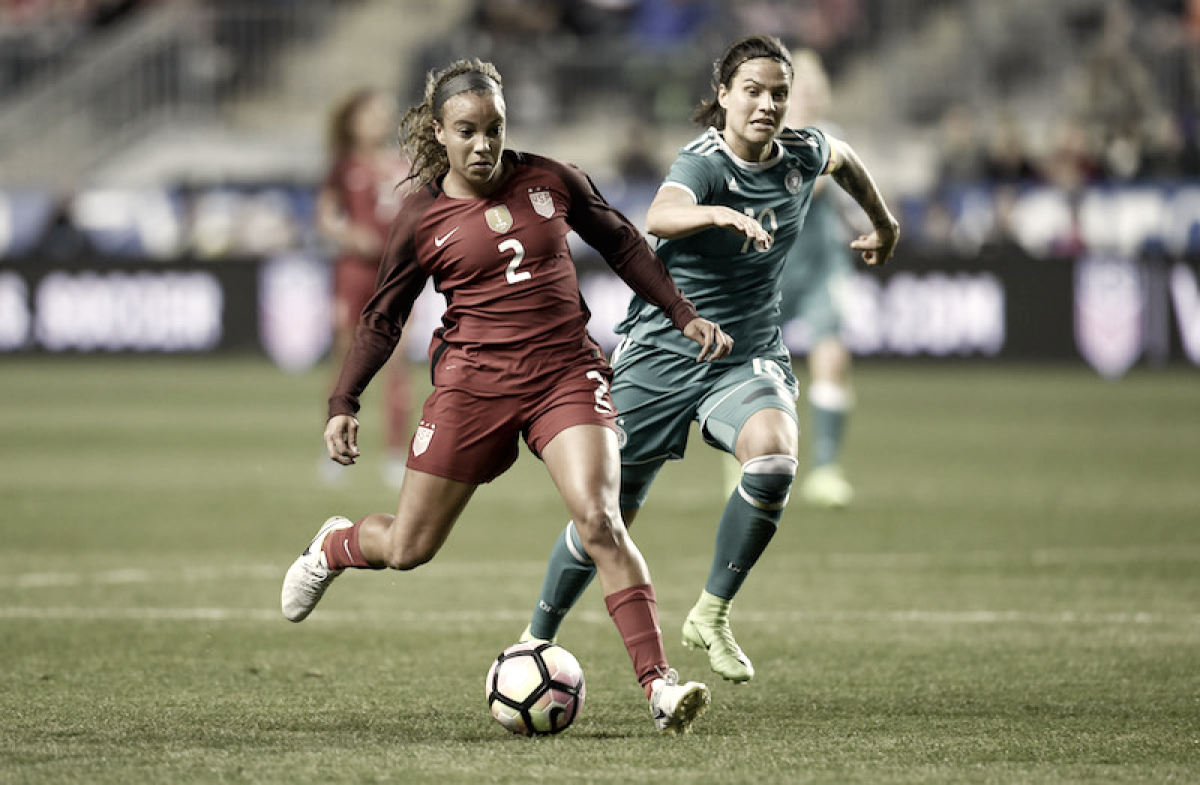 The US Women's National Team is set to host their annual SheBelieves Cup for the third consecutive year and will kick it off in a battle between FIFA's No. 1 and No. 2 overall. After last year's lackluster performance - finishing dead last in their own tournament - the USWNT look to bounce back and redeem themselves. Meanwhile, Germany finished at second in the tournament, but 2017 overall was rather subpar for the European powerhouse.
USWNT locking in for 2018
Head coach Jill Ellis and the USWNT are looking to continue a strong 2018 as they keep October's CONCACAF World Cup Qualifying in the back of their minds. Carrying out a strong performance through this SheBelieves Cup starts with their match against Germany. The USWNT have won their matches against Germany for the past two years in the SheBelieves Cup, and they expect to do the same this time around.
Despite a few regularly seen players missing due to injury, the USWNT are still looking good. They started 2018 on a high note, defeating Denmark 5-1 in January. There are also quite a few fresh faces who seem to be fitting in seamlessly. One of the most notable fresh faces is Stanford sophomore defender Tierna Davidson, who made her senior team debut with a start against Denmark earlier this year.
Not only will the players look to earn results in the tournament, but their performance will be key going forward as Ellis begins to put together her roster for World Cup Qualifying and later on the 2019 Women's World Cup in France.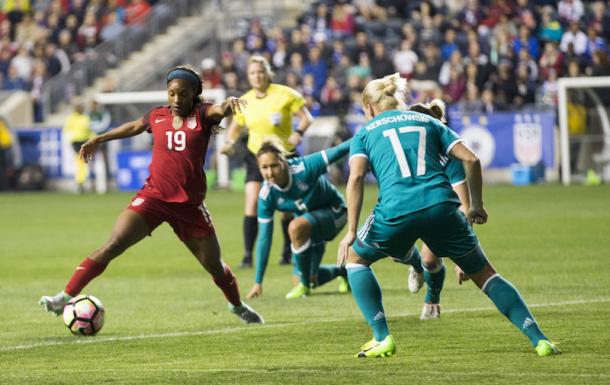 Germany to find their rhythm
Although Germany is still as solid as they usually are, there are a few key players missing this time around. Players such as Simone Laudehr, Melanie Leupolz, Bianca Schmidt, and Josephine Henning are not on this year's SheBelieves Cup roster. There's quite a mix of old and new this time around for Germany, with nine players on the roster only receiving 11 caps or less for their country so far.
The big issue for Germany in 2017 was their inconsistency in results and performance. Their 2017 Euro run fell short of what was expected of the European powerhouse, marking the first time since 1993 that Germany did not claim the tournament's title. They managed to qualify for the 2019 Women's World Cup, but did so with a bit of a struggle: a 1-0 win over the Czech Republic and suffering a loss to Iceland. Their loss to Iceland was the first qualifying loss for Germany since 1998.
Opening this tournament, Germany looks to find their rhythm and identity again as they start thinking towards the future. Although they obviously want results, it will be important for Germany to begin to solidify a lineup and at least start looking like the powerhouse they are known to be. With the World Cup looming, it's important they start performing well now.
The USWNT and Germany face off in their opening match of the 2018 SheBelieves Cup on Thursday, March 1. The game airs on ESPN2 at 7 PM Eastern Time.