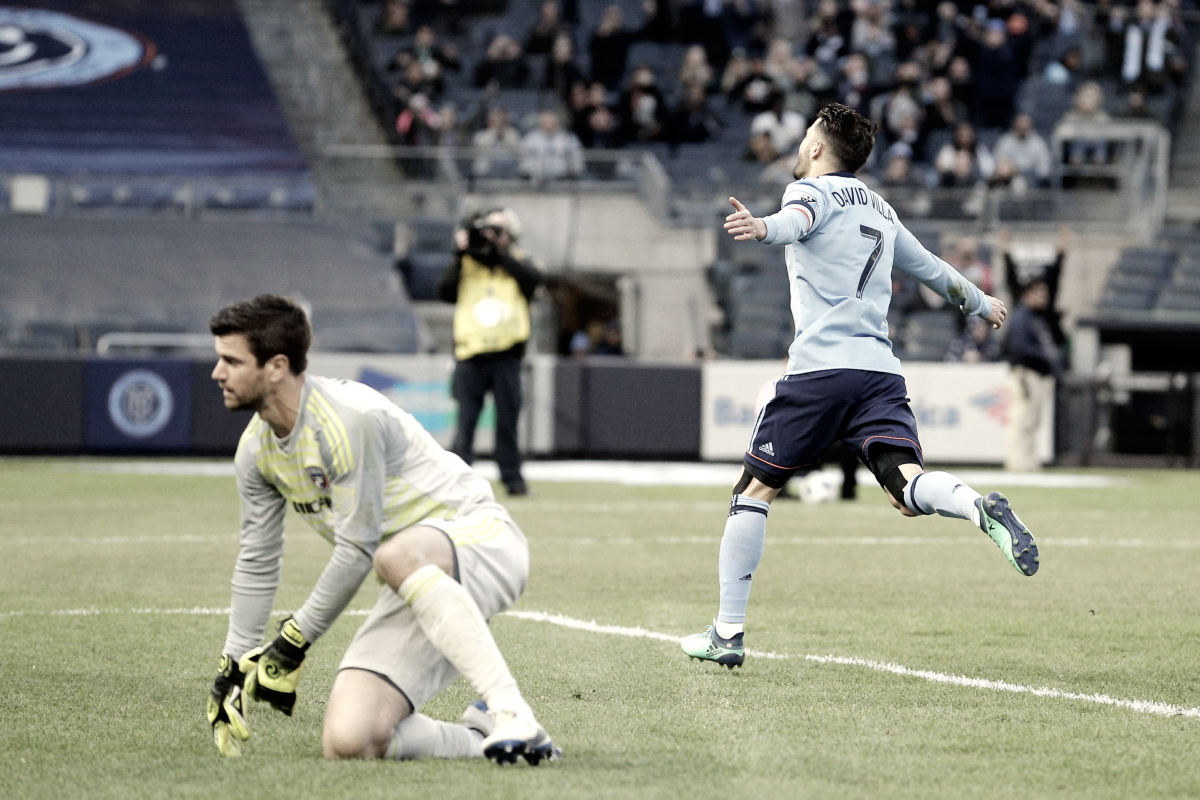 On Sunday, David Villa scored a brace helping his New York City FC side past what was an unbeaten FC Dallas team heading into the game. The first of the pair was his 400th career professional goal for club and country as he tucked one home from the penalty spot.
When asked about his 400th goal, he said: "Perfect moment, first of all it was great for the team to comeback after a big mistake we made in Portland. It's important for the mentality of the team to comeback as quickly as possible." The captain went on to say "We felt that on Thursday, when we came back to the training facility, we made a big mistake that we need to forget quickly. I think it was the first time we beat Dallas, tough game against a great team. First of all I'm happy to get the 3 points, then to arrive at 400 and 401 it is a great day for me. Now for me, it is time to rest and think of how I can score number 402 for the team."
When asked about his favorite goal of the bunch, he brought us back to his UEFA Champions League goal vs Manchester United during his stint with Barcelona. "The big one has to be in the Champions League against Manchester United with Barcelona in the Final. This was the best, but I hope the best is coming. Why not give the silverware to NYCFC this year?"
It's no secret that Spain's all-time leading goalscorer is getting older, and he acknowledged that. "Obviously, when you get older it gets more difficult fighting in the same way. I know what has made me successful throughout my career, give everything and training every day. And with the passing time, I need to take care of my body more. I don't care if I'm 36, 37 or 20, I need to work in the same way that has made me successful."
When he was asked about the keys to a successful career he answered in typical David Villa fashion by crediting his teammates. "It's difficult for me talking about individually because I have a lot of great teammates and a lot of great coaches and the staff. They help me everyday, I cant score alone so this game is for the team. I am successful because I give everything everyday on the field, I have the luck that you need to have, and obviously I have very good teammates."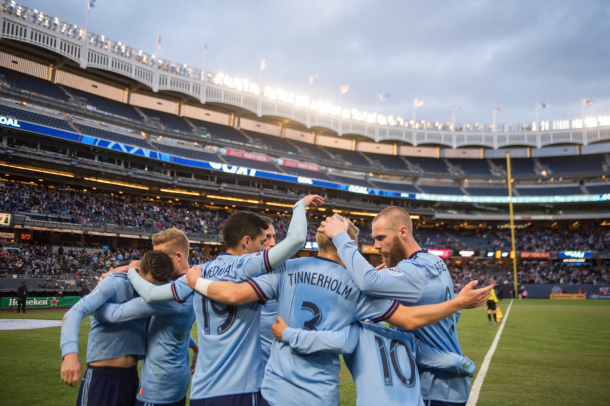 ​Head Coach, Patrick Vieira is not surprised with his captain's accomplishment. "I think it's a fantastic achievement. On the personal side, I think that he's just a fantastic player. You guys are just seeing what he's doing on the field here, but I have a chance to work with him every day and I'm always amazed by his attitude and his desire to compete every single day and train.
The coach wasn't done complimenting "El Guaje" saying "His goals reflect who he is as a person and he's like that every day in training. When you see him work every day, you're not surprised that he's scored over 400 goals." He capped things off with "I think we're lucky to have a player like that in our football club, not just for what he's done on the field but to use as an example. I think it would be really difficult to find someone better who can show to the young players how to conduct yourself to play more than 15 years at the higher level and to compete at his age, so he's a really good tool for me to use regarding how to conduct yourself as a professional."
When asked if David Villa could make an appearance for Spain at the 2018 FIFA World Cup, Vieria said "That is not my decision. That is the manager, but my first concern is to keep him fit and healthy, like all the players of course, to compete every weekend. Then after, if he goes to the World Cup, I will be very happy for him and the football club will be really proud."
David Villa scored a brace on Sunday and is hitting full stride as the boys in blue prepare for the first Hudson River Derby of the season vs the New York Red Bulls. David Villa and his teammates alike will be hoping he carries this form into next week.