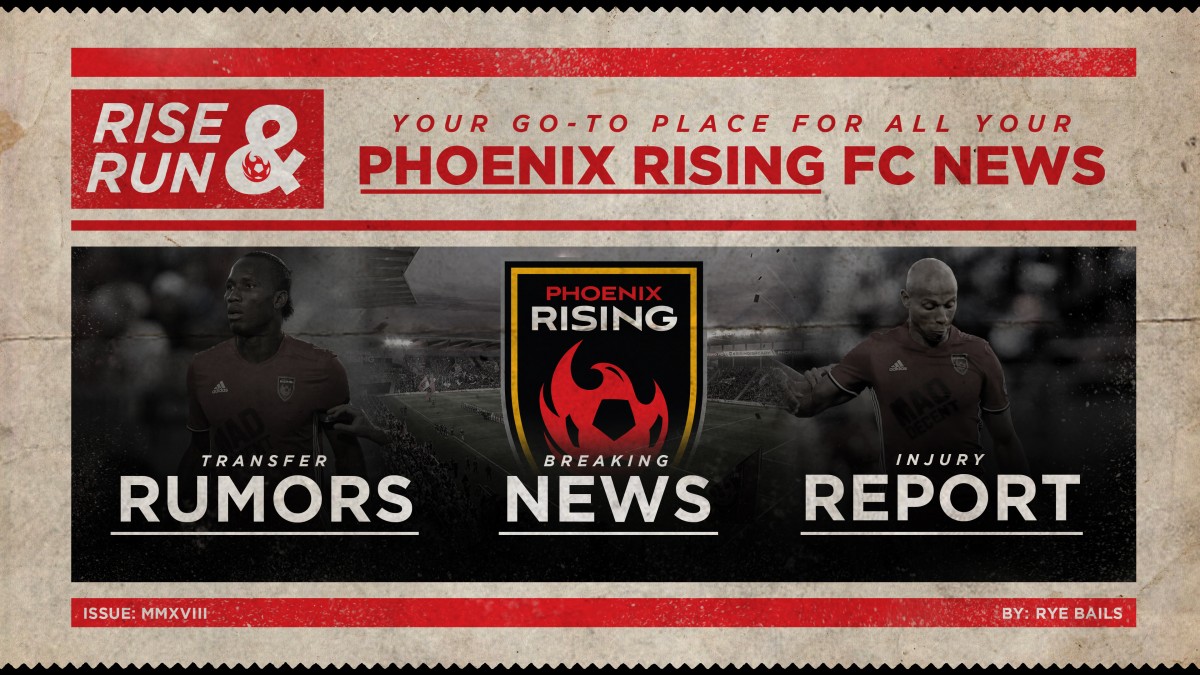 The Phoenix Rising and Orange County came into the Friday night matchup on fire and ready to put together a statement result. OCSC was fresh off a 6-1 destruction of Tulsa as a cap on a three-game unbeaten run that included a win over a young and talented LA Galaxy II squad. Phoenix Rising were riding a six-game streak without a loss and hadn't yet conceded in the month of June.
Clipped Wings
Collin Fernandez and Victor Vasquez remain out with lower body injuries and Luca Ricci as well as John Berner join them with upper body injuries. Didier Drogba misses out due to commentating on World Cup action with the BBC.
Burning The Orchard
Phoenix started the game with their pants on fire, creating chances through balls in behind Orange County's high line and up the flanks. This all came to fruition when Kevon Lambert swiveled and produced a rare moment of passing quality, lifting a gorgeous pass over the heads of the two OC center backs and right into the path of an onrushing Chris Cortez. Cortez had a difficult angle to finish from but slid it calmly under the keeper in the 13th minute.
For the next 15 minutes, Rising put their Californian opponents under the kosh, drilling balls into the box and consistently exposing their high line. In the 22nd minute, Cortez received a lofted pass into his chest, spun and smashed it into the far corner in the same way as you might have seen James Rodriguez or Zinedine Zidane do. Much to the relief of all in white, Cortez came back from an offside position to receive the pass and the goal was rescinded.
In the 35th minute, the game turned on its head after Kody Wakasa made a rash challenge on an Orange County striker streaking towards goal. Wakasa received a red card for denying an obvious goalscoring opportunity, and Solomon Asante also grabbed himself a yellow for dissent in the follow up to the foul. Luckily for the Reds, keeper Carl Woszczynski got his mitts on the ensuing free kick to bring the boil of danger down to a cooling simmer. In response to the red, manager Rick Shantz brought on defender Doueugui Mala for midfielder Gladson Awako in order to right the team shape again.
After starting the game in a wide set 4-3-3, the team reverted to a 4-4-1 formation with ten men. With the last kick of the first half, Orange County received a dubious free kick for a handball right outside the box and promptly blazed it a couple yards over the bar. It was a moment that was very indicative of how Orange County wasted their man advantage and good attacking chances. The second half really dragged as Phoenix sat comfortably in a low block and Orange County looked rudderless with the lions share of possession. The most notable moment of the first half hour was a goal ruled out for offside (again). This time it was a frustrated Alston for Orange County, the right back cutting inside and having a hopeful shot from a mile out. The screamer smashed the bar and was tapped in by an offside attacker on the rebound.
Soon after, Chris Cortez was subbed out for Kevaughn Frater in the 68th, another good tactical move from the new interim manager. Ten minutes later they nearly cashed in on their change, Frater joining a counterattack and curling a chance just a whisker wide. The last 15 minutes were spent killing the game to a standstill, a real masterclass by Rising in how to play with a man down. Carl Woz stood tall time and time again, coming off his line to claim crosses and making a couple good saves.
Phoenix's defensive efforts were almost rewarded as substitute Evan Waldrep wriggled past a few defenders and steamed towards goal, then quickly cutting a pass across goal to Jason Johnson, who fired just too close to the keeper. The relief was palpable as the final whistle blew, with fans and players alike taking a deep breath.
Starting XIs
PHX: Woszcyzynski; Dia, Da Fonte, Farrell, Wakasa; Musa, Awako (Mala 40), Lambert; Johnson, Cortez (Frater 68), Asante © (Waldrep 87)
OCSC: Rawls; Alston, Amico, Crognale, Juel-Nielsen; Quinn, Bjurman (Hooiveld 78), Duke © (Czornomaz 82); Seaton, Enevoldsen, Ramos-Godoy (Kontor 62)
Brightest Flame
#NoGoalsJune, am I right? Carl Woz was stellar tonight as he has been throughout his career in the Valley of the Sun. My MOTM made numerous stops and was ever present in his box, from rushing out as a sweeper keeper to punching away and catching incoming crosses. His distribution wasn't perfect but being a man down and with three defenders on target man Chris Cortez, it was always going to be difficult. Not only is he a MOTM, but along with Jason Johnson has potential to claim the USL Player of the Month award.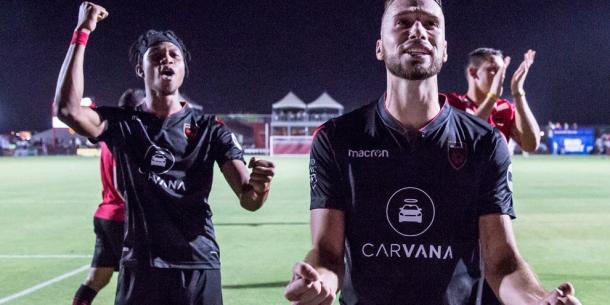 Player Ratings
Woz: 8.5
Dia: 7
Da Fonte: 6.5
Farrell: 7
Wakasa: 4
Musa: 6.5
Lambert: 7
Awako: 6
Johnson: 6
Cortez: 7.5
Asante: 6
Mala: 6.5
Frater: 6.5
Waldrep: NR
Waiting In The Wings
Next up is an away fixture in Fresno after a two-week hiatus from USL. Fresno FC sits 11th in the table on 19 points from 18 games, not a great points per game ratio. They are winless in two, and midfielder Jemal Johnson will miss out against Rising due to his red in the previous match. Wakasa will join Johnson in missing out due to his ejection on Friday night. If Phoenix can get the attack rolling again, they should have all that's needed to pick up three points on the road.
Excellent from James Zidane Cortez!
His called back goal was fun, but here's the one that counted.