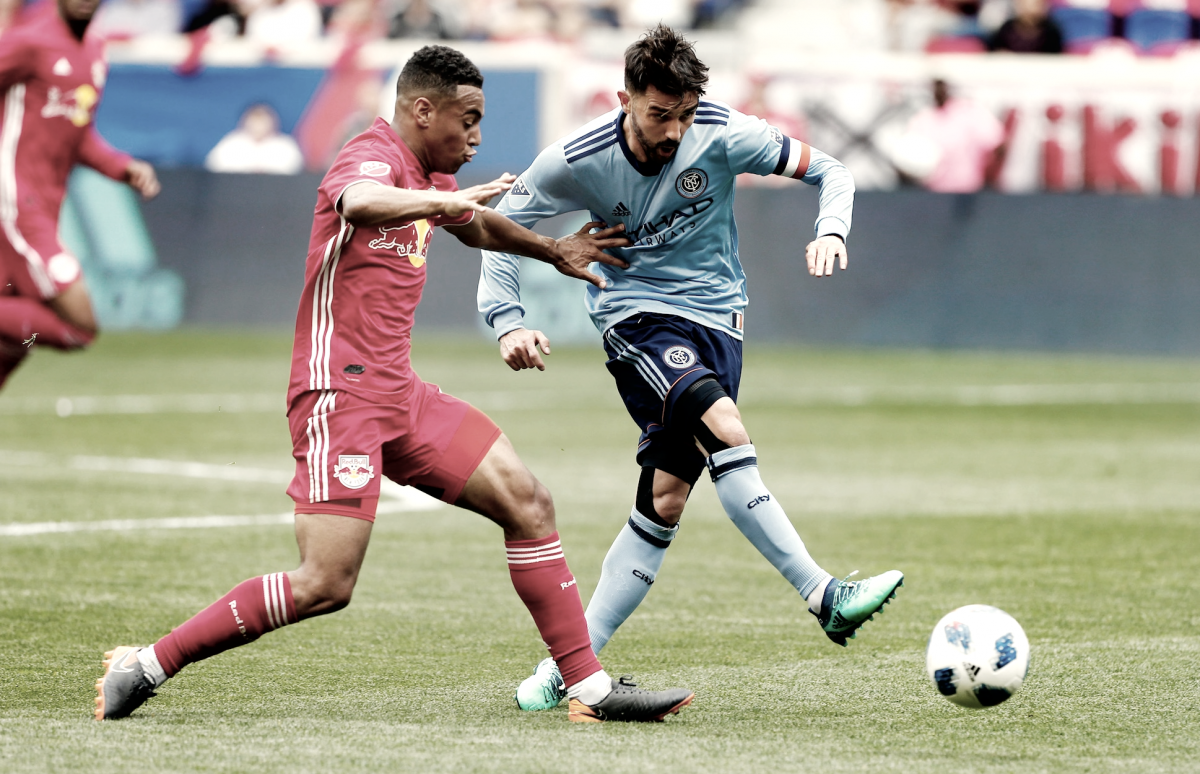 On Sunday, New York City FC and New York Red Bull fans will be treated to a new era of the Hudson River Derby. With Domènec Torrent recently taking over NYCFC, and Chris Armas set to participate in his first match as RBNY Head Coach, things will be different.
The match will take place at Yankee Stadium, the only time this season that'll happen, and NYCFC will be hoping for better luck. The hosts are coming off a 3-2 loss to the Chicago Fire while RBNY recently took all three points vs Toronto FC up in Canada. Will Domè be able to turn things in NYCFC's favor, or will Armas have his side beat NYCFC once again?
This Season
The Red and Blue sides of New York have faced off twice this season, once in MLS, and once in the U.S Open Cup. Both games were played in Red Bull Arena, and both ended 4-0 in favor of the hosts. Despite winning two and splitting points in the other last season, NYCFC still heavily trail the Red Bulls in the all-time series.
However, with new managers at the helms of both clubs, it is truly a new era of this young rivalry, and Domè is tasked with turning the series around in his club's favor. Will Sunday be the start of that, or will the Red Bulls continue to dominate?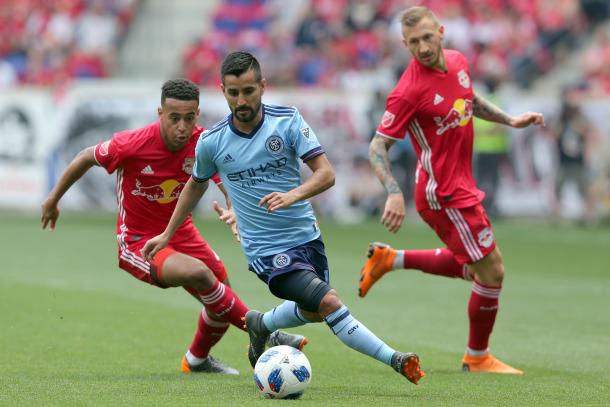 Team News
New York City FC: NYCFC's Captain, David Villa, remains questionable with a knee injury. The 36-year-old scored a hat-trick against the Red Bulls at home last season and would be hoping for a similar impact if healthy on Sunday. Joining him on the questionable list is Ronald Matarrita. After leaving Russia early and missing the entirety of the World Cup with a hamstring injury, the Costa Rican could see a return to the field vs the Red Bulls.
Two players definitely set to miss the match are Cedric Hountondji, who is also suffering from a hamstring injury which he picked up in the most recent Derby, and Yangel Herrera, who will likely miss the rest of the season after undergoing ankle surgery.
New York Red Bulls: The visitors also have a few players set to miss the match. Kyle Duncan, who tore his ACL in late March, remains out of the picture for RBNY while Vincent Bezecourt is still recovering from an MCL sprain. To top off the list, Ryan Meara is doubtful with a knee injury.
What's Next?
NYCFC remain at home for two more games following Sunday's Derby before heading on the road for a pair of matches. To start, they'll host the Montreal Impact midweek. Just four days later, they'll return to Yankee Stadium to host the Columbus Crew. Then, the Boys in Blue will get on the road and face fellow 2015 MLS expansion side, Orlando City SC. Wrapping up the month of July, NYCFC will visit a struggling Seattle Sounders.
For Sunday's guests, they'll return home to host a strong Sporting Kansas City side before hosting the New England Revolution. Then, RBNY will face Wayne Rooney and D.C. United at Audi Field before returning home and hosting the Columbus Crew.
How to Watch
When: Sunday, July 8th at 7 PM EST
Where: Yankee Stadium
Broadcast: Fubo TV, Sling TV, Fox Sports GO, MLS Live, FOX Soccer Match Pass, Fox Sports 1 USA, FOX Deportes