Whew! Thank you for following along tonight. This is Felix Hernandez for VAVEL USA, hoping you enjoyed the match. Dash 3 Pride 1. So long everybody.
That was a wild ending! Houston Dash get back in the playoff race. Orlando Pride struggles continue.
Full time: Houston Dash upset the Orlando Pride again. Daly earns the a brace and Kgatlana finishes it off.
90+8': Referee looks at her watch and blows the final whistle
90+6': Marta (Orlando) is shown a straight red card for facial contact to Rachel Daly.
Houston Dash 3 - Orlando Pride 1
90+5: GOOOOOOOOOOOAAALL! Kgatlana scores her 1st goal of the season! Chapman sends the ball behind the Orlando defense and Kgatlana slides the ball into the net.
90+3': A goal by Daly was scored but disallowed on an late offside call.
90+1': Orlando puts the ball in the box. Ball ping pongs around Leroux has a touch. Campbell finally collects with help from her defender Van Wyk.
90': 5 minutes of extra time added
90': Marta takes a shot from the left side of the box but Campbell is there for the save.
89': Campbell punches Marta's corner kick away. Orlando earns another. Houston eventually clears.
87': Zadorsky is shown a yellow card on a hard foul on Daly.
85': Van Wyk is down from a injury. Walks off on her own power.
84': Houston Substitution: Hanson IN. Comeau OUT.
83': Leroux has another chance to equalize. Hill's cross finds Leroux but header is high and wide.
82': Harris keeps the score the same as Huerta fires a shot from the top of the box. Harris is down to her right to make the save.
81': Big save by Campbell! Ubogagu cross finds Leroux inside the six yard box. Campbell is right there to make the save.
80': Alex Morgan earns a yellow card
76': Orlando earns a corner from a mishandle by Campbell. Pride keep the pressure. Monica hits the crossbar but the flag goes up for an offside.
74': Hill creates a chance. Her cross is knocked away by Houston defender Comeau. Comeau almost put it in her own net but she seemed confident knocking the ball away.
73': Marta finds a ball over the top of the Houston defense. Her left foot shot is wide.
71': Houston Substitution: Kgatlana IN. Simon OUT.
70': Orlando Substitution: Hill IN. Polina OUT.
70': Orlando Substitution: Ubogagu IN. Pickett OUT.
68': Orlando pushing for the equalizer. Marta, van Egmond, Morgan and Polina putting pressure on Houston.
66': Daly almost gets the hat trick from a Chapman cross, earns a corner instead.
60': Orlando Substitution: van Egmond IN. Camila OUT.
59': Big save by Harris! Simon again found free space. Her right footed shot is stopped.
57': Houston almost bring one back. Chapman crosses to an open Simon. Simon header goes wide of the Orlando net.
55': Dash Substitution - Latasko IN. Ohai OUT.
Houston Dash 2 - Orlando Pride 1
55': GOOOOOOOOOOOOAALLLL! Sydney Leroux scores on a header. Zadorsky crossed found Leroux to cut Houston's lead in half.
54': Orlando earns a corner. Marta corner finds Kennedy but the shot is blocked by Brooks.
52': Polina sends a ball to the center of the box where Weatherholt got a head to it but goes over the Houston crossbar.
Houston Dash 2 - Orlando Pride 0
50': GOOOOOOOOOOOAAALLL! Rachel Daly with a brace! Daly fired a right footed volley from a failed Orlando clear.
49': Orlando coming on! Pickett finds open space and tries a shot from about 20 yards out. Shot sails over the bar.
48': Marta finds the ball on the left side of the box. Tries a cross but Campbell is there to intercept.
46': Houston early chance off the start. Daly collects from a long ball past the Orlando backline. Her shot is wide of Orlando's net.
45': We are back for the 2nd half kickoff.
Halftime: Houston Dash 1 - Orlando Pride 0
Halftime: Referee blows the whistle for halftime.
44': Orlando starting to control possession but can not connect on the final pass as Houston staying strong on defense.
40': Camila tries a shot from the top of the box but the shot is too high.
37': Pickett tries to find Morgan in the box but Houston clears.
28': Simon fights through two Orlando defenders, her right foot touch is deflected wide by Harris barley missing the post.
25': Campbell gifts the ball to Leroux but nobody is home for Orlando on the cross.
21': Polkinghorne header from the center of the box goes wide from a cross from Ohai. Houston pressing for another.
19': Simon almost makes it two for Houston but her shot sails over the crossbar.
Houston Dash 1 - Orlando Pride 0
17': GOOOOOOOOOOAAALL! Rachel Daly finishes off a breakaway from a steal by Ohai.
15': POST! Alex Morgan takes advantage of a Houston miscommunication and fires it off the post. Camila with the follow up but Campbell is there for the save.
2 hours later, teams are back on the field warmed up and we resume at the 13th minute.
Match will resume at 10:43 EST!
Houston Dash twitter says lightning still in the area.
Does not seem like the weather is cooperating. As soon as an official time is announced, we will let you know.
13': Referee calls for a weather delay as lightning strikes near the stadium. Mandatory 30 minutes.
12': Rain starting to fall in Houston. Lets see if it effects the pitch
9': Simon sends a ball towards Huerta in the box. Huerta's sliding touch goes wide of the Orlando net.
8': Orlando creates a chance for Leroux. Sends a header wide of the Houston net.
5': Big save by Ashlyn Harris! Combination between Ohai, Daly and Simon to Huerta near the penalty spot. Harris beats Huerta!
1': The first foul of the match committed by Orlando.
Kickoff: We are underway!
Houston/Orlando kickoff coming shortly!
Orlando Pride striker Alex Morgan will return to the lineup while Pride defender Ali Krieger is not available tonight (coach's decision - rest)
Orlando Pride staring XI: Harris, Pickett, Zadorsky, Monica, Poliana, Kennedy, Camila, Weatherholt, Marta, Leroux, Morgan.
Houston Dash starting XI: Campbell; Comeau, Brooks, Van Wyk, Chapman, Motlhalo, Polkinghorne, Simon, Huerta, Ohai, Daly.
The starting lineups are coming in!
We are less than an hour away from kickoff. It is going to be a hot one in Houston. Going to be a upper 80, lower 90 degrees with some clouds at kickoff.
It is Houston Dash 70's theme night at BBVA Compass Stadium!
Orlando Pride head coach Tom Sermanni does not think his tactics will be that different from the previous matches against Houston. "Approach has got to be the same... need to make sure we finish off our chances and win the game."
Houston Dash head coach Vera Pauw expressed some positives taken from the last match at Seattle after this morning's training session, "take the positives outta last game... there's been so many positives aspects in that [Seattle] game we can build on."
Head Coaches comments
Orlando Pride injury report: QUESTIONABLE: Alex Morgan (right calf strain)
Houston Dash injury report: OUT: Kristie Mewis (left ACL sprain - SEI)
The injury report is out for Wednesday's night match!
Be sure to check back here as new information such as injuries and starting lineups become available. Then join me Wednesday for live game updates.
Both teams are mostly healthy and hope to stay that way for this important matchup. Orlando Pride forward Alex Morgan is dealing with a right calf strain and maybe available.
This will be the third and final meeting in the season series with each team earning a victory in the two previous matches. The Pride took the first match April 22 by a 1-0 final on a Chioma Ubogagu goal. The Dash would steal a victory in Orlando on June 27 on late tallies from team captain Kealia Ohai and newly acquired Sofia Huerta. Ohai's goal came in the 79th minute off her cross attempt that found the back of the net. Huerta converted on a penalty kick in the 83rd minute to seal the 2-1 victory.
Brazilian international superstar Marta scored a late goal to top the Washington Spirit 2-1 last weekend. Marta took on two Spirit defenders in the box and fired the game winner over the outstretched hands of Spirit goalkeeper Aubrey Bledsoe in the 86th min. Forward Sydney Leroux also collected her fifth goal of the season to equalize the match 1-1 just before halftime.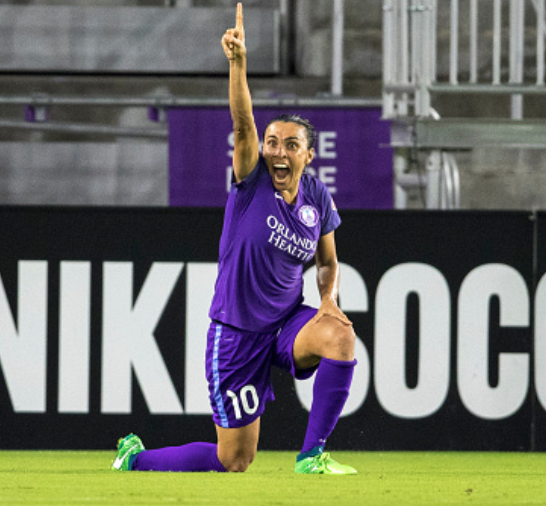 Last weekend the Dash fell to the Seattle Reign FC by a 3-1 score. Defender Amber Brooks opened the scoring to give Houston the early 1-0 lead from a Sofia Huerta corner. Houston would not be able to score again and allowed Seattle to score three unanswered goals.
The Orlando Pride (7W-5L-4D) are currently in the third spot of the NWSL table with 25 points, one point behind Seattle Reign FC who hold the last home field advantage playoff spot. The Pride will need a result if they are the stay in a playoff spot. Positions two through six are separated by only five points with the top four qualifying for the NWSL Playoffs.
Currently the Houston Dash are seventh (4W-6L-5D) with 17 points in the NWSL table and are in danger of falling out of the playoff race. This is a must win game for the Dash, if they are able to keep pace with the teams ahead of them. The idol Chicago Red Stars hold the last playoff spot with 25 points in the table.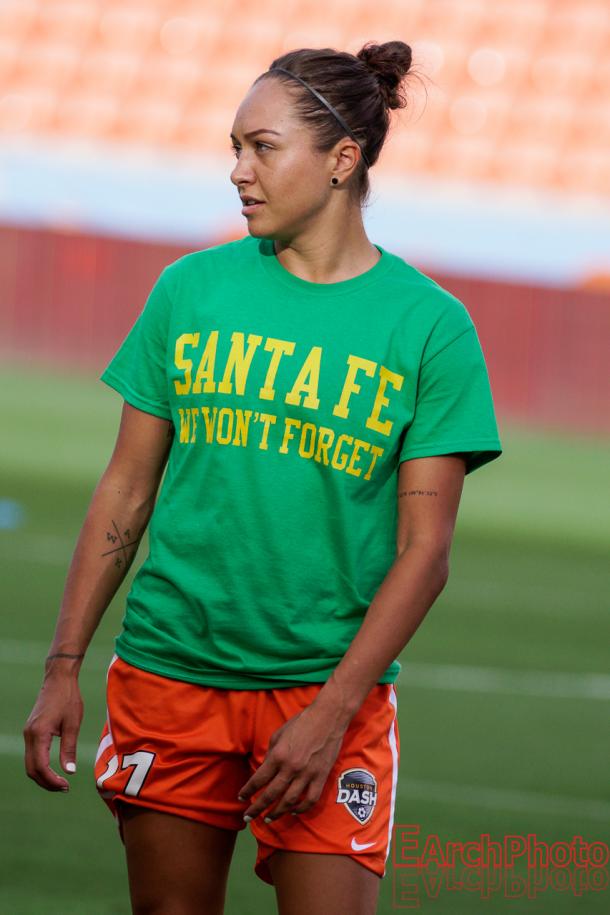 Houston Dash will play host to the Orlando Pride at BBVA Compass Stadium in Houston, Texas for the third and final meeting of the season between the two squads. This is the only time Orlando will travel to Houston.
Hello and welcome to VAVEL USA's LIVE coverage of the National Women's Soccer League's Week 16 matchup between the Houston Dash and the Orlando Pride. My name is Felix Hernandez and I will be your host. From now until kickoff on Wednesday, July 11 at 7PM EST, I will be keeping you updated on news and notes. Be sure to come back at kickoff for LIVE updates.