Laura Harvey and the Utah Royals FC will face her former club, Seattle Reign FC, at Rio Tinto Stadium in Sandy, Utah. The Reign and the Royals have met twice this season, in the first meeting they ended in a 0-0 draw, but in their second meeting, Seattle beat Utah 1-0. Utah has the opportunity to have a nine-point week with wins already against the Houston Dash and the Washington Spirit. Seattle also beat the Washington Spirit during week 19 with a 2-0 win. The Reign are currently in second place, while the Royals are stuck in sixth and out of a playoff spot, for now. Seattle and Utah are Lifetime's Game of the Week airing in Lifetime at 3:30 pm ET.
Playoff possibilities
Katie Stengel is leading Utah with goals with 5 after scoring two game-winning goals against both Houston and Washington. Amy Rodriguez, Christen Press, and Diana Matheson all have two goals and one assist. Utah's playoff hopes are still very much alive with three playoff spots still available. The Royals are currently in sixth place even with the Chicago Red Stars at 28 points. Portland Thorns FC and Orlando Pride are within reach at 29 and 30 points, respectively. The Red Stars take on the number 1 team, the North Carolina Courage, who have only lost to the Utah Royals. If the Red Stars lose and the Royals win they could move into third or fourth place depending on the head to head result of Portland and Orlando. Stengel could turn out to be Utah's unsung hero if she continues to show up in big spots for the Royals.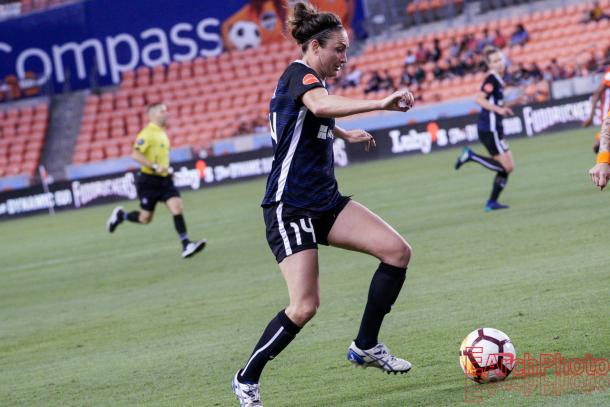 Not yet secure
Laura Harvey is the former coach of Seattle Reign, but Vlatko Andonovski's Reign is in second place behind the Courage. While the Reign are in second place they are 16 points behind the Courage with 33 points. Orlando, Portland, Chicago, and Utah are all within five points of Seattle, breathing down the back of the Reign. Megan Rapinoe and Jodie Taylor will have to keep up their scoring pace if the Reign want to be back in the playoffs. both have seven goals, Rapinoe with five assists and Taylor with one. Taylor scored and Rapinoe assisted on the second goal against the Spirit. However, it was Jasmyne Spencer who scored the first goal which was also her first goal of the season. Alyssa Kleiner has slid into the left back spot next to Lauren Barnes in the absence of Steph Catley. Cately is back in Australia per excused absence and it is not known when she will be back. Seattle will have to keep winning without Catley, but if she returns this season she can definitely solidify the defense going into the final games of the season.