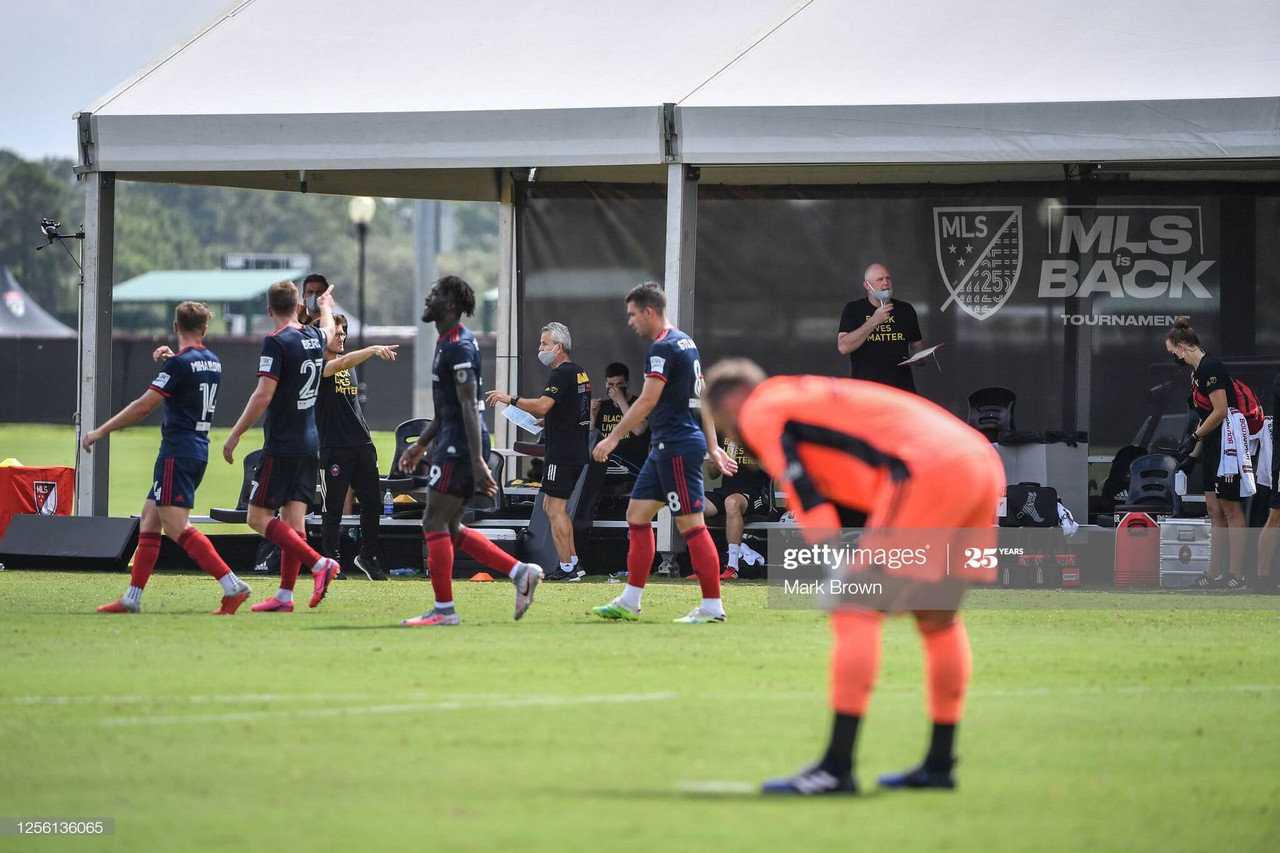 Chicago Fire upset the MLS Cup holders in an enthralling MLS is Back clash on Tuesday morning. The Fire took the lead twice en-route to a vital 2-1 win over Seattle Sounders, with goals courtesy of Robert Beric and Mauricio Pineda.
Handwalla Bwana's 77th minute equaliser looked certain to flip the momentum back in Seattle's favour. The Sounders' defensive profligacy, however, proved too large a stumbling block. Even the offensive contributions of Jordan Morris proved insufficient in Brian Schmetzer's bid to guide Seattle to their first win at MLS is Back.
In a week defined by turmoil on and off the field, Chicago's unassuming victory over Seattle is among a small collection of feel-good stories in MLS.
Buoyed by a positive offseason, the Fire – quite literally – look like a different club this term. In the wake of Chicago's rise to the top of the Group B standings, VAVEL USA asks: "how high is the Fire's ceiling in 2020?"
Raphael Wicky's American Dream
It's important to remember that Chicago fans have endured a pretty miserable couple of years. The Fire finished eighth in the East last season, albeit a slight improvement on their tenth-placed finish in 2018. Accused of lacking vision and ambition from supporters across the league, the Illinois franchise came-out swinging this winter.
On the day Bastian Schweinsteiger announced his retirement from the sport, Fire owner and chairman Joe Mansueto confirmed that the franchise would be returning to Solider Field for the 2020 season.
Following the certification of the Fire's relocation, Mayor Lori Lightfoot said: "This sports fan is bursting with pride. I am so happy about this announcement.
"The Fire will be successful with this return home to the city of Chicago and to Soldier Field. We want to make sure we make up for all the lost time over the years."
The biggest change in Chicago has, however, been on the training field. Raphael Wicky's appointment as the franchise's head coach, in tandem with Sebastian Pelzer installation as Fire technical director, has been pivotal in setting the mood music in Chicago.
It showed against the Sounders. Wicky's side were tactically flexible, comfortable when pressed by Seattle and clinical in front of goal. Take Beric's opener as an example.
The Fire took the lead after 52 minutes courtesy of a fine finish from winter arrival Beric. It would be an exaggeration to refer to the play leading up the goal as a "move". Pineda was forced to make a clearance from the Fire's by-line, only for Xavier Arreaga to allow the ball to bounce on the halfway line.
Arreaga's error was grave. Beric stormed goalward, jinked beyond Yeimar Gomez and lashed a driven shot beyond Stefan Frei. Textbook.
What is significant about Chicago's opener – and indeed reflective of the Fire's performance against Seattle – is the air of assurance that embodied their play.
You would be forgiven for believing that Pineda was an MLS veteran. You would be forgiven for assuming that this Fire team had been playing together for years.
Neither assertion is true. The rate of the Fire's transformation from being distinctly sub-par, to impressively resolute is quite something.
"To be honest, I didn't know much about Mauricio," Wicky admitted after Chicago's win over the Sounders. "Obviously I saw a few video clips, but then as soon as we started (preseason), I saw the potential, talent and work ethic he had. He's surprised a lot of people."
Pineda isn't the only person pulling up trees in Illinois, Wicky could yet prove to be Chicago's signing of the summer.
Mauricio Pineda, Chicago's homegrown hero?
Speaking of Pineda, what a performance it was from the Fire's homegrown talent. Pineda, one of 17 new players added to Chicago's squad over the offseason, was certainly not among the most heralded of additions to the Fire's roster. Regardless, Pineda starred from central defence.
With the Fire experimenting with a 5-3-2 formation, Pineda stepped into the heart of Wicky's defensive unit and looked as though he belonged from first whistle. Despite notching a goal and an assist, Pineda's best work against the Sounders came while in possession within the Fire's defensive third.
As many expected, Seattle dominated possession throughout long spells of the match – but Pineda's calming influence allowed Chicago to establish a foothold in the tie.
Pineda led his team in completed passes and completion percentage, an impressive outing for a player only making his third appearance in MLS.
"It was my objective in January to be flexible and play multiple systems, a back four and a back five," Wicky said. "I played in the Champions League with Basel in a back five, I wanted to have this option here as well. It depends what players you have on your roster but I knew once we had our full roster complete, we could play both of these systems."
That Pineda – a youth prospect plucked from relative obscurity – was able to star in an unfamiliar system, for a team that hadn't played soccer in over four months, bodes exceptionally well for the Fire.
"I think my celebration was a little too hard, I should have taken it a little easier," Pineda joked after the match. For Chicago, Pineda's joy is long overdue.
Wicky's new-look Fire are finally on an upward trajectory. Should Chicago progress to the knockout rounds at MLS is Back, franchises across the league might finally start to take notice of that dysfunctional club from the Midwest.
Soccer is back, and Chicago Fire are back on the right track.