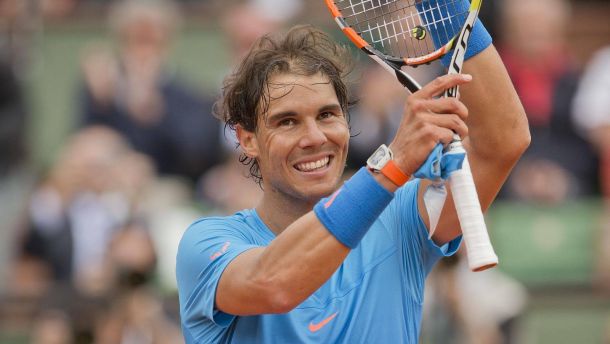 It was a match many speculated could result in an upset given Rafael Nadal's recent form and Nicolas Almagro's history as a top 10 player, but Nadal was dominant in his victory over his compatriot on Thursday in the 2nd round of the French Open. In his 30 minute practice beforehand, Nadal spent 20 of those focusing on his forehand. This practice evidently paid off during the match, and determined many points, firing winners from his racket. The conditions were cool throughout the match, favouring Almagro, but this did not seem to hinder Nadal.
The first set was perhaps the toughest for Nadal, with some impressive shots being made by Almagro. The 6th seed started off promisingly, with two break points in the very first game of the match. Almagro saved these, but Nadal broke in the 4th game to go up 3-1. It was smooth sailing from then on until 5-3, where Nadal had several set points on Almagro's serve. After five deuces and three set points saved in an eight-minute game by Almagro, he held for 5-4. Nadal had two more set points in his following service game, and after missing one with a backhand error he finally finished off the set with a one-two punch combination of a serve out wide and then a strong forehand cross court winner.
To continue this trend, Nadal immediately set up a break point in the 2nd set with an inside out forehand and secured the early break with a netted shot from Almagro. Nadal faced break points in both his 2nd and 3rd service games, but successfully saw them off with a missed forehand from Almagro and an ace. He then broke Almagro again to lead 5-2, but Almagro was determined to not let Nadal serve the set out easily. He gained triple break point and took the first opportunity he was given to claw his way back to a one-break deficit, 5-3. Upon attempting to hold and further reduce the scoreboard gap, however, Almagro faced two set points. He managed to save the first one with a 206 KMH ace, but a long and grueling rally that forced Nadal to constantly use his renowned defensive skills to retrieve shots ended in an error from Almagro and sealed the set for Nadal.
The match began to run away from Almagro in the third set; although he had chances to break in the 1st game on Nadal's serve he couldn't capitalise. Nadal was playing far more freely by this point and had begun to consistently run around his backhand, a sure sign of raised confidence levels within him. Nadal broke and held consistently through the set and eventually fired his 5th ace to reach 5-0. Almagro narrowly avoided the embarrassment of a 6-0 set to his name by scraping through his service game with a big forehand winner to get one game on the board. Nadal quickly reached triple match point on his serve and gained the win with a netted forehand return of serve from Almagro, 6-4 6-3 6-1.
Nadal's confident showing in this second round demonstrates how, as with most years, he improves his form as he moves through the tournament. His total of only 16 unforced errors will give him confidence, and he should play well against his next opponent, Andrey Kuznetsov, who is ranked 114 places below Nadal. Kuznetsov's second serve is widely regarded as his greatest weakness, and if Nadal attacks this along with his weaker forehand side it's highly possible for Nadal to reach his 11th round of 16 appearance in the city of Paris.