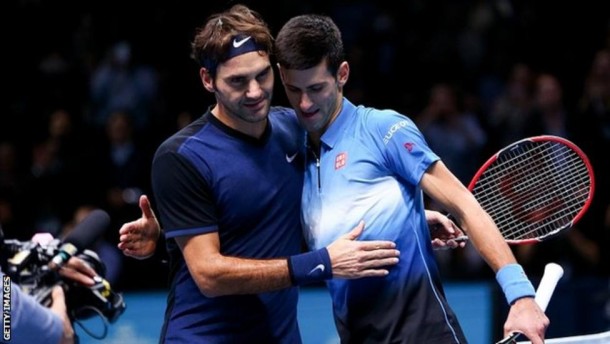 Novak Djokovic just completed what can only be described as one of the greatest seasons in tennis history. However, his coach is not willing to give him that title just yet. Boris Becker, Djokovic's coach since December 2013, tweeted yesterday that the 2006 season of Roger Federer was still better than Djokovic's 2015. Becker believes that Federer is the "greatest of all time" (GOAT).
Just a word to all the @rogerfederer fans in the world ...he is the GOAT ! 2006 was even better than 2015 but give @DjokerNole respect!!!

— Boris Becker (@TheBorisBecker) November 23, 2015
Becker Seeks Equal Praise For Djokovic
Federer's status as the "greatest of all time" is widely accepted, so it should come as no surprise that a former player would call Federer the greatest even though it comes with Djokovic currently dominating the ATP Tour. Becker is simply calling for fans to respect his charge at the same time that he heaps praise on the Swiss. Hearing Becker acknowledging Federer's superiority is a big statement though from someone so deeply entrenched in the Djokovic camp. It's a big endorsement for Federer, especially considering that Djokovic may himself be putting his name into consideration as one of the greatest tennis players of all time. What must be remembered is that before becoming Djokovic's coach, Becker was a television commentator. That means he likely spent plenty of time analyzing Federer and his dominance. He also wants to motivate Djokovic, so calling the Serb's 2015 the greatest season ever would probably not be the best motivational tactic. By saying Federer's 2006 was better, it gives Djokovic something else to strive for in 2016.
Stats Say Federer's 2006 Stands Taller
Statistically speaking, Federer's 2006 is still slightly superior to Djokovic's 2015. Federer won 12 titles to Djokovic's 11 and went 92-5, while Djokovic only went 82-6. Federer's losses were also more forgivable. Four of his five losses came to Rafael Nadal with three of them on clay. Djokovic lost four of his five matches to good opponents too with three to Federer, one to Andy Murray and one to Stan Wawrinka. Still, the one loss to a lower ranked opponent was worse than Federer's. Djokovic lost in the quarterfinals of his first tournament of the year to 27th ranked Ivo Karlovic. Federer's lone non-Nadal loss in 2006 was in the second round at Cincinnati to a little-known Scot named Andy Murray.
In both seasons, both men reached the final in all but one of their tournaments. The only Grand Slam that they both failed to win was the French Open. However, Djokovic's loss was more disappointing as he had already dispatched Rafael Nadal and was seemingly in the clear to win the title. What followed was a stunning loss to Stan Wawrinka that left the Serb short of completing the "career" Slam. In 2006, Federer was not the favorite to win, so it was no surprise when he lost to Nadal.
Djokovic's Mastery Of Masters Events Unparalleled
The one advantage Djokovic's 2015 has over Federer's 2006 is performance in Masters Series events. Djokovic reached the final of all eight Masters 1000 events he played at and he won six of them. That stands as an ATP Tour record. Federer reached the final of six of the seven Masters events he played in 2006. The Swiss skipped Hamburg and Paris, while losing early in Cincinnati. Overall, Federer won four Masters titles in that special season.
Both seasons were ones for the ages, but Becker may be right when he said that Federer's was better and that the Swiss is the greatest of all time. It is not a slight to Djokovic, but merely an acknowledgement of Federer's greatness. It may also serve as added motivation for Djokovic, who in this columnist's opinion is still chasing Federer for the title of "greatest of all time."