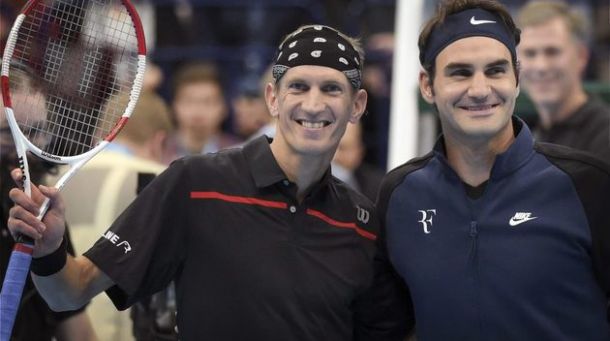 Jarkko Nieminen was the star of the night as thousands gathered inside Hartwall Arena in Helsinki, Finland to watch him play one more time. Nieminen had officially ended his ATP World Tour career in October after losing to Nicolas Almagro at the Stockholm Open. Monday, he faced Roger Federer in one final exhibition match.
The Final Night in Hartwall Arena
Tennis fans flocked to the arena in Helsinki, Finland on Monday for one final chance to say goodbye to their retiring hero, Jarkko Nieminen. The 34-year-old retired from the ATP World Tour in October. His final competitive match came in Stockholm, Sweden where he lost in three sets to Nicolas Almagro. This however was a night meant for celebration and fun for Nieminen. Federer and Nieminen had announced at the end of September that they would play Monday's exhibition match dubbed "The Final Night" in Helsinki as Nieminen's last professional tennis match.
Doubles Brings Out Ex-Hockey Stars
Before the main course of the evening, Jarkko Nieminen and Roger Federer also played a doubles exhibition match. Nieminen paired with Helsinki native and former NHL player Teemu Selanne. Federer was paired with Swedish NHL legend Peter Forsberg for the match. To the delight of the crowd, it was the Finnish pairing of Nieminen and Selanne who came out on top, winning the single set match 6-3.
Federer Wins Tight Match
Following the doubles match, it was on to the final match for Nieminen. It would be an entertaining match for the crowd and players who joked often in between points. The match ended with Federer edging Nieminen in two tie breaks, 7-6 (4), 7-6 (7). The end result was not the story though. The outcome of the match never mattered, it was simply a chance for Finnish fans to show their appreciation for Nieminen and vice versa. Federer also took the opportunity to express his appreciation for his longtime friend, saying, "He has always been one of the most generous of friends and he did not behave differently outside the court than on the pitch. We always come along very well with each other."
Nieminen Bids A Final Farewell
Nieminen stayed on court for nearly ten minutes after the end of the singles match as he spoke with the crowd. The Fin expressed his gratitude for the entire evening. He thanked his wife Anu and his daughter for their support. Nieminen expressed similar sentiments for the night, much as he did on his blog after his final match in Stockholm. Nieminen wrote, "I can say that I have never been happier than I am at the moment. I think that I have always been quite a happy guy and fortunate in my life but I feel that I'm even more that now. I could finish the career on my own terms, totally healthy and still being able to play some pretty good tennis."
Pretty good tennis is exactly what the spectators at Hartwall Arena were treated to on Monday. It was a fitting way to formally end the professional tennis career of Jarkko Nieminen.