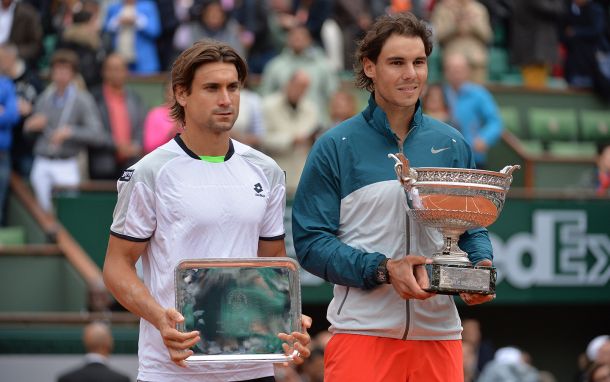 There was a time when counterpunchers were not only common in men's tennis, but actually achieved success. It was possible for players without massive serves and offensive strokes could reach the top of the game and win slam titles. It was a time when styles varied greatly and the game was quicker and arguably more strategic than what we see today.
But these days seem to be long gone. Being fast, fit, and consistent is no longer a recipe for success on the ATP World Tour. While baseline tennis is becoming the most common way to play the game and succeed, traditional counterpunching has fallen by the way-side. It's become harder for players who wear down opponents with quick, consistent and well-placed shots to overcome the raw power on the other side of the net. Muscle tennis has become the norm and it's become nearly impossible for the weaker counterpunchers to stay with them for three sets, let alone five. Men's tennis has evolved dramatically in the last ten years and these changes have made it nearly impossible for counter-punchers to achieve grand slam success.
While counter-punchers may have never dominated the tour, there have been some very successful ones. The prime example would be Jimmy Connors. Connors hit the ball hard, but not hard enough to overpower the bigger hitters on the tour like Roscoe Tanner and even Bjorn Borg. But what Connors had was speed, heart, and an uncanny ability to reflect opponents power right back at them. Connors won eight Grand Slam titles by frustrating and outworking opponents. His counterpunching style also made him the first man in history to win at least one Grand Slam singles title on all three surfaces (he won the US Open when it was played on clay in 1976). The argument could be made that Connors was the first great counterpuncher in the game and was even the father of modern counterpunching tennis. Over the years, more players would follow Connor's lead, including 1989 French Open Champion Michael Chang, two-time Grand Slam champion and world number one Lleyton Hewitt, and even a young Rafael Nadal.
But since Nadal evolved his game to be more aggressive and dictate more (circa. 2008), counterpunchers have struggled on the ATP World Tour. Early in his career, Novak Djokovic may have been considered a counterpuncher, but like Nadal he has since evolved his game. Djokovic also didn't have the same success as Nadal while he was counterpunching. It wasn't until Djokovic upped his game that he started having success. The last time a "counterpuncher" won a Grand Slam title was probably Nadal at the 2007 French Open or maybe Djokovic at the 2008 Australian Open. Since then, it has been aggressive baseliners dominating at the grand slam level.
There are still more traditional counterpunchers on the ATP achieving some respectable results. Gilles Simon is currently ranked number thirteen in the world and had a career-high ranking of sixth while playing a very classic counter-punching game. This past week, he reached the semi-finals of the ATP 500 event at the Queen's Club, taking out one of the game's best power players, Milos Raonic, in the process. He also reached the final at the ATP Masters 1000 event in Shanghai last year. He is one of the premier counterpunchers on the ATP and continues to achieve mild success with that style. But he's never gone past the quarterfinals of a Grand Slam title and is now into the back-half of his twenties, so Grand Slam success seems unlikely for Simon. Probably the world's best counterpuncher today is David Ferrer. Unlike his compatriot Nadal, Ferrer has never moved on from counterpunching. Ferrer has extremely quick, accurate, and consistent groundstrokes. He can wear down almost anyone on the ATP. He's won a Masters 1000 title and reached several more Masters finals, as well as reaching the French Open final in 2013. He's also been a main-stay in the top ten for the better part of eight years. While these were good results for any player in the ATP world, it's unlikely that the likes of Ferrer or Simon will ever rise up and claim a Grand Slam title or reach number one.
The overarching reason why counterpunchers are a dying breed is the changes that have been taking place in men's tennis over the years. Specifically, players are getting faster and stronger and therefore hitting the ball harder. Players are playing more complete games with fewer weaknesses for counterpunchers to exploit. There are very few players on the ATP who currently have a backhand or forehand so weak that a counterpuncher can easily target it. The other problem is that players are hitting the ball much harder than before, and while this means there is more pace for counterpunchers to redirect, they're finding it harder to do so because they're under such immense pressure. Players like Simon and Ferrer are being overpowered by the likes of Tomas Berdych or Marin Cilic. And while those two men have weaker movement, there are the new breed of baselinesr like Nadal, Djokovic or Murray who move well, if not better than some counterpunchers. It's becoming harder and harder for counterpunchers to exploit the top players. And then there is the raw power they are facing. A big problem with counter-punchers is that they don't tend to hit very hard shots on their own. They send the ball back hard by redirecting the already power shots of their opponents. The problem now is that opponents are hitting the ball back too hard for them to redirect effectively. They're often not able to get their opponents out of position and force them to hit weaker shots. More often than not, the counterpunchers are scrambling along the baseline fighting to stay in rallies rather than control them. It's a brutal strategy and nearly impossible to keep up over long matches, particularly best-of-five set matches at slams. While counterpunchers strategies can work in short matches, it's failed them when it matters most. These days, counterpunchers just aren't strong enough to keep up with the big guns on the ATP tour.
Classic counterpunching has become an essentially irrelevant style in modern tennis. That being said, there is a more modern style of tennis that could be considered "counterpunching." Andre Agassi referred to himself as a counterpuncher. However, Agassi's style of counterpunching was not the same as Connors or Chang. Agassi was much stronger and dictated rallies more than classic counterpunchers. Agassi was a defensive player, but he brought in a hybrid counterpunching/offensive baseline style. Agassi could cover the court well and return all manner of powerful shots, all the while dictating with his own powerful groundstrokes. Agassi's style became the framework for what could be called "modern counterpunching." We see this "modern counterpunching" all the time. Rafael Nadal, Novak Djokovic and Andy Murray would fall into this category. All three men have powerful groundstrokes which they use to control rallies and push opponents around the court. However they are primarily strong returners who cover the court well and send everything back at their opponents. Their style is derived from classic counterpunching, only upgraded for the modern game with stronger shots. Nadal, Djokovic and Murray have combined for twenty-four Grand Slam singles titles since 2005.
It would be incorrect to say that counterpunching is dead, or at least completely irrelevant. It's evolved to be more aggressive. Classic counterpunching may no longer be an effective strategy. Players can use it and have relative success, as David Ferrer has shown during his lengthy career, but classic counterpunchers are in no position to win Grand Slam titles. They are simply not strong enough. As the next generation of tennis stars arrive, it's appears clear that it will be a long time before a counter-punching wins a Grand Slam. Kei Nishikori plays that modern counterpunching game, but he would be the closest thing to a true counterpuncher, and that's a stretch. The rest of the young guns, most notably Milos Raonic and Nick Kyrgios, play big power, big-hitting games which are more in-tune with the modern game. At the end of the day, the game has changed too much for classic counterpunchers to win big. Just like the game itself, they need to evolve if they want to have continued success.