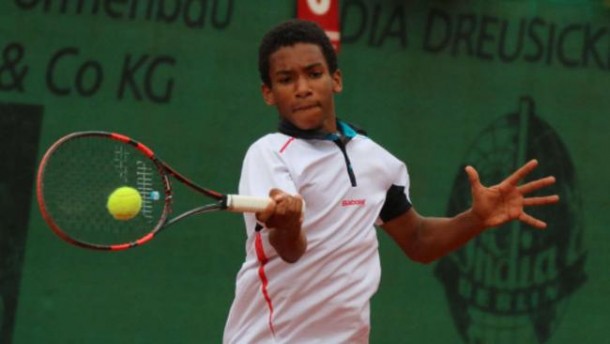 Main draw action at the historic Metropolia Orange Bowl International Tennis Championships kicks off on Tuesday following several rainy days in Southern Florida which delayed the start. The fabled tournament, considered equal in importance and strength to the four junior Grand Slam events, offers intriguing draws with no clear favorites and many upsets expected. Last week, Canadian phenom Felix Auger-Aliassime battled his way to a victory at the Eddie Herr International Championship and will need to muster all his energy to repeat this week landing in Hungarian Mate Valkusz's section, twice his victor this year. The girl's draw will see both Dalma Galfi and Katie Swan attempt to nab the number one junior ranking from the absent Marketa Vondrousova, but the field is chock full of threats. As the final event of the 2015 junior calendar results this week will decide the year-end rankings which offers rewards for the top-finishers, including entries into senior draws and the ability to compete in next year's ITF Junior Masters.
Boy's Draw: Top-seeds Casper Ruud and Mate Valkusz face tough early competition
Leading the boy's draw is Norway's Casper Ruud, now ranked number three in the junior rankings following his doubles victory at Eddie Herr last week with Miomir Kecmanovic. Despite being the top-seed Ruud is not an overwhelming favorite to advance through his section after falling early last week and lacking consistently deep results in the biggest junior tournaments. Ruud's possible third round match is with Ulises Blanch, the lone American to reach the quarterfinals of Eddie Herr last week. If Ruud survives Blanch he could face either Eddie Herr runner-up Alex De Minaur or his doubles partner Kecmanovic of Serbia in the quarters. The Australian De Minaur is currently showing great form and nearly claimed the title last week having several match points against Auger-Aliassime. De Minaur will face a tough match in his opening round against American Vasil Kirkov, one of the notable American performers from last week.
The second seeded Valkus is the unlucky top-seed to have landed Auger-Aliassime in his quarter, but has won both his matches this year over the 15 year-old. Valkusz did not play last week but has shown consistantly great form over the last several months with wins at Copa Yucatan, Canadian Open Junior Championships, and a runner-up result to Ruud at the Osaka Mayor's Cup. A quarterfinal match between Valkusz and Auger-Aliassime could prove one of the highlights of the tournament, but Americans Nathan Ponwith, Sam Riffice and Gianni Ross hope to have some say in the matters and score some upsets.
Third seed Stefanos Tsitsipas of Greece is the favorite in his bottom-half quarter following his semifinal result last week. Tsitsipas and his one-handed backhand have an edge of experience over many in the section, but could face difficulties from the other seeds. Argentine Genaro Alberto Olivieri has shown strong recent form along with Estonian Kenneth Raisma. Phillipine's Alberto Lim is the sixth seeded player but was knocked out in round one last week along with most players in the Tsitsipas quarter.
Korean Yunseong Chung is the draw's fourth seed but is not the favorite to advance to the semis with American Alex Rybakov and Canadian Benjamin Sigouin looking more likely to make it through. Rybakov, the eighth seed, is playing his first junior tournament since reaching the quarterfinal of the US Open but has recent success at the senior level reaching two satellite final last month. Sigouin reached the semifinals last week after some very strong results and is the second favorite to advance out the section, with American John McNally and Egypt's Youssef Hossam also threatining.The last month of big junior tournaments has seen few noteworthy results from the American boys, but Rybakov could easily put things right in the biggest tournament of them all.

Sofia Kenin must survive loaded quarter to defend title
The top-seed in the girl's draw is American Sofia Kenin, last year's champion. Kenin has failed to win any of the lead-up tournaments and faces an extremely tough draw possibly facing Eddie Herr Champion Kylie McKenzie or 14 year-old phenoms Amanda Anisimova or Anastasia Potapova in the third round. American Anisimova is in great form and has emerged along with McKenzie as the breakthrough star of the fall junior season. One of Kenin's possible quarterfinal opponents is Australian Open junior Champion Tereza Mihalikova who has failed to impress in recent months. Also in this quarter and possibly dangerous are Americans Caty McNally and Sofia Sewing.
The second seed in the draw is US Open junior champion Dalma Galfi who has a good shot of claiming the year-end junior number one ranking this week if she can reach the quarterfinal. Possible early round matches against Americans Kelly Chen and Ingrid Neel will be huge tests for Galfi, who was upset last week by McKenzie in the Eddie Herr semifinal. Likely waiting for Galfi in the quarterfinal should she make it that far are Russian Evgeniya Levashova or American Michaela Gordon, both experienced and formidable opponents for the Hungarian. Galfi should have the game to advance out of the section, but as last week demonstrated she is prone to upset if her serve breaks-down.
Third seed in the girl's draw in the top-half is Brit Katie Swan, the Australian Open junior runner-up. Swan, like Galfi, has an outside chance of claiming the top junior ranking but will need to reach at least the final in order to do so. Swan will face a tough second test from in-form Moldovan Anastasia Detiuc who nearly defeated Kenin last week, or the talented young American Natasha Subhash. Swan's path to the semis will continue to be difficult as she faces a section full of North American seeds with Caroline Dolehide, returning from an ankle injury, possibly waiting in the third round. Copa Yucatan champion Kayla Day could face Swan in the quarterfinal, with Canadian Katherine Sebov and Ohio's Alexandra Sanford also looking strong in her section of the draw.
Argentinian-American Usue Arconada leads the final section of the draw with Slovenian Tamara Zidansek, the experienced Eddie Herr runner-up and top-300 WTA player her possible quarterfinal opponent. Arconada is a consistent performer but has not performed well in the major junior events lacking the size and firepower of some top-juniors. In her section is Algerian Ines Ibbou and the highly regarded American 15 year-old Claire Liu, who has the talent to defeat nearly anyone in the draw. Zidansek faces a possible third round encounter with 15 year-old Canadian Bianca Vanessa Andreescu, a former Les Petits As champion who has impressed on all surfaces and could contend for junior slams next season.