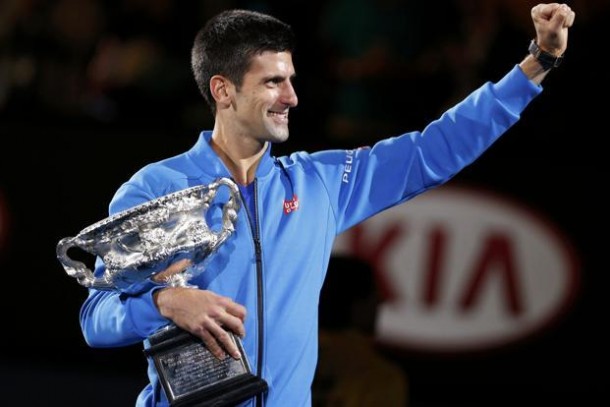 Novak Djokovic's 2015 season ranks as one of the greatest seasons in the history of the ATP World Tour. The Serb was the definition of dominant from start to finish, proving time and time again that he is currently operating on a higher level than the rest of the tour. It's time to take a look back at Djokovic's historic season.
Win-Loss Record
Djokovic was an astounding 82-6 in 2015. Those numbers rank as both his highest number of wins in a season and his best winning percentage. For the second time in his career, he won three Grand Slam titles in a single season as he joined legends Roger Federer and Rod Laver as the only players to do so. He also broke the record he shared with Rafael Nadal for most Masters 1000 level titles in a single season by winning six in 2015. Overall, he won a career-high eleven titles and he reached the final in every event he played with the exception of his first event of the season. He spent the entire calendar year ranked number one for the first time in his career and finished the year ranked number one for the fourth time.
High Points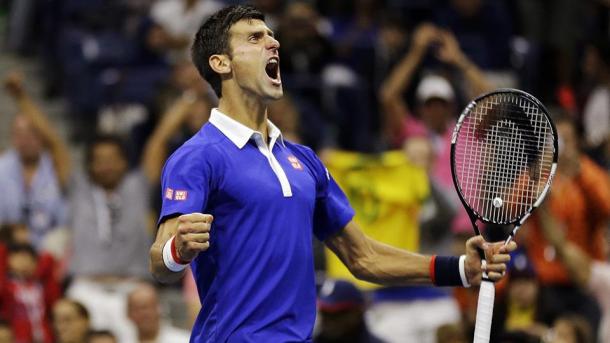 Photo: Sports Illustrated
There were so many highlights to Djokovic's year that it is hard to single out one particular highlight. However, his fourth consecutive title at the ATP World Tour Finals was no doubt a fitting way to end the year. He defeated Roger Federer in the final 6-3, 6-4. He now trails Federer by just one title for the most titles won at that tournament. His title at the BNP Paribas Masters in Paris was historic as it was his record-breaking sixth of the year. His U.S. Open title also marked a high point, as he won his third Grand Slam title of the year. It also marked the second time that he won the U.S. Open in his career. The win also put him into double digits in major titles won for his career. And while it turned out to be in vain, his victory over Rafael Nadal in the quarterfinals of the French Open was a major victory as he ended Nadal's five-year run in Paris. It seemed to cement the Serb's status as the best player in the world as it could no longer be said that he could not beat the King of Clay in his own domain.
Low Points
When he took out Nadal, it seemed as though he had done enough and was ready to be crowned French Open champion to finally join the debate as to who is the greatest of all time by completing the career Grand Slam. But that dream was dashed by Stan Wawrinka who put on a master class to break Djokovic's heart with an upset win in the final over the Serb. It was a golden opportunity and Djokovic missed it. It would be one of the few times all year that he would suffer a painful defeat. Prior to the French Open, Djokovic had withdrawn from Madrid to better prepare for Rome which robbed him of a chance to extend his streak to five consecutive Masters 1000 titles. He was criticized by some for his decision to withdraw from a Masters 1000 tournament without a legitimate injury. The only other moment that could really be defined as a low point was when he was beaten in straight sets by Roger Federer in the round robin stage of the ATP World Tour Finals. That loss ended a 23-match win streak.
Best Results
Djokovic would avenge that loss to Federer a few days later as he beat the Swiss in straight sets to win his fourth consecutive ATP World Tour Finals title. He was the first person ever to win four consecutive year-end championships. His three majors were all huge, bringing his total Grand Slam title tally to ten. That leaves him four back of Nadal and Pete Sampras for second on the all time list. By defending his Wimbledon title, he became the first person since Roger Federer's run of five consecutive titles from 2003 to 2007 to defend the Wimbledon crown. His Australian Open title also broke a tie with Federer and Andre Agassi for the most Australian Open titles in the Open Era. His U,S. Open title was his second, although he still has a pretty poor record in U.S. Open finals with two wins and four losses. Simply put, almost everything in 2015 was a good result for Djokovic.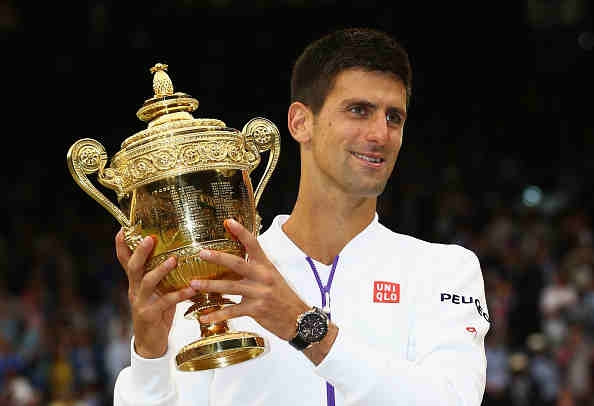 Photo: Getty Images
Worst Results
Djokovic's worst result in 2015 was actually in his very first event. He kicked off his season in Doha where he was stunned in the quarterfinals by serve machine Ivo Karlovic. He would not lose again until June at the French Open. Doha was the only tournament where Djokovic failed to reach the final. In Cincinnati, Djokovic was looking to complete the "golden masters" by winning every Masters 1000 title at least once in his career. He fell well short as he was utterly dominated by Roger Federer. He was flat and was no match for the Swiss. After that loss, his status as the top player in the world appeared to be briefly in doubt. Djokovic would quickly silenced critics at the U.S. Open.
Grade: A
What? How could he get anything but an A+? He did everything right in 2015, except that he still failed to win the two tournaments he needs to win the most. Had he won the French Open rather than any of the other three slams or even if he had he won only the French Open, he would get an A+. Djokovic also missed out on the golden masters by losing in Cincinnati. And in both finals of those two events, he was thoroughly outclassed. Yes, the Serb broke many records in 2015 and was utterly dominant, but a career Grand Slam or golden masters are worth a lot more than any of that in this columnist's opinion. That is what is currently keeping him behind Federer, Nadal and Laver in contention for the title of Greatest of All Time. There is no question that Djokovic had one of the greatest years in tennis history in 2015, but now he needs to go out and beat it.