2015 was a monumental year for Canada's Bianca Vanessa Andreescu. The 15-year-old born in Mississauga, Ontario, Canada ended her season on the highest of highs, winning the prestigious U18 Metropolia Orange Bowl International Tennis Championship singles title – which consequently propelled her to a career high of number four in the International Tennis Federation junior rankings. Having won the U16 title last year, Andreescu became just the fifth woman to ever win the U16 and U18 on back-to-back years. In doing so, she joins the elite company of Chris Evert and Mary Joe Fernandez, who accomplished the same feat back in the late 60s and mid 80s, respectively.
In an exclusive interview with VAVEL USA, Andreescu sat down to discuss her 2015 season, life as an elite junior, and her goals for 2016 and beyond.
"Winning [the Orange Bowl] gave me a lot of confidence, especially [after] beating such tough opponents," the 15-year-old said. "Now I know that I can beat anybody if I just put my mind to it."
Born into a family of Romanian descent, Andreescu fell in love with the game of tennis at an early age, and quickly decided she wanted to pursue a career as a professional.
"I started playing tennis around the age of 6 in Romania," she said. "Once I started winning big tournaments and when I saw how great the life of a professional tennis player is, that's when I told myself, 'I want to be like that, I want to have that life.'"
A self-proclaimed "aggressive baseliner" who "likes to finish points off at the net", Andreescu sounded extremely content with her 2015 season – one that had been widely successful with the help of a former world number three.
"So far I feel like this year has been the most productive year for me, as for results too," the Canadian said. "I learned so many new things since I started working with Nathalie Tauziat this February. I improved my tennis and I learned many things I never knew about my game."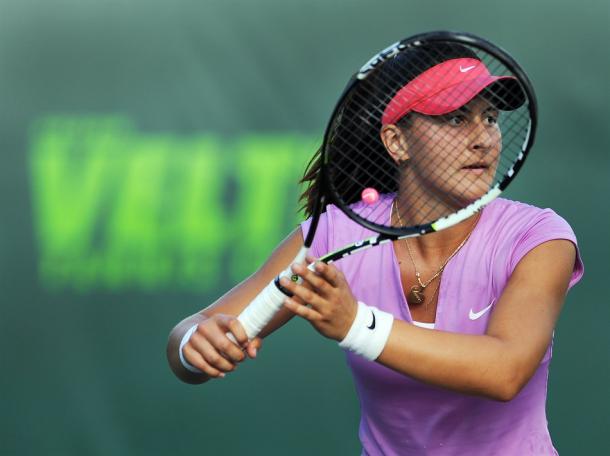 On top of all of her success at the junior level, the teenager also made her professional debut at the $25,000 event in Gatineau, a small city four hours away from the Québécois capital of Quebec City. A wildcard into the main draw, Andreescu took the tournament by storm, cruising to the final with wins over third seed Shuko Aoyama and Pan American silver medallist Victoria Rodriguez, before falling to top seed Alexa Glatch in two hard-fought sets.
A week later, the Mississauga native returned home in an attempt to qualify for the 2015 Rogers Cup presented by National Bank. Despite losing in the first round to Olga Govortsova – 12 years her senior, Andreescu was able to gain a valuable experience, one that can help her in the long run.
"It is always special to play at home, however can be also overwhelming," she said. "You get to mingle and meet all the pro tennis players and that is always cool."
For many talented juniors, the transition from juniors to the professional tour can often be very demanding, and one of the biggest challenges for an professional to face because of the major difference in skill level. "The biggest difference that I notice between juniors and pro seniors is that the pros hit much longer, deeper and faster," Andreescu remarked.
At just 15 years of age, it is remarkable to think that someone so young could have already achieved so many great things in such a physically and emotionally-demanding sport. But off the court, balancing the ball with the books can be one of the most challenging things for an elite junior athlete to deal with. "Balancing tennis and school is tough but I manage to do both if I plan correctly," she said, in regards to how she finds the right balance between schoolwork and tennis.
"I am currently doing school but I go to school for an hour when I am home to catch up anything I missed in person with my teacher. I always try to find time to do schoolwork when I am on the road. I feel that I am a very organized person and I try my best to hand in my schoolwork on time."
Another remarkable thing about Bianca Vanessa is her willingness and drive to succeed, while staying grounded and keeping a realistic outlook on her competition and her own tennis. With the help of her two coaches, she is able to keep this positive outlook while striving to be a better person and player than she was yesterday.
"I've started working with Nathalie Tauziat this February for the first time and since then, I've been traveling with her from tournament to tournament but when I am home, Andre Labell is my coach, who works for Tennis Canada."
Last season, Eugenie Bouchard sent shockwaves around the tennis world when she made her maiden Grand Slam singles final on the lawns of the All England Lawn Tennis and Croquet Club at Wimbledon. However, this season, the 22-year-old's form had gone south, and so did her confidence. Watching from home, Andreescu says she has learned a thing or two from her compatriot's misfortunes.
"It is important to keep your focus and stay balanced," she said, referring to Bouchard's off-court endeavours that might have interfered with her tennis.
"I am so lucky as I have great support from my family."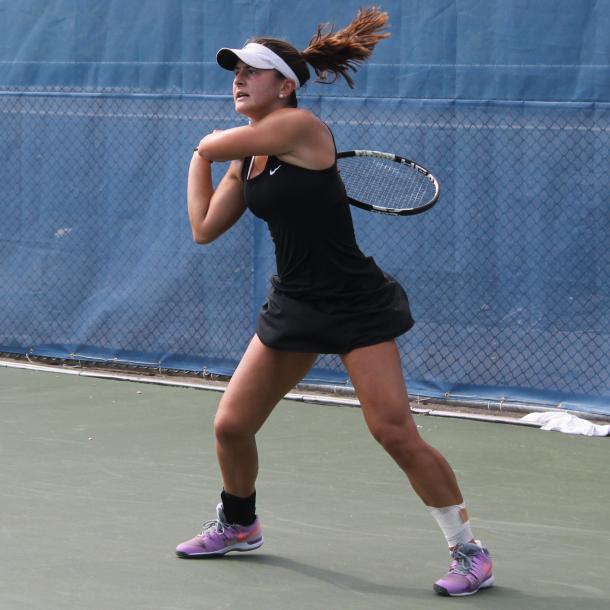 Going into 2016, the 15-year-old has her sights set on exactly what she wants to achieve by this time next year.
"[I want] to win a junior Grand Slam, reach number 1 [on the] ITF [junior rankings] and reach top 200 [on the] WTA [rankings] by the end of the year."
If she were to achieve these goals in the near future, what long-term goals does Andreescu have in mind in order to reach the upper echelons of women's tennis?
"My ultimate dream, in terms of tennis, right now is to become number 1 in the world, winning as many Grand Slams as possible and making history."
If Andreescu stays healthy and continues to make the necessary improvements, there is no reason why these goals can't become a reality in the near future.