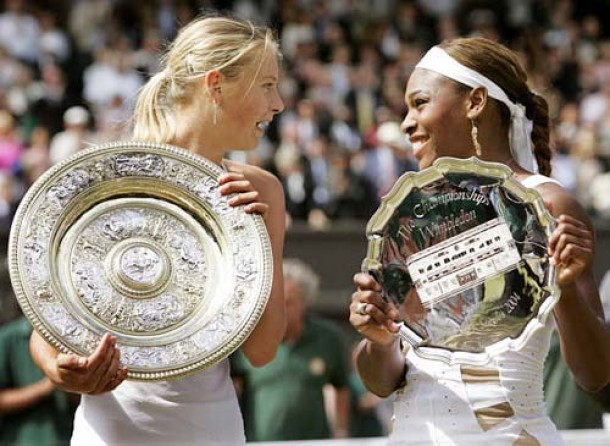 Maria Sharapova has achieved everything that an professional tennis player dreams of. She has captured the number one ranking. She has completed the Career Grand Slam. She has won 35 titles on the WTA tour. However, one statistic that dampens her legacy is her head-to-head with Serena Williams, 2-18.
The last time Sharapova beat Williams was in the final of the 2004 WTA Championships in Los Angeles. Williams was up 4-0 in the deciding set when the 17-year-old Russian staged a emphatic comeback to take the title. The tone in their rivalry was much different then. Sharapova had just beaten Williams in the Wimbledon final in a dominating straight-sets victory, shocking the sports world. By the end of 2004, Sharapova held a 2-1 edge in their head-to-head and the tennis world saw her as the next major rival of the Williams sisters.
Since 2004, Williams has beaten Sharapova 17 consecutive times, conceding just three sets. The head-to-head between the two has become one of the most discussed topics in the tennis world, many finding it hard to believe that the second best player in the world has struggled so much in their matches. However, Williams has dominated her head-to-head records against almost all of the players in the WTA; the only active players with more than two wins against her are Venus Williams, Samantha Stosur, Nadia Petrova, Jelena Jankovic, Alize Cornet and Victoria Azarenka. Most current players ranked within in the top 100 would be lucky if they achieved two wins in 20 matches against Williams like Sharapova has.
Williams has an astounding record versus top ten players, amassing a 57-6 record against players ranked within the top ten since 2012. The world number one plays her best in big matches against big players; the higher the quality of her opponent, the higher the quality of her own play. Sharapova is the best player on the tour besides Williams, so of course the latter will play her best tennis against her. At Wimbledon this year, Williams hit 33 unforced errors in her third round match against the 55th-ranked Heather Watson, a match where she nearly lost in three sets. Several days later, Williams hit just 15 unforced errors in her semifinal match against Sharapova, which she won in straight sets.
Ending her losing streak against Williams will help Sharapova's legacy significantly. The news will shock the tennis world, even more than when she upset Williams in the 2004 Wimbledon final as a 17-year-old. If she wishes to do so, the top-ranked Russian must commit to the same playing style she had when she was 17. The 17-year-old Sharapova played with no inhibition, deference or fear. Now, spectators are able to sense the anxiety and hesitation Sharapova possesses when she steps out on the court to play Williams. The losing streak has given her a mental block.
However, this is simply the effect champions have on lesser players. Champions walk out with a huge edge in every match, simply from the intimidation and disbelief they instill in their opponents. Everytime Sharapova walks onto the court, she believes she will win, except when her opponent is Williams.
Change Serving Patterns and Tactics
In order to beat Williams, Sharapova must make dramatic changes in her game. Her serving patterns are much too predictable and easy for the world number one to anticipate. The Russian hits almost every serve on the ad court down the T, which Williams pounces on. Most times, the return will go to Sharapova's backhand, which she hits crosscourt to Williams's backhand. This pattern haunts Sharapova, as it immediately gives Williams the upper hand in the point, as her crosscourt backhand is her most powerful shot. Sharapova must avoid this pattern like the plague, and instead should hit her backhand down the line to Williams's forehand, her weaker wing.
In their Wimbledon match this year, Sharapova won just 69% of her first serve points, a rather low percentage on the speedy grass courts. This low percentage is due to her tendency to hit her first serves wide, which gives Williams an angle to blast the return. Sharapova's serving strategy against Williams must be to hit a majority of her serves to the body, disabling Williams from blasting huge returns with the lack of an angle. In the same match, the Russian won a paltry 29% of her second serve points, hitting six double faults. Sharapova must increase her first serve percentage by decreasing her pace and aiming for bigger targets. Unless she has a great serving day, she will never beat Williams.
Change Returning Tactics; Go For Bigger Targets
Sharapova is one of the elite returners on tour, however she was only able to win 26% of her return points against Williams in their Wimbledon match, compared to Williams who won 44% of her return points. Of course, it is difficult to even get a racquet on one of Williams's monster serves. Sharapova must study the world number one's serving patterns - Williams loves to hit the serve on the ad court wide, especially during break or game points. On the deuce court, she favors the T serve. Her serves are way too fast for Sharapova to react in time to hit a decent return, so she must commit to a side, even if it means she has to "guess" the serve. Ana Ivanovic used this strategy in her 2014 Australian Open fourth round match against Williams and beat her. Rarely does Williams ever hit a body serve. Williams almost always hits her second serve to the backhand of her opponent, due to the heavy spin she puts on it which makes it difficult for opponents to return. Sharapova must step in a couple of feet inside the baseline to return second serves on the rise.
The Russian fails to realize that there is no such concept as an "open court" against Williams due to her incredible speed, and tends to hit better on the run. During rallies, Sharapova must hit every ball hard and flat down the middle of the court, and try to catch Williams when she is flat-footed to force an error. Garbine Muguruza used this strategy against Williams in their 2014 French Open second round match, and she won 6-2, 6-2. Sharapova also must concentrate on hitting behind Williams, instead of to the open court. The last time Sharapova won a set off Williams was in the final in Miami in 2013. Her strategy was to hit hard and flat to the Williams forehand, which is less consistent due to her huge backswing, giving her less time to execute.
Implement Variety from All Parts of the Court
Commentators have always criticized Sharapova for lacking variety in her game, but recently the Russian has exerted much effort into improving that aspect, implementing the slice and drop shot into her game. In the 2015 Australian Open final this past year, Sharapova hit three drop shots against Williams, and won all three points. Sharapova's current strategy against Williams is to hit angles to get her off the court, which is rarely successful. The weakest part of the Williams game is her netplay, so Sharapova's new strategy must be to bring Williams to the net, using her improved dropshot and slice. Roberta Vinci possesses barely half the power of Sharapova, but took down Williams in the US Open semifinal this year using her backhand slice which threw the defending champion off.
Sharapova's losing record to Williams should not diminish any part of her legacy, she has had one of the most fruitful and consistent careers that women's tennis has ever seen. However, if Sharapova would like to win another major, she must hope for one of two-scenarios: Williams losing early, or Williams losing to her. With the current state of Williams's game, both scenarios seem highly unlikely.