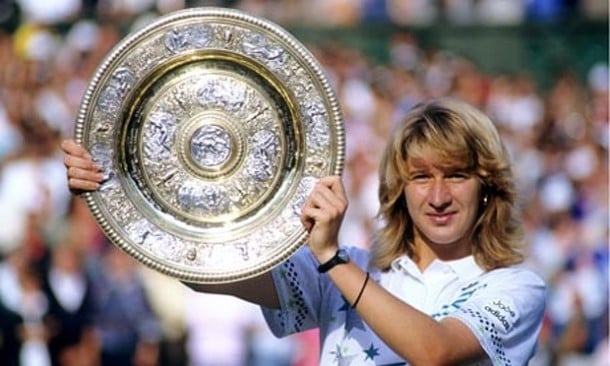 For the almost fifteen years before 1988, tennis was the Chris Evert and Martina Navratilova show. The icons had dominated the game and no one else was able to mount any kind of lasting challenge. But their stranglehold started to slip in 1987 and one year later, a new woman would rise and become the only true force in women's tennis. That woman was a teenager from West Germany by the name of Steffi Graf.
In 1987, Graf rose to number one in the world and won her first major. But she would take her game to the next level in 1988, tearing apart the WTA tour with a season for the ages that remains one of the most dominant seasons in tennis history and threw down a gauntlet for the rest of the tennis world that has yet to be matched. Let's take a look back at Steffi Graf's stupendous 1988 season.
By the Numbers
Graf went 72-3 in 1988, winning eleven titles and reaching one further final. She reached the final in twelve of the fourteen tournaments she played. In fact, in terms of wins and titles, her season was slightly less impressive than her 1987 campaign, which saw her go 75-2, reaching the final in all thirteen tournaments she played, also winning eleven. On both occasions, she finished the year ranked number one.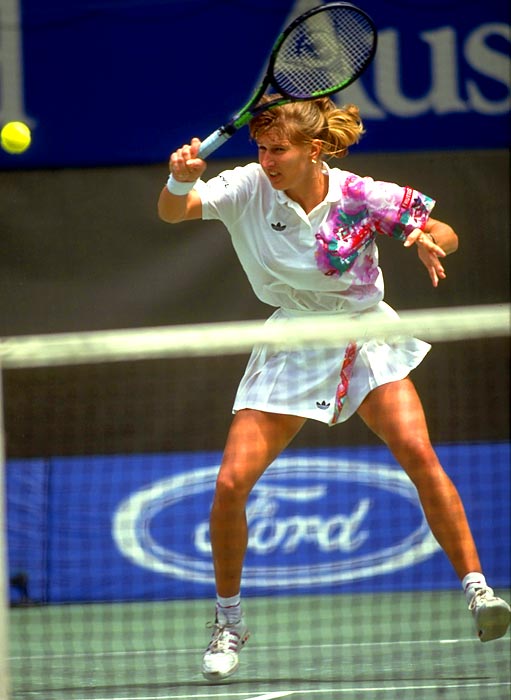 So why was her 1988 so much better? Both of Graf's losses came in grand slam finals in 1987. In 1988, Graf accomplished tennis' greatest feat. She went undefeated in grand slam play, 27-0 (received a walkover in the US Open semi-finals), and completed the grand slam. What makes it more impressive was that she also won the Olympic Gold medal in Seoul, South Korea, making her the only player in history to win a grand slam and Olympic Gold medal in the same year, also known as the golden slam.
Highlights
The Golden Slam
1988 will always be associated with Steffi Graf's golden slam. It was unprecedented. Graf was the first person to complete the grand slam since Margaret Court in 1970. Not even legends such as Chris Evert, Jimmy Connors, Bjorn Borg or Martina Navratilova had managed to win all four grand slam titles in a single season. Since Court's day, the WTA tour had gotten deeper. As well as Evert and Navratilova, there were lots of strong, talented players on the tour. Add to the fact that the majors were now played on three different surfaces (until 1978, all the majors were played on either grass or clay), it was a feat that seemed completely unimaginable in the modern game. Graf was an absolute force and her grand slam will live on forever.
Dominance in Grand Slam Play
Steffi Graf did not just win all four grand slams. She dominated all four grand slams. In twenty-seven matches, she dropped only two sets. She started off her grand slam bid by winning the Australian and French Opens without dropping a set and would continue that streak all the way through to the Wimbledon final, when Martina Navratilova finally clawed away a set, winning the first 7-5. Graf would roar back, dropping only three more games to win her first Wimbledon title (of seven) and end Navratilova's six-year reign with a 5-7, 6-2, 6-1 victory. She would not lose another set until the U.S. Open final, when Gabriela Sabatini, who was responsible for Graf's first two defeats of 1988, took the second set before Graf completed her historic sweep with a 6-3, 3-6, 6-1 win. Of the fifty-six sets Graf played in grand slams in 1988, she only lost more than three games in seven sets, including the two she lost. She won fourteen bagel (6-0) sets. That's right, she won more sets 6-0 than sets she lost by any score in majors in 1988.
French Open Final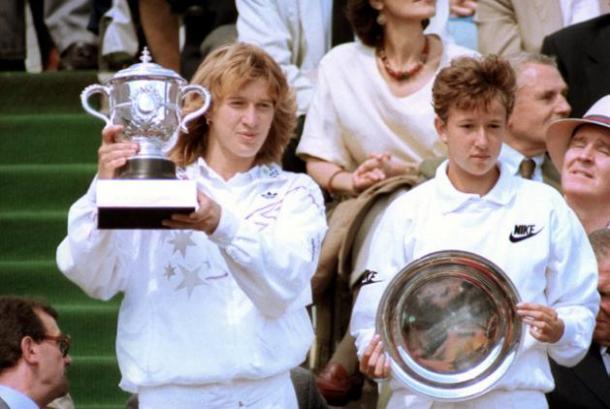 While everything Steffi Graf did in grand slams was dominant in 1988, nothing exemplified it more than her French Open final victory over Natasha Zvereva. Graf was the reigning champion while Zvereva, age seventeen, was only appearing in his fourth grand slam tournament. Zvereva would go on to become a doubles superstar, but in no way was this her day. Graf beat Zvereva 6-0, 6-0 in thirty-two minutes, the shortest grand slam final in terms of time and games in tennis history. This match remains the most one-sided grand slam final to this day. Nothing has even come close. In many ways, this win summed up Graf's year perfectly.
Inaugural Olympic Gold Medalist
What makes Steffi Graf's grand slam in 1988 so much incredible than any other feat in tennis history is the fact that it was the first, and to date only calendar year golden slam. At the 1988 Summer Olympics in Seoul, South Korea, tennis was an official sport for the first time since 1924. It had been a demonstration event in 1984, won by, who else, a fifteen-year-old Steffi Graf. This time around, the professionals would be competing for a real medal.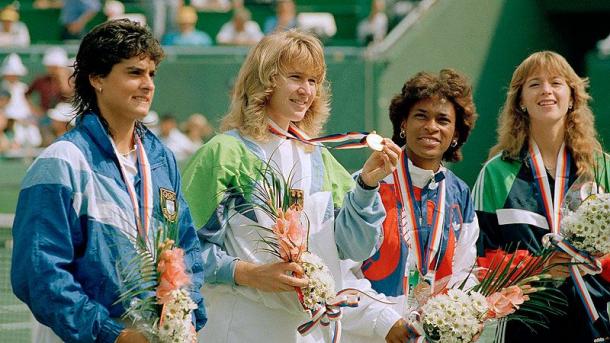 By the time Graf arrived in Seoul, she had already completed her grand slam (the Olympics were held in September, after the U.S. Open). Graf was obviously the heavy favorite in Seoul, but found herself under fire early. She was pushed to 7-5 in the first set of her opening match, a rarity for Graf in 1988, and was extended to three sets in the quarter-finals by Larisa Savchenko. But that was there the challenge ended. Graf blew out Zina Garrison 6-2, 6-0 in the semifinals before claiming the gold with a straight-sets win over Sabatini to complete the unprecedented and unmatched calendar year golden slam.
Winning Streak
Unlike Martina Navratilova's 1983, a perfect season was never in the cards for Graf, as she lost to Gabriela Sabatini twice early in the season, first in the final of Boca Raton, and then in the semi-finals of Amelia Island. Graf would not lose again until the year-end championships, when she was stunned in the semi-finals by Pam Shriver. In between those losses, Graf would win forty-six consecutive matches. The winning streak would include her titles at the French Open, Wimbledon and U.S. Open, along with her Olympic Gold medal. Her winning streak was the seventh longest by a woman in the Open Era.
Why is it So Great?
The Golden Slam
Graf's golden slam was the first, and to date only calendar year golden slam in history. No other tennis player has even come close to matching the feat. Venus Williams (2000), Rafael Nadal (2008), and Serena Williams (2012) have each won two grand slams and an Olympic gold medal in the same season. In fact, only three singles players have won all four major titles and an Olympic gold medal in their career (the career golden slam). The first of those people was Graf's future husband, Andre Agassi. Rafael Nadal and Serena Williams have both since joined the golden slam club. But no one has come close to a calendar year golden slam
The Last Grand Slam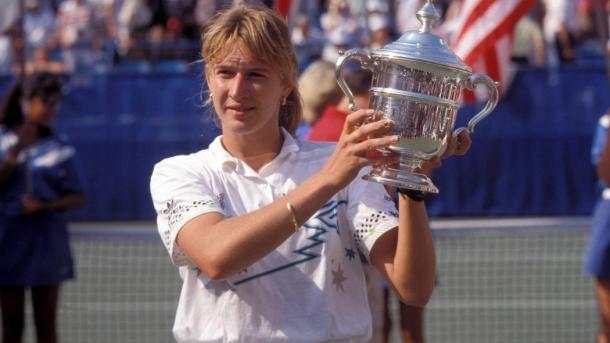 Not only has no one won a golden slam since Graf in 1988, no one has won a grand slam since. Serena Williams was close in 2015, going undefeated in major play until her shocking semi-final defeat to Roberta Vinci at the U.S. Open. Novak Djokovic and Roger Federer have both gone 27-1, losing the French Open final in 2006, 2007 (Federer) and 2015 (Djokovic) respectively. But Steffi Graf remains the most recent player to win a grand slam. Her slam came eighteen years after Margaret Court, who was the last of a handful of slams in a seventeen year period (between 1953 and 1970, four grand slams were completed in singles by Maureen Connolly, Rod Laver twice, and Court).
But Graf's was arguably the most impressive not only because of the higher quality of players on the tour at the time, most notably two women named Evert and Navratilova to name a few. She was the first tennis player to win a singles grand slam in the hard court era, which makes her grand slam even more unprecedented and impressive. And it is something that no one has managed since and likely will not for a long time.
End of an Era
When Steffi Graf broke onto the tour, it was the Evert/Navratilova show. While both of them were getting older, they were still the two most dominant players in the world. Graf almost single-handedly broke up the single most dominant duopoly the tennis world has ever seen. In 1987, Graf lost a pair of major finals to Navratilova. She swept her Czech rival in 1988. Both women were blocked out of the big titles in 1988. The only major where Graf did not beat either Evert or Navratilova was the French Open. She beat Evert at the Australian and U.S. Opens, while she beat Navratilova at Wimbledon.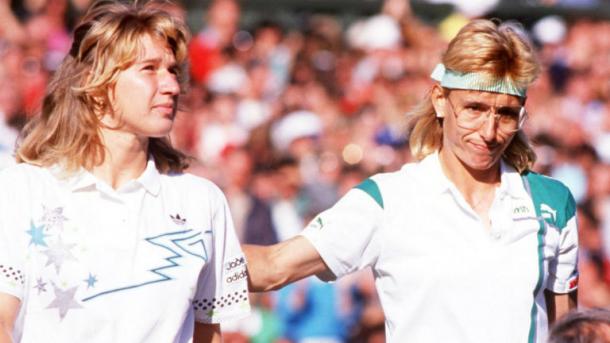 After Graf took control in 1988, Navratilova and Evert were never the forces they once were again. Navratilova would reach a handful of major finals, but only won Wimbledon once more. Evert would play one more year before retiring in 1989. In a shockingly quick turn-around, the WTA tour had gone from Navratilova and Evert's battleground to Graf's kingdom.
Just the Beginning
If you were told that a teenager became the first tennis player ever to win all four grand slam titles and an Olympic Gold medal in a single season, beating out a deep tour led by two of the greatest tennis players of all time, would you believe it? Well, you should because that was exactly what happened in 1988. It is easy to forget that Steffi Graf turned nineteen during the 1988 season. Her titles were the second through fifth grand slam titles of her career. While she entered 1988 as the number one player in the world, she had only been a contender on the tour for a couple of years and she was still very young. But at nineteen, she showed the skill and poise of a much older player.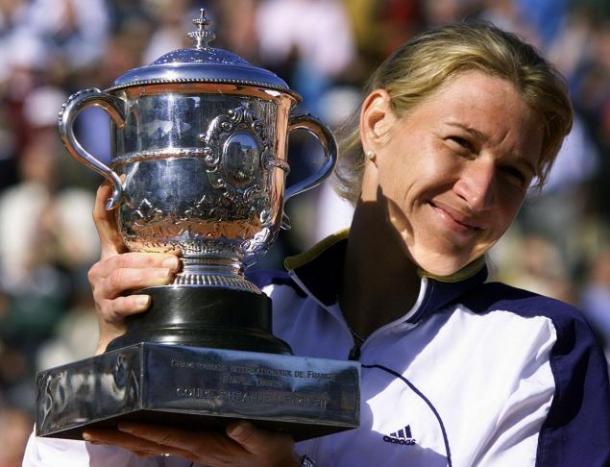 And while Graf would never again win all four majors in the same season, she would remain the dominant player of the next decade. She shattered almost every record there was to be broken, including grand slam singles titles, winning an Open Era record twenty-two, along with weeks at number one. It would be difficult to say that Graf peaked in 1988 because she was so good for so long, but it certainly was a dramatic way to kick off the career of possibly the greatest singles player the tennis world has ever seen.