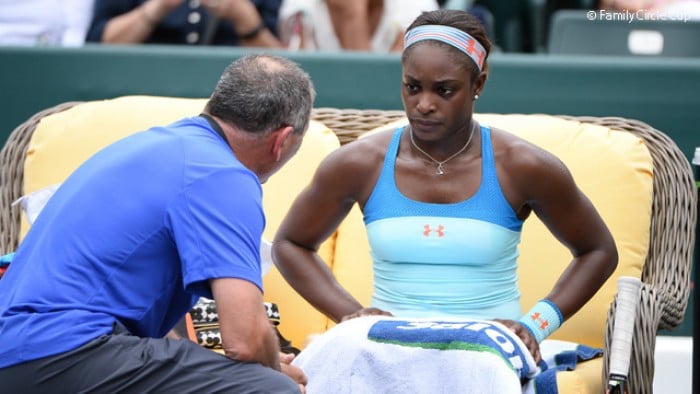 Nick Saviano has announced that he will not be working with Sloane Stephens in 2016, according to a press release published Monday on Saviano's High Performance Tennis Academy's website. The two had been working together since Stephens was 11 years old, and began working together on a full-time basis earlier this year.
Saviano's Announcement
In a press release published Monday on his tennis academy's website, Saviano announced he would not be working with Stephens starting in the new year.
"Coaching Sloane this past year at the major events and having her achieve outstanding results, in particular, winning her first WTA tour event in Washington D.C. was extremely rewarding and enjoyable," Saviano said. "She has been a joy for me to work with her since she was 11 years old. I expect her to have a great year in 2016 and wish her all the best."
The 59-year-old tennis coach, who had worked with Eugenie Bouchard prior to starting a full-time partnership with Stephens in 2015, "will continue coaching world-class juniors and professionals at Saviano High Performance Tennis Academy in Plantation, Florida," according to the press release.
A Look Back at Stephens and Saviano's 2015 Partnership
Coming into 2015, Stephens was, in essence, in the tennis wilderness. She had worked with two coaches in 2014 in Paul Annacone and Thomas Högstedt, but never really found the form that catapuled her to a career high of number 11 in the world in early 2013. Moreover, the 22-year-old had yet to make the final of a single WTA event in five attempts, and was trying her hardest to break new ground.
Because of this, Stephens decided to hire her childhood coach Nick Saviano, who had just parted ways with Eugenie Bouchard after the Canadian's incredible 2014 season.
The early results weren't particularly promising – two round one exits and two round two exits to players ranked slightly below her definitely wasn't part of a recipe for success.
However, all of this turned around in Indian Wells. Under Saviano's guidance, Stephens made it all the way to the fourth round, before falling to world number one Serena Williams in three sets.
That was only the beginning of a great next few months. A quarter final showing in Miami followed suit and despite having a couple of hitches, Stephens made it to the semi finals of Strasbourg and the fourth round of the French Open in back-to-back weeks, which was huge for the WTA Rising Star considering she was struggling to find any form at that time last season. Continuing her great run of form, the 22-year-old made the semi finals of Eastbourne and the third round of Wimbledon, which was followed up by a championship-winning run on the hard courts of Washington D.C.
With the help of Saviano, Stephens was able to begin every match with a more positive and "stay in the moment" mentality, something that had been deprived of her when she was struggling with confidence in 2014.
"It forced me to stay focused and just compete on every shot and just make sure that I'm having fun out there," Stephens said in an interview during the Family Circle Cup. "And we work well together, and he really does motivate me and push me to do better. So it helps."
Now with Nick Saviano out of the picture, who should Sloane Stephens' new coach be? Read this and give your thoughts.