 Daria Gavrilova upset sixth seed Petra Kvitova in the second round of the Australian Open, creating a famous victory for herself.
Gavrilova wins topsy-turvy first set to stake her claim to lead
The match started with something rare: an easy hold, Gavrilova getting it. Kvitova would fall behind 0-30 in her opening service game, but dug out of it to hold for one-all. Gavrilova would fall into a 15-30 hole, but charged back, winning the next three points for a 2-1 lead. The Aussie would get to deuce on Kvitova's serve, but no further, the score now level at two-all. Kvitova struck first, converting her break chance when Gavrilova double faulted. The lead wouldn't last long for either player as the next three game were all breaks, the score even at four-all.
After a Gavrilova hold to love, the 20-year old crafted a break at love, clinching it when Kvitova's forehand sailed long, the set going to the underdog 6-4.
Gavrilova nervously closes out win, seals upset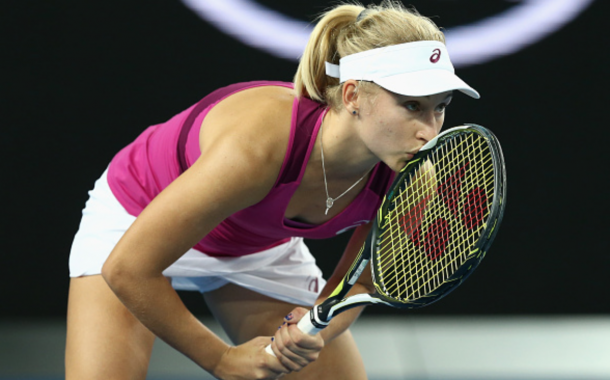 Kvitova challenged Gavrilova on her first service game of the second set, winning the first point and getting to deuce, but the Aussie held on to take the opening game. Easy holds by Kvitova to 30 and Gavrilova to 15 saw the 36th-ranked player in the world hold a 2-1 lead on serve. Kvitova was in a groove on serve, holding for 2-all and was presented with an opportunity to break, the chance falling away when Kvitova's forehand went well wide.
Gavrilova won the next two points to hold and struck the decisive blow in the next game, a break when Kvitova's forehand went wide off of Gavrilova's backhand return, a 4-2 lead now in the back pocket of the Aussie.
Gavrilova would hold at 30, a 5-2 lead now placing her on the precipice of victory. A struggle on Kvitova's serve ensued, Gavrilova getting to deuce and two points from sealing the upset. The Czech would shake free from her bind and hold, Gavrilova now 5-3 ahead and serving for the match.
She got to match point, but that was erased when her slice backhand floated wide. Further trouble arose when, on break point, Gavrilova's slice backhand once more missed the target, a break to Kvitova and now Gavrilova was on edge, 5-4 her lead.
Gavrilova's forehand was on point in the final game, racing to a 15-40 lead and two match points with it. The first was wasted when her backhand dropped wide, the second taken when Kvitova's forehand went long. The upset was complete and the last Australian woman standing reached her new personal best at a major.