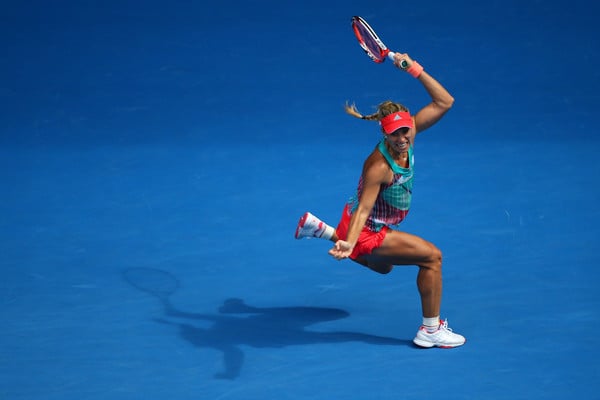 Angelique Kerber found herself having to work for her first round victory today against Japanese opponent Misaki Doi. The German had to fight from a set down after an edgy battle in the first tiebreak and hinge her bets to win the next two sets and ultimately avoid the upset. Here is a deeper look at what entailed during the intense battle.
Doi Makes Comeback To Win First Set
It initially seemed that Kerber was going to have a routine match during proceedings as she started off the bat with a break in Doi's very first service game and racing to a 2-0 lead. She was in sublime form as she broke her opponent's serve once more and consolidated again to accelerate to an ever widening 4-0 lead. However, this was when Doi found her own and Kerber went slightly lax as the Japanese reversed the tale to hold her service for the first time and break the Kerber serve two consecutive times to finally make things even. Now the set was at a stalemate as both players were fighting to keep their serve, which led ultimately to the tiebreak.
This stalemate seeped into the beginning of the tiebreak as neither player would let up a single point on their serve, but it was Doi who finally took a mini break at 4-2, and went on to win the tiebreak 7-4.
Kerber Saves Match Point To Take Second
It seemed the stark turnaround of the first set dampened Kerber's morale as she was unable to serve more than 51 percent of her first serves in, whilst on the other side of the net Doi was putting in a huge 71 percent. Moreover, the Japanese managed to hit 25 exquisite winners in this pumped set, with Kerber falling behind with 16. It took extreme persistence from Kerber to break the Doi serve; she had seven opportunities in the set out of which she grasped only one. Adding to her dismay, Doi broke Kerber back to force yet another tiebreak, and once again the pressure was mounting on the German.
This pressure was evident as Kerber made a crucial double fault in the tiebreak to give Doi a mini-break, but she was able to follow up and gain two mini-breaks back. Doi leveled the playing field again however, and was match point up on Kerber's serve at 6-5, who with nerves of steel held her own to win the tiebreak 8-6.
Angie Finishes On A High
Kerber was now pumped, and put the pressure on her feisty opponent from the outset of the third set. She won 50 percent of her receiving points, but it was only in game five when she was finally able to make the crucial break of serve. What was pivotal here was how Kerber was finally able to hold on to her service games to stamp authority. This boosted her confidence even further as she broke Doi to love in her final game to clinch the match.
Kerber will surely look back at her 4-0 lead in the first set and wonder where she went amiss to make a prospective routine win into such hard work. She let Doi back into the match, who did not disappoint the crowd, but it was not enough for the Japanese to cement victory. Kerber will next play Alexandra Dulgheru.