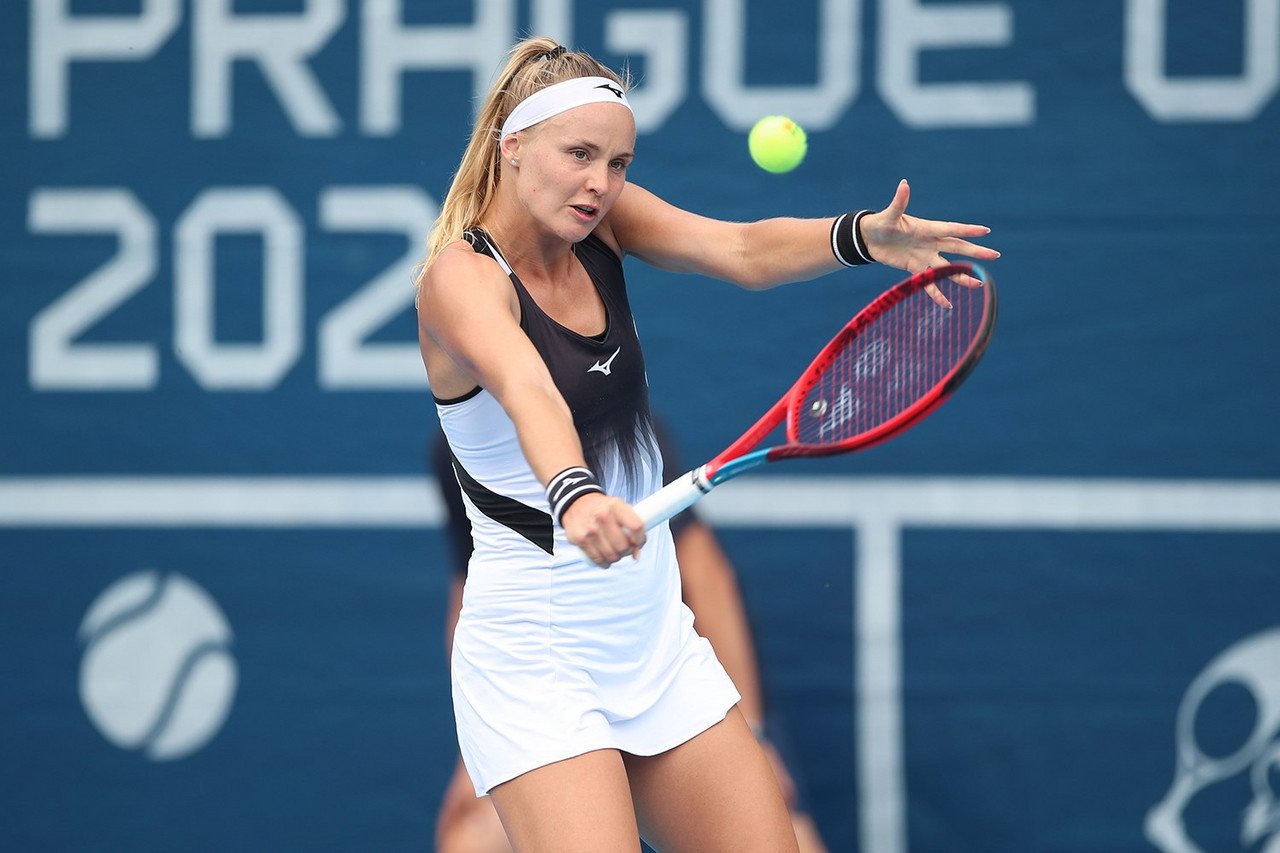 24-year-old Rebecca Sramkova of Slovakia recorded a first this week in the neighboring country's capital city Prague, at the Livesport Prague Open, by sauntering through qualifying, to make her first WTA main draw appearance in three years.
The big-hitting native of Bratislava, who was on the cusp of a top-100 breakthrough back in 2017, and now ranked 226th, was handed a tough ask in her opening match, in the two-time Wimbledon champion Petra Kvitova.
Former champion here in 2018, Kvitova was the clear favorite on her home turf, but fell short of the finish line in a tight deciding set to her younger opponent, in a long tussle where each had their fair share of physical issues.
The defeat for Kvitova, ranked 214 spots higher than Sramkova, marked the first time since the 2019 WTA Finals where she had lost three consecutive matches, as she now looks ahead to the Tokyo Olympics, two weeks away.
Other winners on Monday include seventh seed Nina Stojanovic, ninth seed Greet Minnen, American duo Asia Muhammad and Grace Min, along with Czech Tereza Smitkova.
Early dominant service display from Kvitova but Sramkova steals the opening set
Kvitova, being the headline entry of this year's tournament in Prague, held at the TK Sparta Praha (like previous years) but on hard courts this year (transitioning from clay), was part of the tournament's opening ceremony, alongside fellow Slavic opponent Sramkova.
The match began for the Czech with a clinical display on serve, winning her first three service games without dropping a single point.
The 31-year-old Kvitova did have her sights on her first couple break point chances early in the set, the first three of those coming at 40-0 on her opponent's serve in the third game, but all went to waste.
It was not until the ninth game where Kvitova finally made some inroads, breaking Sramkova to 15 to get her chance to close out the set.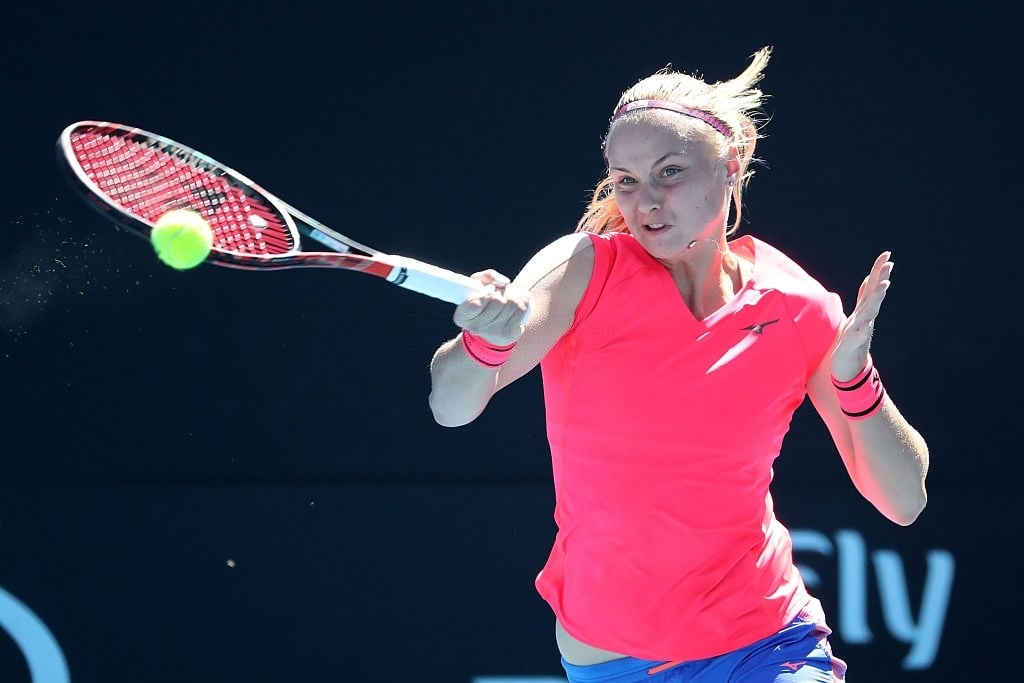 Sramkova, however, broke right back, only to then find her much-experienced opponent recapture the lead by a break, and another opportunity to serve out the set.
A final break of serve for Sramkova would follow, which meant that the set will be decided by a tiebreak – where Kvitova recovered from an early deficit to lead 5-4, two points away from winning the set.
Her Slovak opponent, however, was not done just yet as her persistence paid off in the end, reeling the final three points, the last of those, courtesy of a Kvitova return error, to snatch the set 7-6(5), after 54 minutes.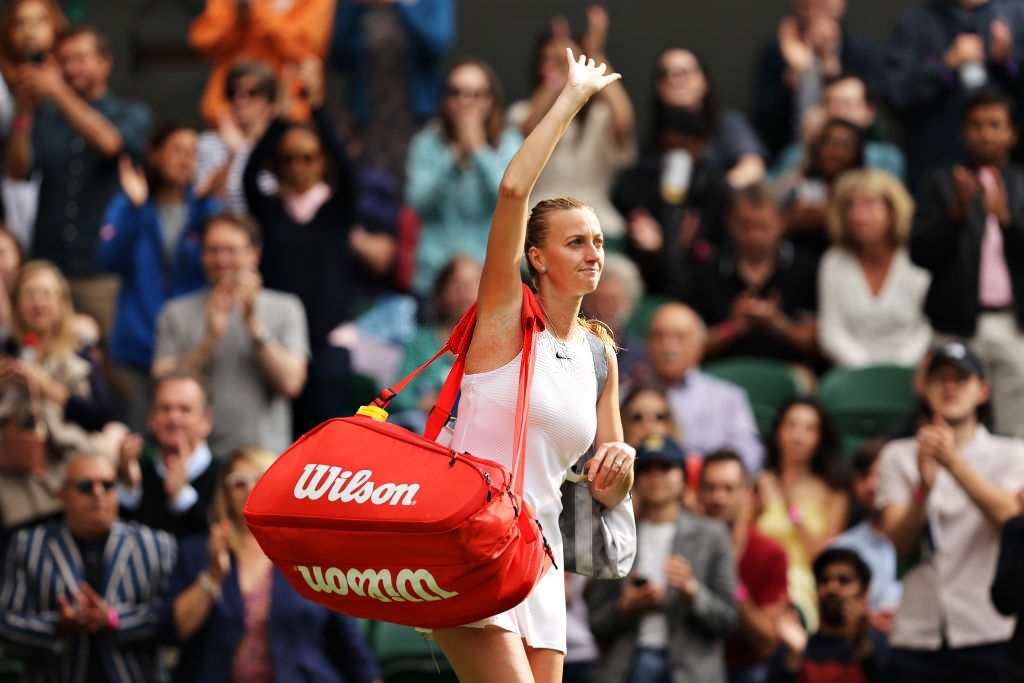 Kvitova steadies to ship to send the match the distance
The second set was a more straightforward matter although it was here Kvitova started showing signs of a physical issue, calling the trainer out to attend to her hip and hamstring.
The top seed, however, did not face a single break point in this set, and it was on her third break point opportunity in this set, up 4-3 on the Sramkova serve, where she scored the decisive service break.
Kvitova eventually served out the set to 15, after her opponent returned her a favor with a return sailing wide, to equalize the match at one set apiece, with 98 minutes of match play recorded on the clock now.
Sramkova edges out final break of serve to clinch victory
World number 12 Kvitova exchanged service holds with her Slovak opponent in the first five games of the decider as three break chances between them came and went.
The Czech then found herself trailing after the sixth game as Sramkova grabbed the break but a return from her racket on break point in the next game, which landed close to the line, and was called in, much to Sramkova's dismay, saw her back on serve.
Two more service breaks ensued as Sramkova wasted her chance to close out the match, Kvitova breaking back down 3-5 with a backhand volley at the net.
The next game meant that Kvitova now has to serve to stay in the tournament and saved the first match point courtesy of an error on return from Sramkova.
It would be second time lucky for the Sramkova in the end as a forehand error by Kvitova sealed her fate, the match having just passed the 150-minute mark, at two hours and 34 minutes.
As Sramkova clinched the first top 20 win of her career, it handed Kvitova her first loss in the first round a 250-level event since Shenzhen five years ago, when she retired down a set to Zheng Saisai.
Kvitova was the more aggressive of the all-powerful pair, recording more winners, which came with more unforced errors despite having better numbers in the first serve percentage and service points won percentage departments.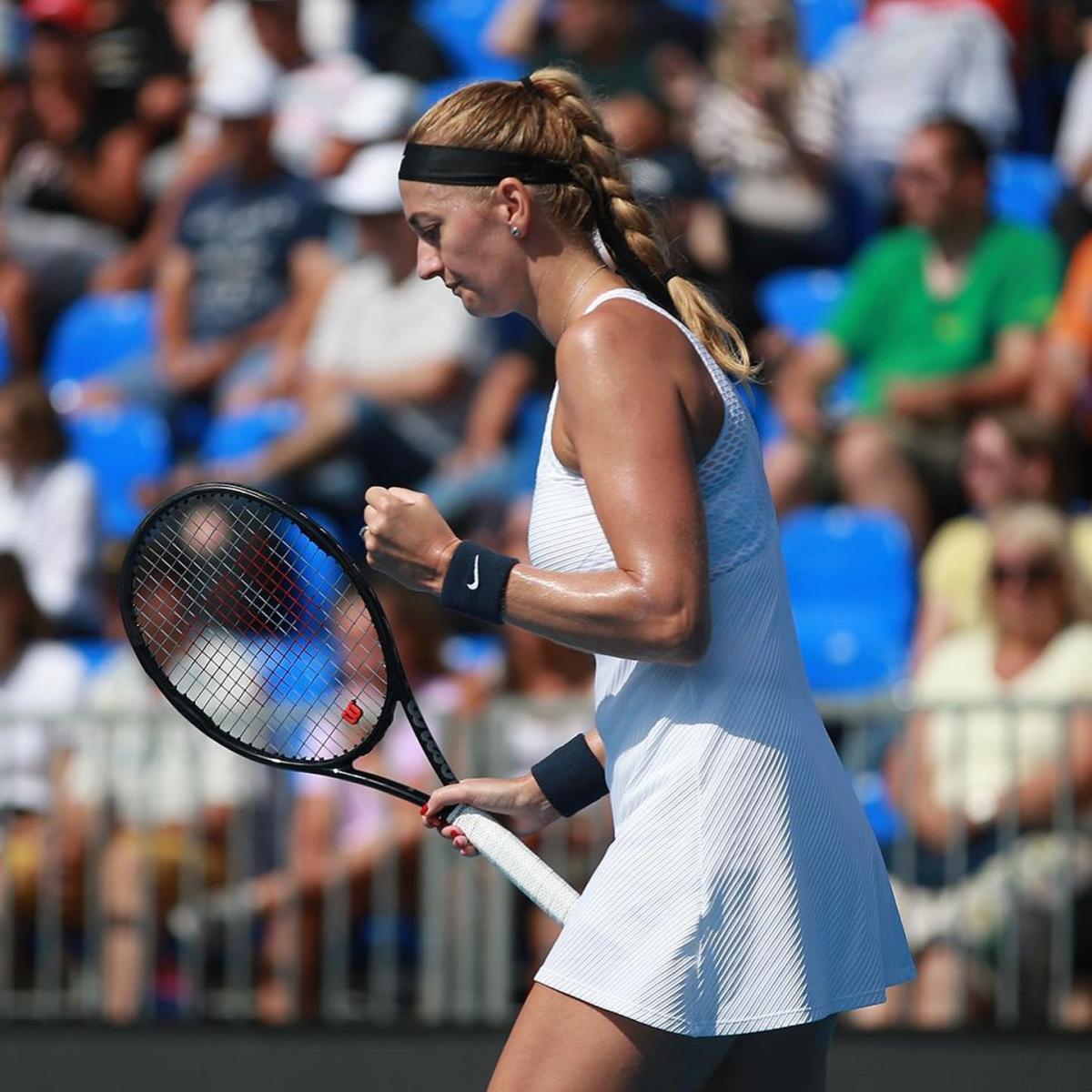 The Czech also hit six aces, five more than her Slovak opposition, and one less double fault (at six), and did finish the match with 106 total points won to Sramkova's 96.
The key to the match would be Kvitova's break point strike rates – she was successful in just five of 15 overall such chances (33%) whilst Sramkova played these points better, winning five of nine (56%).
Up next
Kvitova, in spite of defeat, was thankful to the home crowd for their support: "It was a full crowd and an amazing atmosphere out there today. They were really cheering for me and even spelled out my name, which made me quite emotional, to be honest."
"I haven't had this sort of thing for a long time, so it was beautiful to be back in front of a Czech crowd. I'm pretty sad I couldn't bring the win today, but on the other hand, it was a good one."
She further added: "She (Sramkova) served very, very well. I definitely had my opportunities in the first set but couldn't serve it out, and I think that took a lot of energy from me for the rest of the match."
On the prospects of her Olympics participation just around the corner, Kvitova was hopeful: "I'm excited, but on the other hand I know it'll be tough with no spectators. I think I'm more connected when there's spectators. In this case, it will be a bit difficult, but of course, it's still the Olympics, so I'm very excited and looking forward to them."
As Sramkova's Prague campaign lives on to see another day, she next takes on one-off compatriot Viktoria Kuzmova, or another former champion in Mona Barthel, as she sets her sights on a maiden main draw quarterfinal.