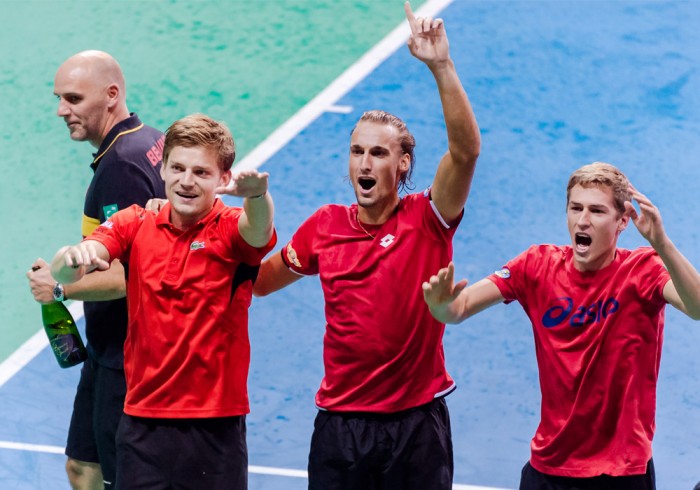 Sitting at the bottom of this year's Davis Cup World Group draw is one of last year's finalists, Belgium. They are up against a strong all-around team in Croatia. The tie will be contested indoors in Liege, Belgium on a clay court surface.
Belgian Team
This year's Belgian Davis Cup team consists of David Goffin, Kimmer Coppejans, Ruben Bemelmans and Arthur De Greef. With the home team lacking more than one top 100 player, the pressure is solely on Goffin to win his singles rubbers to have the slightest chance for a win. Captain Johan Van Heck will be hoping his team can take advantage of the home crowd and continue the momentum from their run to the final last year. The Belgians are an interesting team of players, ranging from Goffin's 12-5 Davis Cup record, to Coppejans and Bemelmans combined 10-12 record, to De Greef who has never played a Davis Cup tie. De Greef does not currently hold a doubles ranking.
Croatian Team
The 2016 Croatian Davis Cup team is stacked with a variety of experienced players along with fresh, young blood. Marin Cilic and Borna Coric will highlight their nation's singles rubbers, as Ivan Dodig and Franko Skugor will play the Saturday doubles rubber. The in-form nominated singles players both hold top 50 rankings. Dodig's top ten doubles ranking and years of experience on tour will be the backbone of the doubles team. Overall, Croatia holds a well-rounded team capable of an upset.
Day One Singles
This tie will be kicked off with a first time affair between Croatian number one, Marin Cilic, and Kimmer Coppejans. Cilic is ranked over 100 spots above his opponent. Coppejans has not played one ATP main draw singles match this year and only has one victory in a main draw in his career, Marin Cilic should have no trouble during this match. Early nerves may show from the world number 12, but this match is predicted to be a one-sided rubber.
Prediction: Marin Cilic in three sets
The second rubber will be the third meeting between David Goffin and teenager Borna Coric. Their previous meetings have gone in the way of the world number 16, but the youngster's good tennis could push the Belgian into a tricky match. They have never met on clay, so possible different tactics and shot selection could be the deciding factors. Goffin's first career title came on clay in 2014 and Coric has his best record on clay. That could mean this rubber is a thriller. The Belgian will be playing in the city he currently resides in, and the fans' anticipated support could test the mental strength of young Coric.
Prediction: David Goffin in five sets
Saturday Doubles
Day two will hold the third rubber, which is the doubles rubber. Unlike Fed Cup, Davis Cup does not play doubles as their decisive rubber. The team of Dodig and Skugor have played together once in the past. They were winners in last year's tie against Brazil. Their opponents, Bemelmans and De Greef lack any previous experience as a team. The setting may be overwhelming for the twenty-three year-old, Arthur De Greef. This match is on the racquet of the Croatian's, with the only factor being nerves. It would be the doubles surprise of the century if the Croats dropped this rubber.
Prediction: Dodig-Skugor in three sets
Closing Singles Rubbers
The fourth rubber will be the headliner of the tie. Both nation's number ones will go head-to-head in their first-ever meeting. With Cilic hoping to bounce back after a loss to a player outside the top 100 in Acapulco, the Croat has to find his form to challenge Goffin. Clay is Cilic's worst surface, opposed to the Belgian's liking for clay. That will make the match interesting in seeing how the Croatian sets up points tactically. The clay will slow Cilic's serve and allow Goffin to possibly dictate more on return than he would have on a faster surface.
Prediction: David Goffin in four sets
The first round tie will be concluded in a newcomer's battle between Borna Coric and Kimmer Coppejans. The two young players have never competed against one another. Coric has the advantage in match toughness, considering he is currently ranked 47 in the world and competes on the ATP World Tour week in and week out. Coppejans plays mostly on the Challenger Tour and some ATP qualifying draws, in contrast to Coric's consistent main draw play. Coric started the year great in India, with a run to the finals in Chennai where he lost to Stan Wawrinka. This rubber shall test the mental and physical strength of both players, considering the winner-takes-all circumstances.
Prediction: Borna Coric in four sets
All in all, this rubber should be very entertaining. With momentum on the Belgian side, but confidence and experience with Croatia, this tie will push all eight players to their max. A lot is at stake and only one team can move on to the Davis Cup quarterfinals this July.
Prediction: Croatia over Belgium 3-2